If the big day is drawing closer, and you're still out of ideas, here is a list of silly, raunchy, or romantic Valentine's Day gifts for him that should spark some inspiration (do you don't have to resort to the cliche box of cheap chocolates and dollarstore teddybear.
1. COUPON BOOKS
Let's start off with a classic – the homemade naughty/romantic coupon book. Yes, you CAN buy them pre-made and in all the commercial glory glossy cardstock has to offer, but why? Take a little time to really think about the things your lover would want.
There's the standard blow job and week's worth of coffee, but even then it's still a little meh. What if there is a certain meal he loves but you just don't have the time to make it? Maybe there is a movie he adores but you're never feeling like watching it?
Adding those things – they make a world of difference.
2. SOMETHING WITH BOOZE
If your beau loves his beer, wine, or spirits, there are so many gift possibilities. Try getting a sampler of little bottles instead of one big one. Throw in liquor chocolates or other goodies to match. Add an invitation/appointment to a wine tasting or brewery tour.
Throw in extras like corresponding glassware, how-to books, DIY brewing packs etc.
3. SOMETHING WITH BODY PARTS
There's no single gift option here. There's stress boobs/penises, coffee mugs, pens, cuff links, DIY dildo molds to make a copy of your partner's penis, etc.
4. EROTIC SHOWER PACK
Shower sex can be hot as hell. BUT you can ramp it up a few more degrees by adding one important element – you.
It's easy, buy things you would normally get for a bath-basket (bath bombs, shower gel, body scrubs, moisturizers etc. The twists can include:
See if you can make it a theme (high-end scents, his favorite go-to, erotic-themed, something quirky/fun etc.)
Put it together in a nice basket, box, or scavenger hunt that ends up in the bathroom (with you at the end looking sexy).
And the best one, you're going to give him the shower (ending with massaging that moisturizer all over his body – happy ending optional).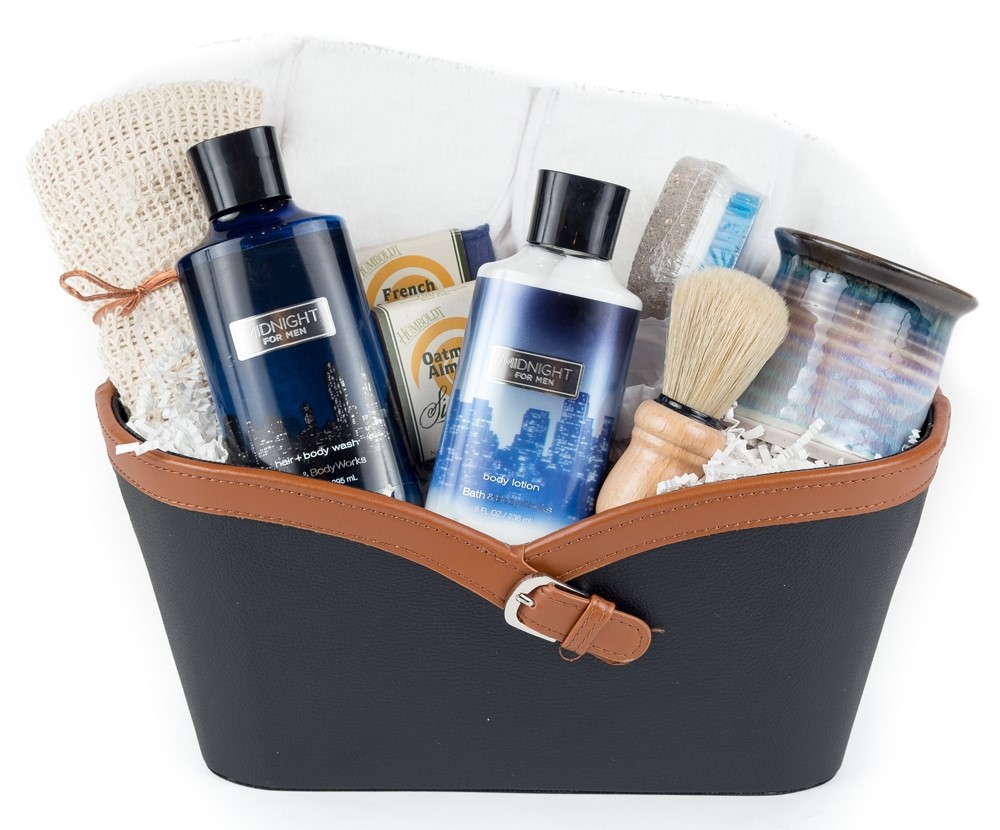 So many choices.
5. SCRATCH CARDS
You know those lottery scratch cards? You can totally DIY them! All it takes is paint, soap, and some creative or thoughtful prizes. It can be a fun version of the "coupon book" but with a "gambling" element. Look online for the paint recipes and go crazy!
6. SEXY CLOTHING
This can either be wearing lingerie that he will drool over OR regular (but still sexy) clothing for you to wear on your evening out. It's the time to step out of your comfort zone and don the leather or lace he's been hinting at (who knows, maybe you'll love it too).
SIDE NOTE – If you're a lady buying for a gent, and you're on the curvy side, not to worry! Here are some size and shape inclusive lingerie brands that have your back.
7. A SEXY BOARD GAME
There are so many to choose from – totally sex-based, roleplay targeted, more romantic, raunchy laughs with platonic friends, board games for swingers etc. Here's an article that takes a look at some of them ….
Have sexy fun with maybe some giggles
15 Board Games for Adults – Funny, Flirtatious, or Freaky
8. ANOTHER PARTICIPANT
Don't roll your eyes. We all have fantasies – and threesomes are right up there for men AND women. If you feel secure enough in your relationship to take this step, why not add a third party to the celebrations.
HOWEVER, unless you've done it before, it's not something to spring on your partner as a surprise. It takes lots of talking, negotiating, rule-setting etc.
Learn more here…
30+ Tips On How to Have a Threesome – A Beginner Friendly Guide
9. POSITION OF THE DAY CARDS
Or a "sex position of the day" book. You don't have to do them one-per-day, but there will be plenty of options to keep you busy for a long while.
Also, if some of the more difficult positions concern you, look at it a different way – giving it a go will force better communication between you and your partner. It also doesn't have to be a serious love-making matter. You can giggle your way through the acrobatics and have a fun memory afterward.
10. CANDY UNDIES
Yep, fruit roll-up underwear, edible nipple pasties, or rock candy bikinis! It's fun lingerie for those who have a sweet tooth. BUT (BIG but), if you're a woman putting this on, make sure that nothing rests against your vagina. Sugar near the genitals can bring on yeast infections.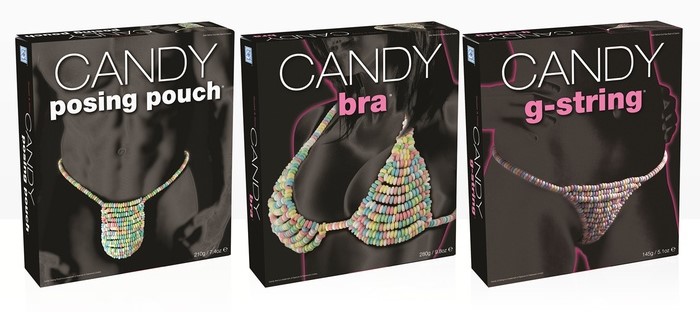 11. RING FOR SERVICE
Totally for fun (or totally serious if you want) – get a "ring for a blow job" or "ring for sex" novelty bell. They're great for a laugh or even a little BDMS play should you wish.
12. SEXY SUBSCRIPTION
It can be anything from a porn mag to a membership to a cam model site – whatever theme he has a hardon for. Just make sure that you're 100% okay with it. No one wants a gift to turn into discomfort something that instigates guilty feelings.
13. DIRTY FOOD
Gag gifts will never let you down. They've also found their way into the culinary world. There's genital shaped pasta, dirty cake molds, suggestive candy, etc. Load up on stuff that will bring a smile to his face. Whether you make it for him, or get him to do it, depends on your preferences.
14. CUSTOMIZED/FUN MUGS
Not so much the body part suggestion I had before, rather more of a "customized or humorous" printed mug with whatever sentence best fits your naughty sentiments. I can't give a specific store link because there are just SO many.
It's a great option if your man is a coffee freak.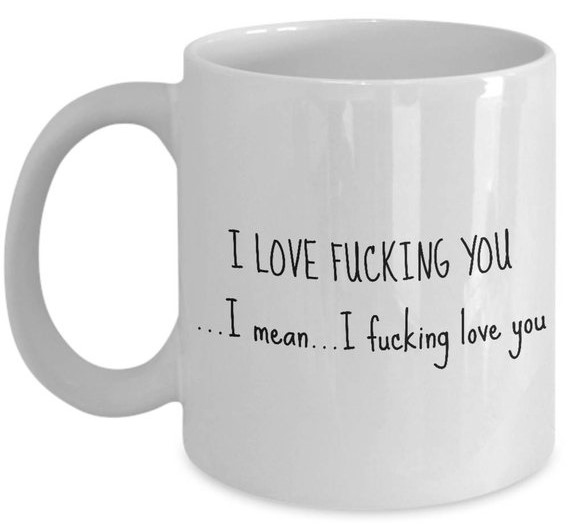 'Nuff said.
15. BALL SCRATCHER
And why not? They're funny, fun, and functional. I've seen ones that are made from more expensive materials (if you want your laughs to come with a higher price tag, who's to judge!).
EXTRAS – Get other scratchers and make it a whole set. There are metal fingers for the head, and other devices to make your skin tingle. I don't know about you, but I've had some scratches that felt damn near orgasmic.
16. FULFILL A FANTASY
We've talked about porn sites, lingerie, and threesomes, but maybe there is a different fantasy he's been hinting at. There are sexy uniforms, role play, blindfolds, handcuffs/restraints, and more!
If you've had the "talk", feel comfortable, and can hash out the details, make his dreams come true on Valentine's Day.
17. A "BROQUET"
I must live under a rock because I've JUST heard this word. A bouquet for bros = broquet. I have seen the concept in other ways, but this one sounds fun…
Take whatever little items he would love, find a way to attach them to a long stick and arrange/wrap them like you would a bunch of flowers. Voila! A fun way to give a normal gift!
18. SURPRISE VACAY
Wine country, beachside, another country, log cabin, whatever. Find a way to organize a weekend away at a place he would love. Whether you bring extra toys or implements for fun is up to you.
19. A SEX TOY
Get something he can use when he needs a quickie, you're not there, or add during his sex sessions with you. There are prostate massagers, anal plugs, pocket pussies, cock rings, cock cages etc.
If you want something a bit more tech-savvy, try a long distance, smartphone-controlled sex toy. You can make it buzz even if you're at work, AND (if it's wearable = like a butt plug that won't fall out when you walk around) he can wear it anywhere and give YOU the power.

Check out some long-distance sex toys here
Lovense – Sex Tech for Every Bedroom
20. UTTER SPOILING
If you have the money, time, and energy, why not combines several of these ideas as well as adding your own! Wear that sexy lingerie with a second girl while you watch the porn you bought after getting tipsy on the booze you gave in the hotel room you sprung for. Good times.
Also, if you want more ideas, check out this article…
Have any more naughty, sexy, or romantic Valentine's Day ideas? Share in the comments (no links please).