I swear to god if you're holding a generic Hallmark card and Walmart flowers…
Put them down. Put them down now!
Listen to me, young padawan. You have so much to learn.
Valentine's Day can be filled with commercial MANY reminders of "get this to show your love", but it's also the much-needed kick in the pants for some people to get off their butts and do something nice for their partner. And, true, if you've spent many years together, maybe the creative pool has dried up.
Either way, here's a list of fresh ideas OR new spins on old ideas that will hopefully save or inspire you.
1. EDIBLE BODY SHIMMER
You COULD get her a gift card to Sephora. If she's a makeup lover, it will definitely be a hit. BUT, you could also step it up a notch and make it sexy makeup. Here's where something like edible body shimmer comes to the rescue! She can glow like a goddess with all the highlight and you can lick it off.
2. LINGERIE SHE WANTS
This might be harder for some gents out there who lets their dick do the buying, but TRY to get her sexy clothing that SHE would like … something that turns HER on. Don't know where to start? Search through her drawers like a stalker and see what she has … or you can, you know, just ask.
Get some ideas here…
Size and Shape-Inclusive Lingerie Brands
3. EROTIC MASSAGE
Giving her a full-body, sexy massage is a sure hit. If you don't know how, start watching YouTube videos (NOT porn, my friend) and get your hands on some decent massage oil – edible OR make it yourself for extra "wow" points. Add mood lighting, wine, a warm room, and plenty of erotic build up.
4. BODY PAINT
There's no "one" product to recommend because there are so many variations – some strictly dark chocolate, others colored, some with a bed canvas to immortalize your lovemaking. If you fancy yourself a sensual Van Gogh, this is a fun gift.
5. A DINNER OF APHRODISIACS
First, be honest with yourself if you have the skills to do something more than boil an egg or not burn grill cheese. Yes? Okay, then brush up on what makes an aphrodisiac and cook an entire meal around it? If you don't know what to concoct, there are plenty of online recipes and ideas.
Also, even if the ingredients don't get her randy, the fact you cooked a delicious dinner (and cleaned the kitchen) will be plenty romantic.
6. A SEX TOY
Maybe it's her first one. Maybe you're adding to an already extensive collection. Either way, drop some cash on a new, fun sex toy for her to enjoy with (or without) you. How much you spend obviously depends on your budget, but make sure it's at least made of body-safe materials.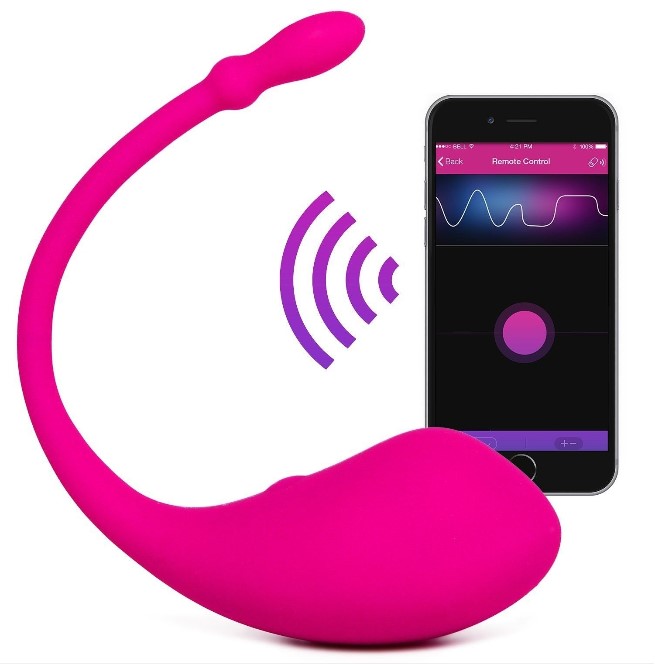 Lush by Lovense
Go the extra mile and get a "wearable" sex toy you can control with your smartphone. She'll be able to wear it while you're out for your Valentine's Day date and have EXTRA fun.
Check out some long-distance sex toys here
Lovense – Sex Tech for Every Bedroom
7. SOMETHING KINKY
Perhaps you and your girl are more on the vanilla side … but are a bit curious. Now's a good time to get a pair of fuzzy, Velcro wrist restraints or a feather tickler.
OR, if she's already a huge kinkster, get her something super fun – like an e-stim box you can slap on your balls or nipple clamps you can endure for her pleasure.
8. A THREESOME WITH ANOTHER GUY
Sex can just be about the two of you. Romantic, loving, memorable. OR it can be about three of you … and even more memorable. Check your ego at the door, invite another man between the sheets and both of you do everything you can to make her weak in the knees for a few days.
Learn more here…
30+ Tips On How to Have a Threesome – A Beginner Friendly Guide
9. FULFILL A FANTASY
Since we're talking about threesomes and kinky objects, use the special day to give her something she's fantasized about. Maybe it's a role play, location, item etc. Talk with her ahead of time, get all the details, and do your best to make it come true.
10. CUSTOMIZED EROTIC NOVELS
Yeah, some are cheesy and others are raunchy, but they're FUN. If she loves romantic or erotic books, take a few moments to find a site and story you like, fill out the custom form, pay for shipping, and watch her smile and dog-ear pages for later.
11. HEART FULL OF PROMISES
It's like "sexy coupons" but on ridiculous steroids. I saw this pic online and loved the idea – fill a heart box full of paper scrolls, each with a promise or some kind of IOU. How sexy, romantic, or raunchy you go (or a combination of) is up to you.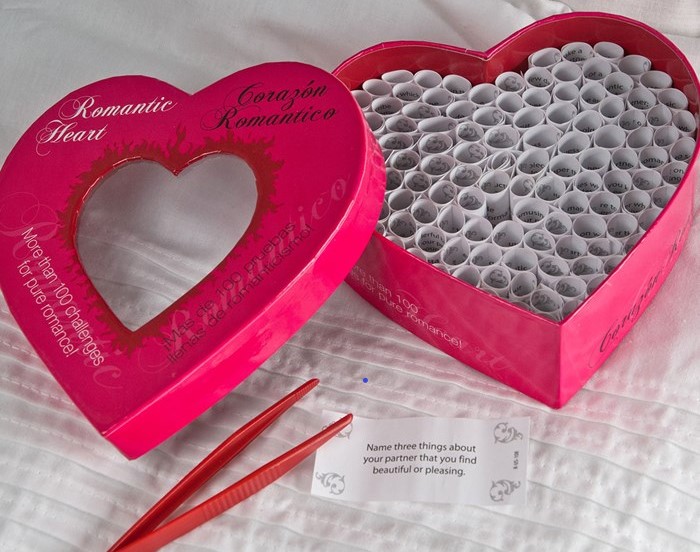 Fill it with as many warm fuzzies as you can!
12. REASONS YOU LOVE HER
Sort of similar to the "box of promises" – but instead of things you'll do/give, write down reasons you think she's awesome, why you love her, why she's cute, why you're lucky, and so on. Go for 52 and put them on a deck of cards or ramp up the love and make it 365 – one warm fuzzy for every day that year.
13. LEAVE HER ALONE FOR A WHILE *WINK
Maybe the best thing for her is for you to make yourself scarce so she can please herself – you know, watch the porn you think she doesn't watch and use that sex toy you just got her. Hey, why not go the extra mile, rent a Sybian saddle, and clear any kids out for the day.
14. EROTIC WEEKEND
No cooking, cleaning, or other daily responsibilities! YAY! Spring for a weekend away at a romantic getaway, kinky hotel, or swinger's resort (yes they exist). Pack your bag full of sexy clothes and kinky toys.
15. A BASKET OF SENSORY PLAY
If you've never done this sort of gift, there are TWO versions. First, give her a gift of 5 things – one for each of the senses. This can be a scented candle for the smell, chocolate for taste, etc. Use these gifts during your romantic evening.
The second version is a bit more BDSM (sensory deprivation). The easiest way is to blindfold her and play with her other senses as they are ramped up (like touch, taste etc).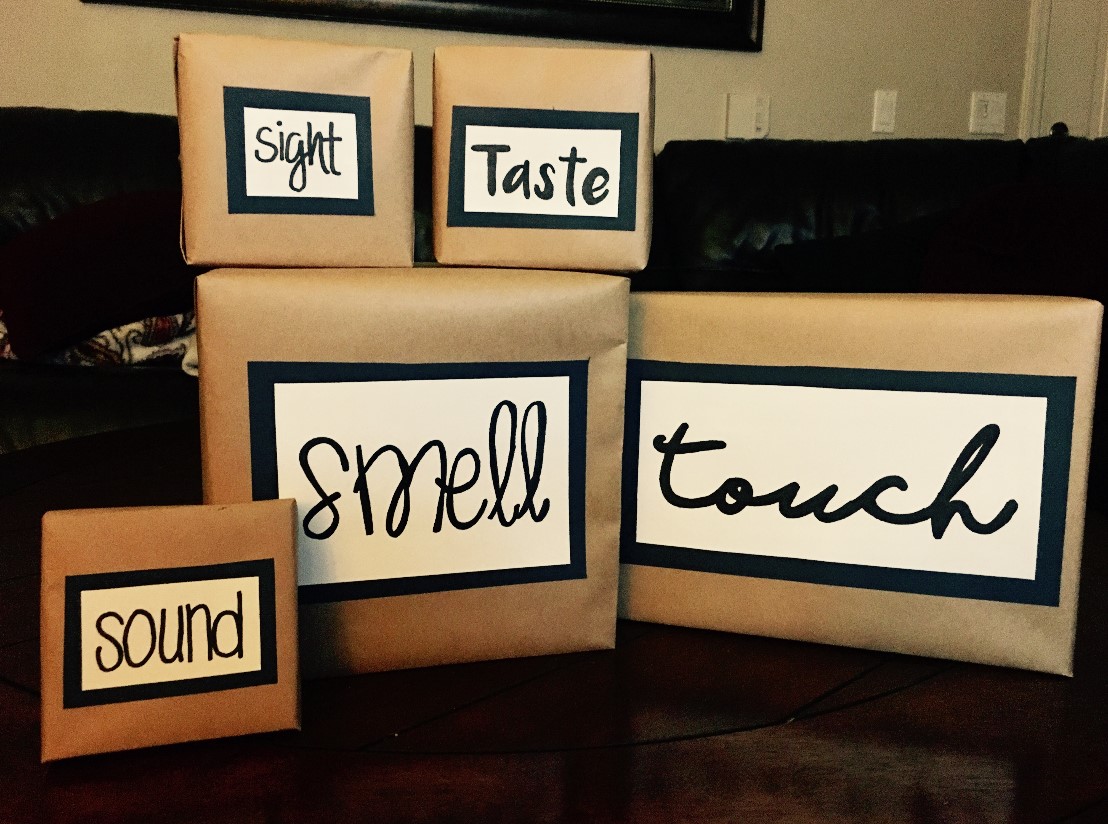 5 unique gifts to tickle the senses
16. A NIGHT ON THE TOWN
If your girl doesn't like to stay home, take her out so she can show off all the hard work she's put into looking so freaking fabulous.
You obviously have a budget to stay within (not all of us are millionaires) but try your best to stretch that dollar and make it the best night out – this means doing your research and making any reservations ahead of time. The twist? Surprise her with an outing you've never tried (cooking classes, dancing, hot air balloon, etc).
17. SOMETHING SHE WON'T BUY HERSELF
Get her that one thing she's too responsible to spend money on.
18. CLEVER CANDY DELIVERY
Instead of just buying a box of chocolates or cinnamon hearts, get her whatever candy or treats she loves and give them to her in an interesting way – like bunched in a bouquet, laid out to tell a story, hidden in a scavenger hunt with sexy or romantic clues.
The only limit to this is your creativity (or your ability to search the web and copy other people's ideas).
19. A GIRL'S NIGHT OUT (ON YOUR DIME)
This is another version of "your gift is leaving her alone". I constantly hear how my friends-with-kids complain about their man going off on "friend time" but they never seem to get it. Uncool, bro. Uncool.
If your lady hasn't had quality (and uninterrupted) time with her friends in a long while, do everything you can to make that happen. Revere a brunch spot. Recommend a club. Arrange a taxi service. Get her a hotel room so she doesn't have to come home and deal with the kids while hungover.
Oh… and make sure her friends don't punk out at the last minute (or a have a plan B in case you know they can be flaky).
20. SOMETHING SHE DOESN'T EXPECT
You'll need planning for this one … and eyes … and ears … and using them. Well before Valentine's Day comes around, pay attention to what she does and says. Try to pick out something she needs or wants and buy it online.
Getting her something from the "this is my holiday gift list" is fine, but showing that extra care and attention is super freakin' sexy.
Have more Valentine's Day ideas? Share in the comments!