[Note: This is an updated article]
Today we're going to look at what "Valentine's Day gifts for her" your partner might actually like. Because leading up to February 14th, every breathing biped is bombarded with commercials and storefront decorations reminding you it's time to "get the perfect gift" for the person you love.
However, most of these are just gifts people buy without having to put any brain function into – like stuffed bears holding hearts with some stitched message of adoration. And, I swear to god if you're holding a generic Hallmark card and Walmart flowers right now…
So, you're swimming in a sea of choices, or maybe you've been together so long you've run out of ideas altogether. Let us help you with some inspiration.
1. LINGERIE SHE WANTS
---
This might be harder for some people out there who let their nether regions do the buying, but TRY to get sexy clothing that SHE would like … something that turns HER on. Don't know where to start? Search through her drawers like a stalker and see what she has. Or you could be totally crazy … and just ask her. And toss in the idea that if you ever wanted to buy her something in the garment department, if she could leave you a list of her measurements (including bra size) that would be perfect.
Just make sure to do it WELL before the big day. This way you can compare the items to her actual clothing to make sure that it will fit at least semi-correctly.
But, if she's the kind of person who HATES when other people buy her clothes, then there is nothing wrong with a gift card to a lingerie store that she would adore. After all, lingerie celebrations don't have to happen exactly on the 14th. Or sit down together and let her choose what she loves. All you have to do is hit the buy button and enjoy it when it arrives. There's no rule that says all gifts must be a surprise.
2. BODYPAINT
---
There's no "one" product to recommend because there are so many variations – some are dark chocolate, others colored but non-edible, and some have a drop-sheet canvas that goes over your bed to immortalize your lovemaking. If you fancy yourself a sensual Van Gogh, this is a fun gift.
Other options are (besides buying) making your own "paint" and drawing over each other. You can even turn it into a fun game and write sexy words or messages and have your partner close their eyes and try to guess what you're writing.
3. EROTIC MASSAGE
---
When it comes to "Valentine's Day gift for her", giving her a full-body, sexy massage is a sure hit. Don't know how? No excuse! There are a TON of YouTube videos (NOT porn, my friend) that teach you everything you need to know. You can build up to the big day by practicing on specific body parts during your downtime together. For example, rubbing her feet while watching a movie. Or practicing on her shoulders while she's on her computer.
Then, get your hands on some decent massage oil. It can be anything from normal/traditional to edible or massage candles. Next, add mood lighting, wine, a warm room, and plenty of erotic build-up.
If you want to end things off with an erotic BANG, then the next point is for you…
4. A GOOD SEX TOY
---
Maybe it's her first sex toy ever. Maybe you're adding to an already extensive collection. Either way, drop some cash on a new, fun sex toy for her to enjoy with (or without) you. How much you spend obviously depends on your budget, but make sure it's at least made of body-safe materials. It's even better if you can get your hands on a smartphone-controlled sex toy. This way you have way more options to play with.
Bullet vibrators are small and easy to use (and cheaper)
Magic wands are external and powerful
Internal vibrators or rabbit vibes are great for g-spot action
Pin-point vibes are for intense clit stimulation
Butt plugs are great for double stimulation
Lovense offers a wide variety of smartphone sex toys. Unlimited patterns, wearable sex toys for when you want to go out, sound activation for going to the club, and much more!
5. A DINNER OF APHRODISIACS
---
First, be honest with yourself if you have the skills to do something more than boil an egg or not burn grilled cheese. Yes? Okay, then brush up on what makes an aphrodisiac and cook an entire meal around it. If you don't know what to concoct, there are plenty of online recipes and ideas.
Also, even if the ingredients don't get her randy, the fact you cooked a delicious dinner (and cleaned the kitchen) will be plenty romantic.
6. SOMETHING KINKY
---
Perhaps you and your girl are more on the vanilla side … but are a bit curious. Now's a good time to get a pair of fuzzy, Velcro wrist restraints or a feather tickler. Maybe even some light spanking.
OR, if she's already a huge kinkster, get her something super fun – like an e-stim box you can slap on your balls or nipple clamps you can endure for her pleasure.
Just make sure to communicate before playing. You need to know her rules and limits first. Then, check-in after to make sure everything is okay. Never surprise someone with BDSM play if they're new to it.
7. A THREESOME
---
Sex can just be about the two of you. Romantic, loving, memorable. OR it can be about three of you … and even more memorable. Check your ego at the door, invite another man (or woman) between the sheets and both of you do everything you can to make her weak in the knees. But just like kink play, it's a good idea to talk about something like this well ahead of time and afterward.
Plus, if it's something your relationship might not be ready for, then don't try to push it. You can always integrate a sex toy (like a thrusting dildo) to have the illusion of a threesome.
8. FULFILL A FANTASY
---
Since we're talking about threesomes and kinky objects, use the special day to give her something she's fantasized about. Maybe it's a role play, location, item, etc. Talk with her ahead of time, get all the details, and do your best to make it come true.
If you look online, you would be surprised what most women's common (top ten-ish) fantasies are as well as why. Also, it's never your place to judge. Valentine's Day is a day of pleasure! But if you're not ready to go full-blown role-play, you can always find ways to take baby steps. Like if she's in to a police arrest scenario, maybe just play with handcuffs first.
9. EROTIC NOVELS
---
There are two routes you can go here. First, is the customized book version.
Yeah, some are cheesy and others are raunchy, but they're FUN. If she loves romantic or erotic books, take a few moments to find a site and story you like, fill out the form, pay for shipping, and watch her smile and dog-ear pages for later. It's a great keepsake to have (reading you as a pirate and her as your prize – or something like that).
The other route is to get her a subscription to a decent erotic audiobook company. Bloom is an example of a great one. The voice acting is good, they have lots of diversity/choices, libraries are always being updated, and you can even submit your own story! If it's good enough, they'll publish it.
10. GET OUT IN NATURE
---
Perhaps she's the outdoors type? Why not take a long walk and enjoy the sunset somewhere? Be extra romantic and pack some lovely snacks and wine to enjoy while you're watching the fabulous view. If camping is an option, then watch the stars and enjoy a crackling fire.
However, if she wants the camping experience but doesn't like roughing it, there are "glamping" options. Some are just nice big tents with beds and comforts while others can be fun bubble tents with clear roofs that let you watch the night sky while you are comfortably in bed.
11. HEART FULL OF PROMISES
---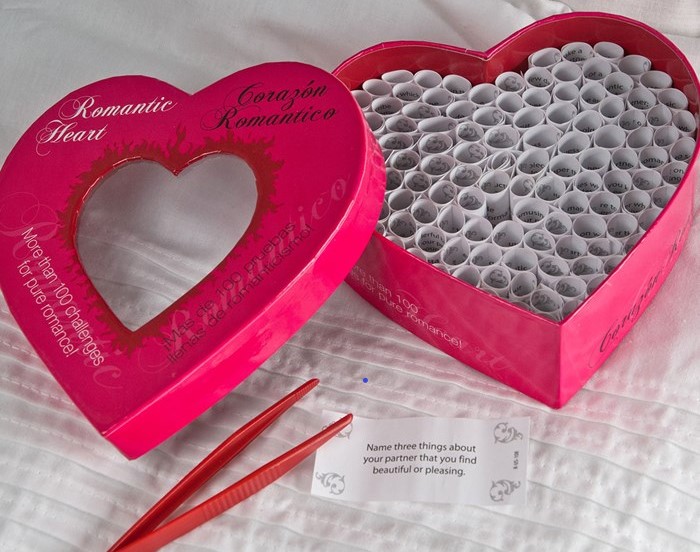 It's like "sexy coupons" but on wonderful steroids. I saw this pic online and loved the idea – fill a heart box full of paper scrolls, each with a promise or some kind of IOU. How sexy, romantic, or raunchy you go (or a combination) is up to you.
12. REASONS YOU LOVE HER
---
Sort of similar to the "box of promises" – but instead of things you'll do/give, write down reasons you think she's awesome, why you love her, why she's cute, why you're lucky, and so on. Go for 52 and put them on a deck of cards or ramp up the love and make it 365 – one warm fuzzy for every day that year.
13. LEAVE HER ALONE FOR A WHILE *WINK
---
Maybe the best thing for her is for you to make yourself scarce so she can please herself – you know, watch the porn you think she doesn't watch and use that sex toy you just got her. Hey, why not go the extra mile, rent a Sybian saddle, and clear any kids out for the day.
Romantic options are running a hot bath with candles and having flowers in the room. Lighting her favorite candle scents. Maybe playing her favorite relaxing music. Also, have her favorite drink nearby. Does she want to read a book, just close her eyes? Maybe she would love to her all her self-care beauty products on hand.
Take some time to think about what her ideal time alone would be.
14. EROTIC WEEKEND
---
No cooking, cleaning, or other daily responsibilities! YAY! Spring for a weekend away at a romantic getaway, kinky hotel, or swinger's resort (yes they exist). Pack your bag full of sexy clothes and kinky toys.
15. A BASKET OF SENSORY PLAY
---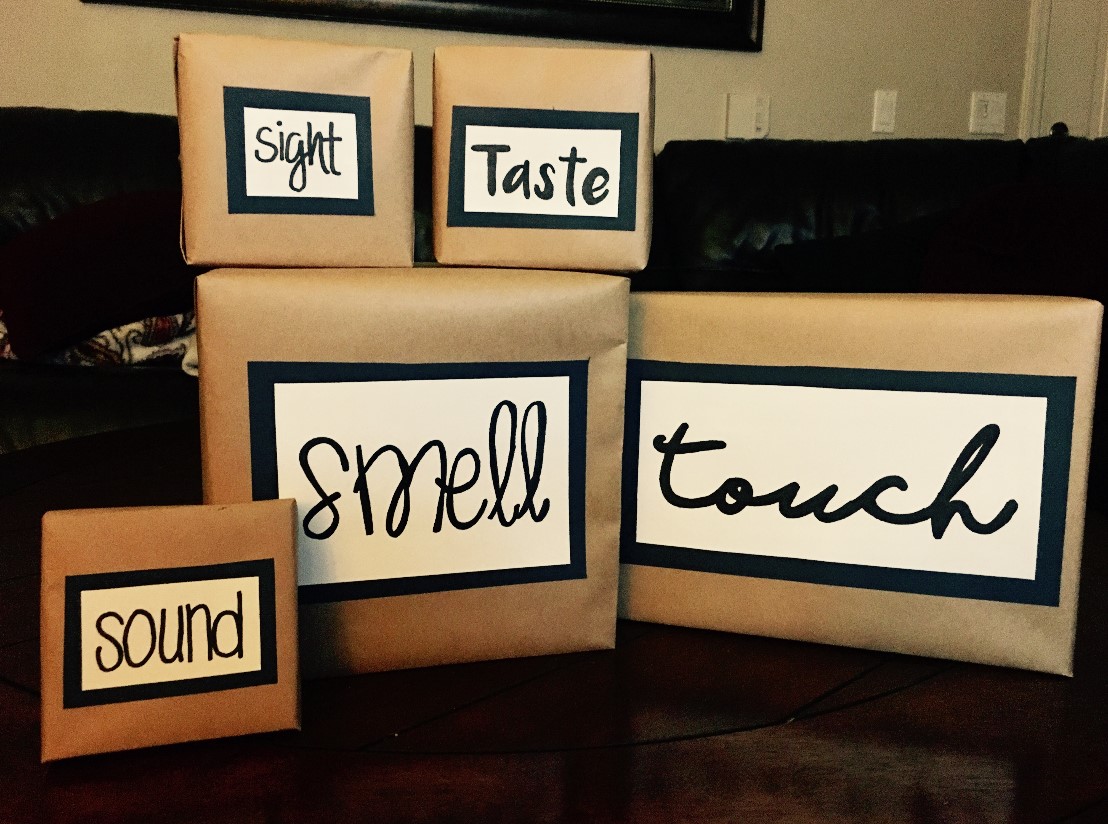 If you've never done this sort of gift, there are TWO versions. First, give her a gift of 5 things – one for each of the senses. This can be a scented candle for the smell, chocolate for taste, etc. Use these gifts during your romantic evening.
The second version is a bit more BDSM (sensory deprivation). The easiest way is to blindfold her and play with her other senses as they are ramped up (like touch, taste, etc).
16. A NIGHT ON THE TOWN
---
If your girl doesn't like to stay home, take her out so she can show off all the hard work she's put into looking so freaking fabulous.
You obviously have a budget to stay within (not all of us are millionaires) but try your best to stretch that dollar and make it the best night out – this means doing your research and making any reservations ahead of time. The twist? Surprise her with an outing you've never tried (cooking classes, dancing, hot air balloon, etc).
17. SOMETHING SHE WON'T BUY HERSELF
---
Get her that one thing she's too responsible to spend money on. It doesn't mean that "thing" has to break the bank. Perhaps she's just too caring to everyone else to splurge even a little on herself. You can also take advantage of deals around this time of year. Another thing is making her a promise card saying that you will get her one before X-date.
18. CLEVER CANDY DELIVERY
---
Instead of just buying a box of chocolates or cinnamon hearts, get her whatever candy or treats she loves and give them to her in an interesting way – like bunched in a bouquet, laid out to tell a story, hidden in a scavenger hunt with sexy or romantic clues.
The only limit to this is your creativity (or your ability to search the web and copy other people's ideas).
19. A GIRL'S NIGHT OUT (ON YOUR DIME)
---
This is another version of "your gift is leaving her alone". I constantly hear how my friends with kids complain about their man going off on "friend time" but they never seem to get it. Uncool, bro. Uncool.
If your lady hasn't had quality (and uninterrupted) time with her friends in a long while, do everything you can to make that happen. Revere a brunch spot. Recommend a club. Arrange a taxi service. Get her a hotel room so she doesn't have to come home and deal with the kids while hungover.
Oh… and make sure her friends don't punk out at the last minute (or have a plan B in case you know they can be flaky).
20. SOMETHING SHE DOESN'T EXPECT
---
You'll need planning for this one … and eyes … and ears … and using them. Well before Valentine's Day comes around, pay attention to what she does and says. Try to pick out something she needs or wants and buy it online.
Getting her something from the "this is my holiday gift list" is fine, but showing that extra care and attention is super freakin' sexy.
Have more "Valentine's Day Gifts For Her" ideas? Share in the comments!