What's a "Boobgina", you ask?
BOOBGINA = a silicone male masturbator in the shape of a breast with a vaginal and anal hole on one side.
This is the next sex toy on the review docket. I will also add that this product came to me free from trydoll.com in exchange for an honest, unbiased review.
UNDERSTANDING ITS PLACE IN THE WORLD
---
It might seem strange, especially considering the other body part amalgamations out there (Vajankle, I'm looking at you), BUT in the case of the Boobgina, it's not as weird as you would think.
Stay with me here.
You've probably seen those life-sized, and fairly realistic, sex dolls on the market? And have you dared to check the price tag? Did you have to go to the hospital after because the multi-thousand dollar price tag put you into cardiac arrest?
Yep.
Those things are SO expensive.
This is where toys like the Boobgina come into play, literally.
First, if you don't want to spend $ on a whole doll, you can get a "sex toy sampler" version – because, let's face it, this toy has 2/3 things most men only want to really play with.
Second, there aren't that many places that rent the entire doll. So, if you're in one of those towns that are sex doll scarce, you can at least buy a fraction of it.
Third, transporting a whole doll is a pain. The Boobgina is travel-friendly.
Four, if you're a breast man, it's certainly the toy for you.
PACKAGING
---
Mine came in a cardboard box – standard wear and tear from international travel. Even though the toy is soft, it was still inside a fabric bag and wrapped in thin foam then wrapped in a healthy layer of clear tape (to keep it clean as well as prevent any punctures from shipping).
There's no actual "product packaging" to comment on. However, there is nothing on the outside to indicate that it's a sex toy, so if you need discreet shipping, you're fine.
FIRST IMPRESSIONS
---
It's a standard molded toy.
Fairly realistic vaginal textures.
Jesus Christ, it's HEAVY! Way heavier than I expected. I mean, for 100% silicone I shouldn't be surprised … but still.
The anal hole isn't realistic in outside visual or placement, but that's because of the design limitations of the toy. No biggie.
There is a large, noticeable seam around the toy where it was put together. There are other small imperfections like tiny bubbles, shallow dents etc. but these are purely cosmetic.
It left a weird oily residue on my table after I picked it up. It wiped away fine, and I don't feel anything on my hands. I've never had a toy like this. I wonder if it will go away or it's just part of the material.
THE BURN TEST
---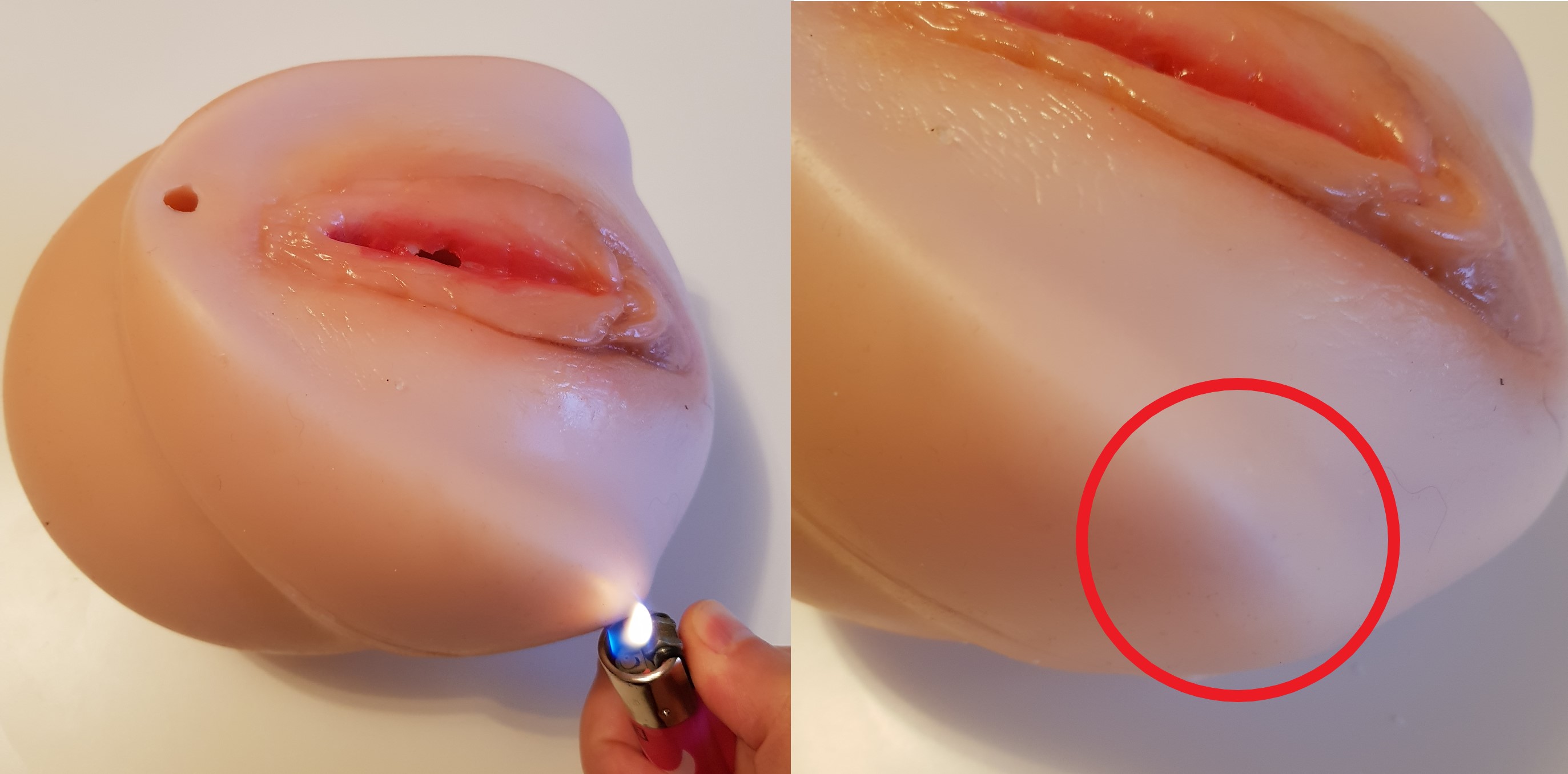 Honestly, I was terrified of doing a burn test on this. Mostly because the toy is made in China – and even if the factory says it's 100% silicone, you still have to take their word for it. The oil residue left across my table also made me wonder if there was some sort of TPE/TPR mixed in with it.
So, I whipped out my lighter…
And … nothing.
I'm happy to announce that even though I left the flame right up to the silicone for a solid ten seconds, there was ZERO melting or scorching.
It's a PASS. So happy.
USING THE BOOBGINA
---
The first thing I'll point out is the obvious need for lubricant. I'll also say that it makes a pretty loud "sucking sound" once in a while.
My boyfriend found getting into the vaginal opening was easy enough, but the anal opening ended up being tricky (mostly because of the lube and things sliding everywhere).
The vaginal tube isn't as long as he would have liked (the tip kept bulging out the side of the boob) and the anal part was far tighter (which he loved) but was far shorter. Basically, he wished both tubes were longer and the vaginal one was tighter.
The weight wasn't a big deal, but he wished that it was a bit lighter – although it's understandable that it would be impossible considering the material.
The textures were nice, but nothing amazing.
In the end, it got the job done and he said the realism was good along with a surprising amount of pleasure considering there was no elaborate ribbing etc.
Finally, the boob part he says is more a personal thing and it didn't do a lot for him – but might do a lot for other men.
I will also add that inspecting the toy after things were done, I noticed a tear across the vaginal hole. Either the silicone in that part is delicate or my man is too girthy.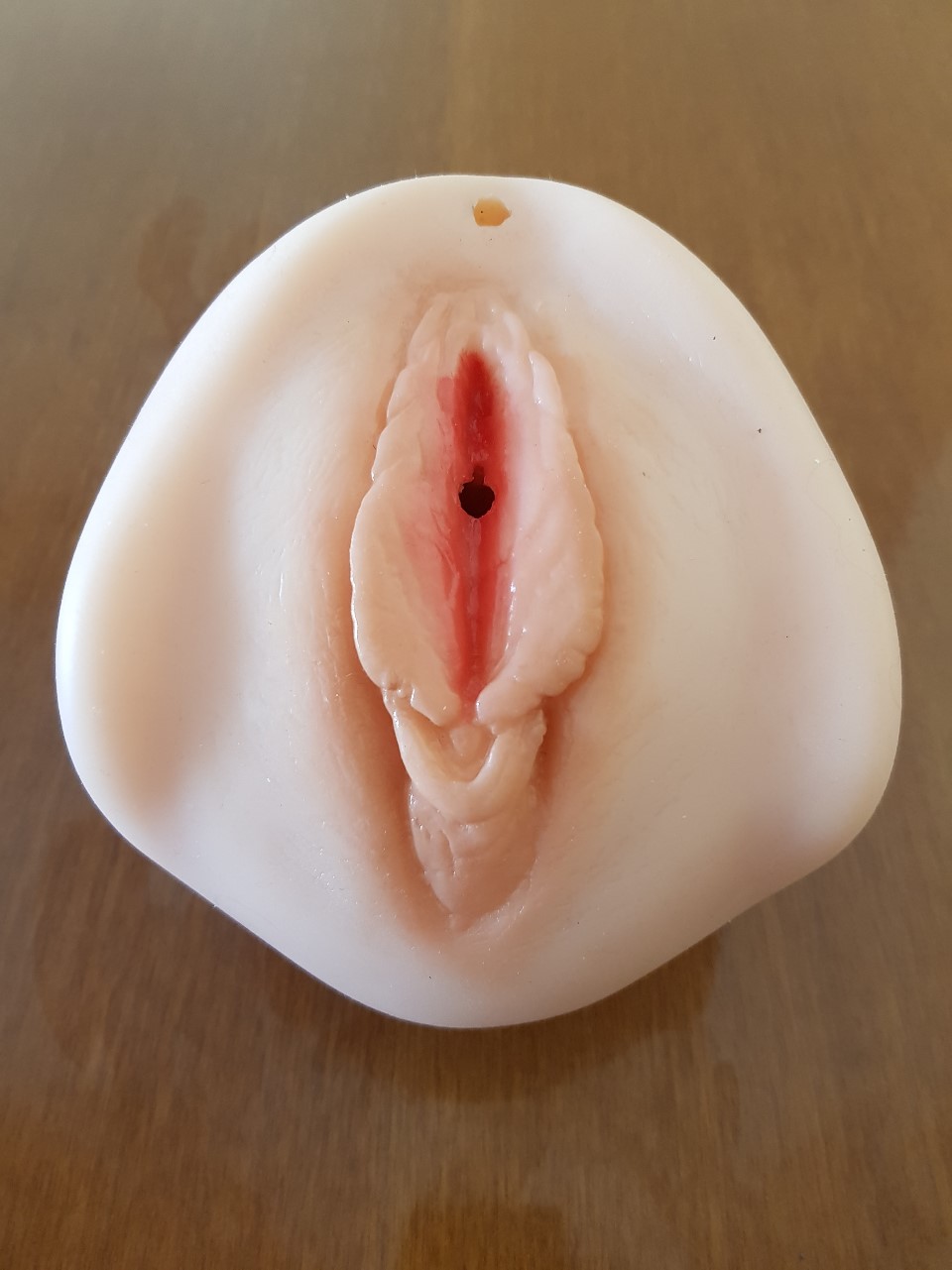 CLEANING THE BOOB
---
IMPORTANT – This thing is a dust and hair MAGNET.
I've washed this thing twice so far. First, before using it to get off all the dusty bits and whatever is left over from manufacturing, shipping, and sitting on the bed beside me. It went in looking like a little Ewok and came out fleshy pink.
My main problem with any close-ended masturbator is that it's difficult to make sure all those nooks and crannies around the texture are free from bodily … residue. I could get my fingers all the way in although it was tight (take that as sexually as you wish), but it's impossible to do a visual spot check.
This means two important things.
1. You'll have to be VERY diligent with cleaning it before and after each use. The sooner you get to cleaning it after, the better.
2. The toy tilts at a downward angle when left on the base. This means the openings are tilting down and any water should trickle out. HOWEVER, you should still make sure it's thoroughly dry before storing.
I know it's silicone, but that doesn't mean you can neglect your sex toy's hygiene.
PROS AND CONS RECAP
---
Interesting concept
Stepping stone to sex dolls
Soft and squishy
Travel-friendly
Body-safe materials
One tight hole
Additional (mental stimulation) from breast shape
Heavy (could be a pro or a con, depending on the users)
Tubes could be a little longer (personal preference)
Dust and hair magnet
Oily residue
Tricky to clean
It's still expensive for some people ($200)
CONCLUSION
---
This was a fun toy, and it's made from safe materials (which is a big bonus). For those who don't mind the price tag, I think it could be fun for men with specific tastes in anatomy or the love of differently design toys. If you think you might love this toy, check it out at trydoll.com.
UPDATE: The original link no longer works but the company that gave it to me is trysexmachines.com
If you're looking for more interesting product reviews, you might like these…
Anything you want to add? Share in the comments!