Butterfly Vibrators – Buying Tips and Useful Info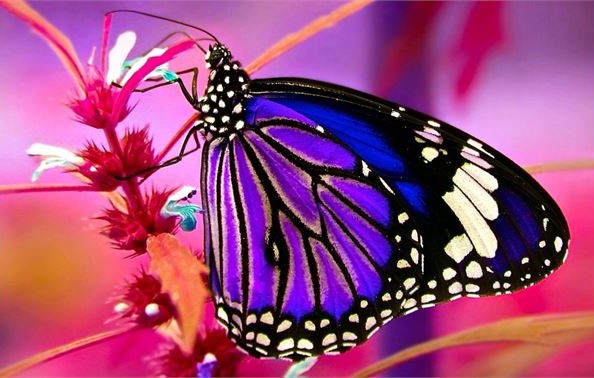 Next to the rabbit, the butterfly vibrator is probably the most recognizable and distinct when it comes to design. Let's take a look at a couple of examples as well as buying tips so you get your money's worth.
WHAT MAKES THEM DIFFERENT?
---
One version is easy to recognize … it actually looks like a buttery fly. Most often, because of the design, they come with stretchy or adjustable leg/hip straps to keep them in place. These focus mostly on clitoral stimulation.
The other version looks like a dildo with a really wide base. These don't have straps because the inserted part is meant to keep things in place. There is also a clit stimulator but often there is also an internal vibrator as well.
THE PROS AND CONS
---
The straps are useful but ugly and maybe uncomfortable
The insertable ones don't always stay in place and can slip out
They can be fun for discreet public play (if the motor is quiet)
Prices vary from cheap to expensive, fits any budget
You might have to wear underwear to keep them from slipping
A wide variety of subtle design changes or additions
WHICH SHOULD YOU GET?
---
This really boils down to personal preference. If you want something that will not move, straps are better, but if you want internal stimulation, you need one with a vaginal shaft. Then there's the matter of control – does it have a remote, app, or just buttons?
There is also the material you should consider. ABS plastic and silicone are common and the safest. Stay away from anything jelly or like it because it's porous as hell and full of chemicals that could give you a bad rash…or worse.
Also, make sure you read the company's return policies carefully so you know if you're going to be set back the purchase price if you don't like it.
PRODUCT COMPARISON
---
Let's look at the one I'm not hot about first. The Wireless Venus Butterfly.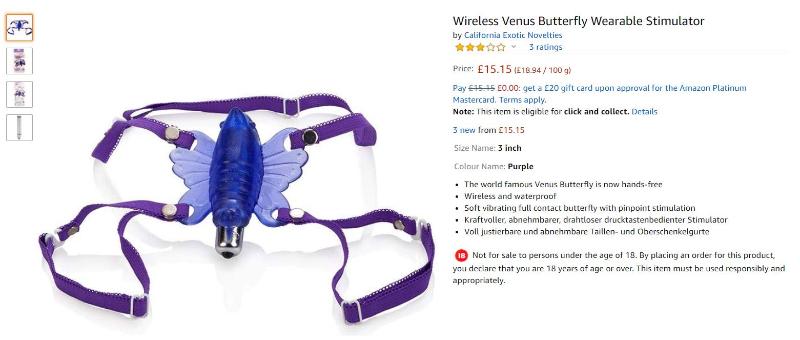 Ok, the straps are stretchy and adjustable, which isn't a bad thing. It's the actual vibrator I'm not keen on. First, the material TPR rubber which means it's porous and not as body safe (I'm on the fence about this material in general).
Second, the vibrator is one of those small, generic bullets, and I KNOW those aren't very strong. So, I'm wondering how much of the vibrations are lost through the material. The user ratings aren't that great either.
But for 15 pounds, it's not a terrible price for what you're getting. Maybe for a first-try toy or a gag gift?
Next, Love and Vibes Wearable…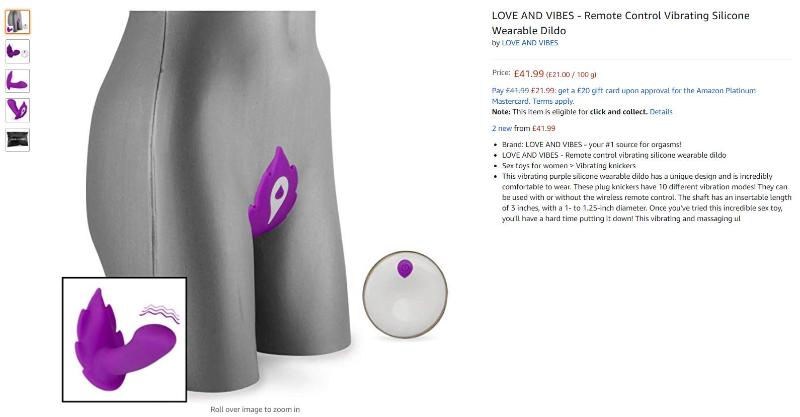 This has the pro of no straps, but when I look at the dildo (and from personal experience with wearable toys), I'm worried it will slip out easily. The base between the end of the shaft and the start of the "butterfly" could be more tapered. The plus side? It's made from body-safe material and there is a remote control. You will, however, have to shell out, 40 pounds.
Want to see more wearable toys with POWER
Check out Lovense Lush and Edge
. . . . . . . . . . . . . . . . . .
Which style of butterfly vibrator do you prefer? Why? Share in the comments.
Also, if you want more useful articles, you might like these…
Have a toy-tastic day!
Robyn
TagsButterfly Vibrator