I got my hands on Lovense Diamo – which was easy because I run the Lovense blog. But what was harder was finding someone to test it on. Thankfully, the stars aligned and there is now firsthand experience to share!
PRODUCT
---
Diamo is a black, silicone cock ring with a vibrator attached to one end.
It sounds simple, yea?
But when it comes to cock rings, having a simple design isn't necessarily a bad thing. It's also nice to see an external male sex toy become part of the Lovense portfolio. After all, outside stimulation is fun too.
PACKAGING
---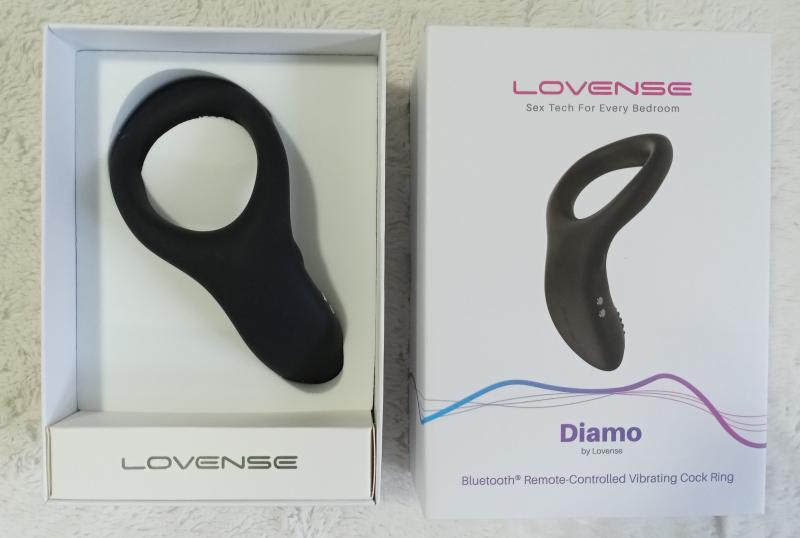 I won't go on too much about the packaging. At this point, the company standard seems to be figured out.
As I've mentioned in current product reviews, I'm happy to see they are including a satin, drawstring baggie with all of their products now. Silicone is naturally a dust magnet (to various degrees) and being a black toy, it makes the fuzzies all the more noticeable. It totally doesn't help that I have white fuzzy blankets, either. Oops.
Inside, there are two user manuals, the bag, magnetic charging cable, and the cock ring.
THE VIBRATOR
---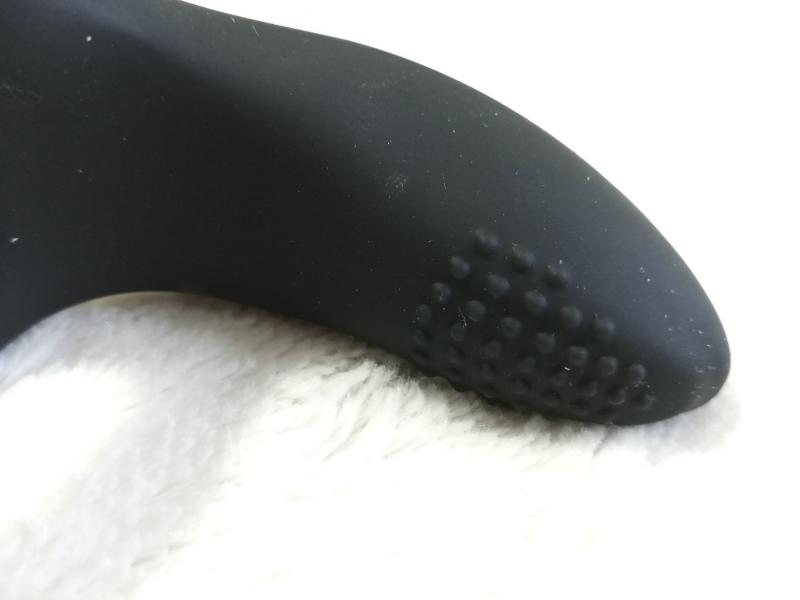 Excuse the white fuzzyies!
Normally, I would point out the toy's main feature first – the ring, in this case.
However, it's better to flip things around this time… in this case, literally.
The vibrator is contained in (what I like to call) the "tongue" part of the toy. I don't know the technical term, but "tongue" is appropriate enough. The tips have some nice nubs which add extra stimulation. So, that's nice.
But the real bang-for-your-buck comes from the power. Lovense always makes sure they have insanely strong motors that can fit in small space. Plus, there are the electronic bits and Bluetooth guts inside.
THE RING
---
Here is where I'm on the fence.
The partner that tried it was a bit girthier than average. As a result, he wasn't able to fit his testicles through the ring as well. However, somehow the toy managed to stay on without any issues.
I know what you're going to say next, "Doesn't the ring stretch?"
Nope, there is very little give from the ring section. It's quite firm silicone – which gives us a positive and a negative.
On the downside, only smaller to average guys will be able to fit things all the way through. Bigger gentlemen will just have to settle for it sitting on the shaft. The upside? The firm ring actually pulls the vibrations through surprisingly well. I expected a fair amount of fall off on the opposite side of the motor – as is the case with many vibrating cock rings. But the whole toy held the waves really well.
My advice?
Take careful measurements first and see which side of the penis-boat you'll be on. It will work both ways, but it's always good to know exactly what you're buying first.
THE EXPERIENCE
---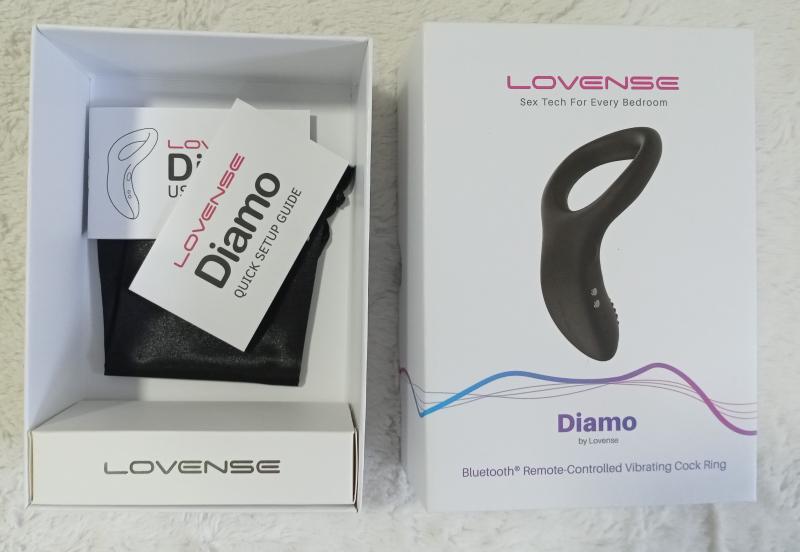 I won't scar you for life with too much detail.
But I will say that I was pleasantly surprised with the toy's design and function. It can sit four ways on the body – with the tongue curve hitting the perineum, upper-shaft base, clit, or anus (depending on how you wear it). I was very happy with the way it curved into the bum hole. It was just enough to give stimulation without feeling like something was trying to force its way into my backside.
There is one experience I can't talk about firsthand.
Apparently, Diamo can be worn (handsfree) under your trousers while you go about your day. All cock rings should be able to do this – but because of the stiff ring, I'm not sure how that would unfold. It's definitely something I'll try and get feedback on in the future.
CONCLUSION
---
I would give Diamo a go if you check some of the following boxes…
Are a ring-user and looking for something different
Prefer external stimulation as opposed to anal toys
Are a toy collector and have some money to burn
Love public play
Are in a long-distance relationship and looking for fun
Enjoy powerful toys.
I would not recommend this if you've never used cock rings at all. Try cheaper ones (of varying stiffnesses) to find your sweet spot and see if Diamo will be a good fit for you.
Anything else you want to add? Share in the comments!