Some people like small, delicate sex toys that tease and gently coax an orgasm. Others like inhumanly massive implements that grab them by the genitals and say "hold on to something."
And today, we're going to take a look at the second kind.
So, if you have fragile sensibilities or suffer from sex-toy-megalophobia, it would probably be a good idea to go watch videos of cute kittens.
As for the rest of you wonderful perverts … grab your measuring tapes and read on.
#10. BEHEMOTH RIBBED XL DILDO (link)
---

Okay, I know this isn't as massive as other dildos out there, but the reason this one made it to the list is because of the material. Most massive shlongs will be TRE/TPR, Silicone, PVC, or Jelly (the last two being materials you don't want in your sex toys).
It's rare to see something in the category made from borosilicate glass.
I don't know about the construction and if there are any weak points in the toy, but there aren't any thin sections, luster paints, or colored glass additions (which are bad in a glass sex toy) – looks like a decent glass sex toy.
TOTAL LENGTH – 12.25in/31cm
INSERTABLE LENGTH – 11in/28cm
WIDEST DIAMETER – 2in/5cm
RATING – Today is brought to you by the letter B – As is "big" for beginners
#9. KING COCK TWIN DILDO (link)
---

Maybe you have the fantasy of having two guys at the same time – but maybe you can't find anyone to play or your partner isn't open to the idea. Or, you're just a delicious freak who loves fun sex toys.
Yes, it's another "small" once (at least compared to what's coming), but the idea of a two-in-one experience can be a lot for those who've never tried.
TOTAL LENGTH – 12.25in/31cm
INSERTABLE LENGTH – 11in/28cm
WIDEST DIAMETER – 3.5/8.9cm
RATING – Double the pleasure, double the fun!
#8. THE WALRUS HUGE DILDO (link)
---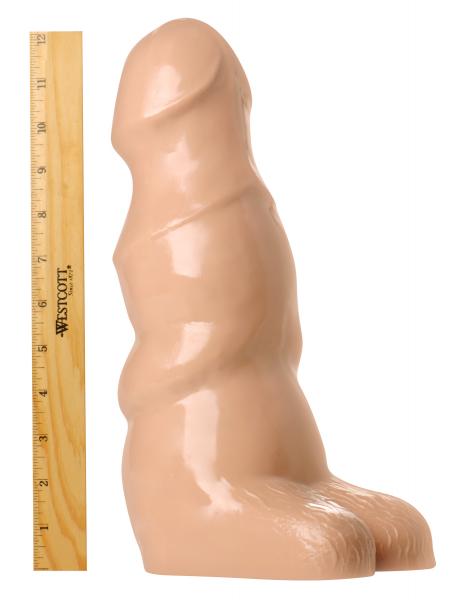 Another "shorter" one, but the design is interesting. Instead of the pile of regular cock-shaped toys you'll find out there, The Walrus is going to give you far more girth and some wonderful stretching sensations from the ribs and dips along the toy.
My only qualm is the packaging, which apparently is a plastic/poly bag in a cardboard box. Meh. It's also rubber, so the porosity will be an issue if you want it for anal play or long-term use.
TOTAL LENGTH – 12.5in/31.7cm
INSERTABLE LENGTH – 10.75in/27cm
WIDEST DIAMETER – 4.6in/11.7cm
RATING – Short and stubby, but THICK
#7. GIANT RUBBER ANAL CONE (link)
---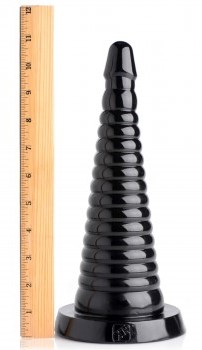 Yeah, yeah. I know it's not a dildo, but if you're a size queen, it totally could be. But, if you're a guy who likes traffic-cone-like anal toys, well… merry Christmas! The multitude of rings also promises layers and layers of fun.
I will say that this one comes with a BIG downside. It's PVC. TPE/TPR Rubber, I can get behind because it's non-toxic. However, PVC might lead into problems with rashes or other reaction. Putting a condom over it is no guarantee, but it's better than nothing.
TOTAL LENGTH – 11.25/28.5cm
INSERTABLE LENGTH – 10.25in/26cm
WIDEST DIAMETER – 3.5in/8.9cm
RATING – Will definitely direct your traffic
#.6 MASTER COCK – COLOSSUS DILDO (link)
---

Now we're starting to break out the big boys! It's literally longer than your forearm. And what this one lacks in girth, it makes up for in length! (Although the girth isn't something to turn your nose up at).
The suction cup base looks interesting, but it would have to be pretty good to hold up the weight of the toy AND stay in place during use. It's also PVC. Sad panda.
TOTAL LENGTH – 16.5/42cm
INSERTABLE LENGTH –13in/33cm
WIDEST DIAMETER – 2.85in/7.2cm
RATING – Say hello to my little friend
#5. THE HAND BY DOC JOHNSON (link)
---

We're not quite to full-on fisting yet, but it's damn close. This lifelike PVC mold of a hand will either intimidate or seduce. Aside from the material, I like it – it's a different take on design and unique among the other penis-shaped dildos out there.
TOTAL LENGTH – 16/4cm
INSERTABLE LENGTH –15.3in/38.8cm
WIDEST DIAMETER – 3in/7.6cm
RATING – Give yourself a hand
#4. HOSED ANAL SNAKE (link)
---

It's a 19-inch toy is for anal use, but there's no reason a vagina can't take it – well, at least some of it. I particularly like the swirl design … but hate the material.
It's better for those who are looking for length rather than girth – the diameter is something you'll find in many average sex toy sizes. I want to say "put a condom over it", but I don't think you'll find one that can go that far, which might be a problem.
TOTAL LENGTH – 20/50cm
INSERTABLE LENGTH –19in/48cm
WIDEST DIAMETER – 1.5in/3cm
RATING – Sex with a garden hose
#3. THE ANNIHILATOR (link)
---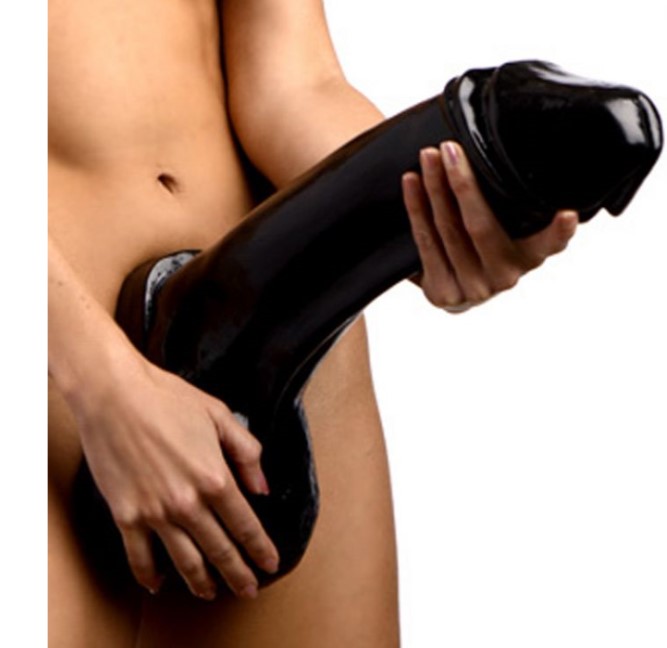 The name is appropriate because it's going to destroy whatever hole you're going to put this in.
All I can think of when I look at this is, "This would look amazing in my strap-on … but how in the hell am I going to keep it from falling out". The little rubber loops aren't going to stand a chance against 4.3kg/9.5lbs!
I guess if you can't have sex with it, you could always use to lift weights.
TOTAL LENGTH – 18/45.7cm
INSERTABLE LENGTH – 16in/40.6cm
WIDEST DIAMETER – 4in/7.1cm
RATING – We're starting to break out the BIG guns
#2. THE PYTHON DOUBLE DONG (link)
---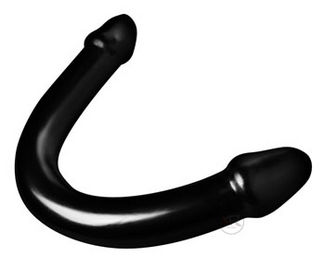 Now… now you can start being afraid.
And, to put things into perspective, most grown men couldn't wrap their hands around it and it's longer than your torso.
AND, let's not forget it's a double dong, so two people can use it at once (hence the lack of "insertable length" measurements.
TOTAL LENGTH – 28/71cm
INSERTABLE LENGTH – n/a
WIDEST DIAMETER – 2.8in/7.1cm
RATING – Yep, it really is sex with a giant, figgin snake
And… drumroll please…
#1. BLACK MOBY (link)
---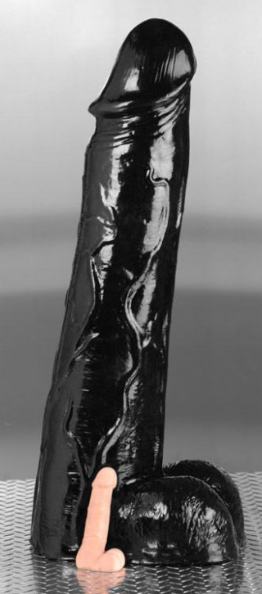 Listed as the world's largest retail dildo, Black Moby is so big, it's literally impossible to have sex with.
So why buy it?
Why not?! Just look at the thing. Sit it in your dungeon and scare the shit out of your new submissives. Gift it to someone with the shrink or giant fetish. Haul it to your next sex party and watch with amusement as people try to figure out what to with 51lbs of sex toy!
That is… if you can afford the $600 price tag and life in the States (they don't ship internationally).
TOTAL LENGTH – 35.5/90cm
INSERTABLE LENGTH – Are you out of your mind?!?!
WIDEST DIAMETER – 25.5in/64.7cm
RATING – Gonna need A LOT of lube … and a hospital
It's okay. It's over. Does anyone need a hug?
Or, maybe you want more jaw-dropping articles? Check these out…
Anything you want to add? Share in the comments!