Limited lovense lush pre-sale offer only for the first 1000 units.
First 1000 units have already sold out! Keep an eye out for updates posted here.
The pre-sale of the second-generation Lush is over, and the response has been very positive. So positive, in fact, that we are working hard to meet the demand. It's also important to note that our current production line is limited due to newly adopted technologies. These innovations represent new challenges in the manufacturing process, preventing us from going into full production at this time.
After many months of research and development, we want to ensure that the updated version of our best-selling toy will be available in our official store soon.
If you want to be one of the first people to get your hands on Lush 2nd Generation, order it now!
SPECIAL OFFER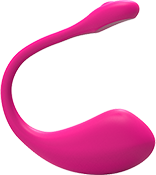 Lush 2nd Generation
Keep in mind that we can't guarantee a specific shipping date and it will take around 2 to 8 weeks to arrive.
Order Now
If you need your Lush FAST, check out our 1st Generation Lush.