Today we are taking a look at THRUSTING VIBRATORS! Yay!
And, even though they might sound like straightforward toys, there are a few key points you should know before buying one. Let's take a look at what you need to know plus some product examples of what's good or not-so-great.
1. THE THRUSTER
---
There are actually TWO kinds of thrusters.
The first kind I would call an "extendable" shaft.
There's one section that has extra material around the base/tip and the mechanisms inside push the dildo in and out – think like a jackhammer. The upside of this toy is that you can get some deep thrusting. The con is that poorly designed models could pinch your skin/vagina.
The second kind is more of a vibrator.
The motor/components inside (instead of the traditional circular motions) moves back and forth to create "thrusting". Pros include safer use and easier cleaning, possibly stronger vibes. Cons are that the depth is a bit shallower (depending on your preference).
There's no right or wrong choice here. It's all down to what you enjoy.
2. MATERIAL
---
This section is where you could make a "wrong choice." Always stick to body-safe materials like 100% silicone, ABS plastic, etc. These will make up the bulk of most acceptable products (since other body-safe materials, like glass, don't work for thrusting toys).
Also, stay away from anything like JELLY or other toxic materials.
3. QUESTION CHECKLIST
---
Check if the power levels, thrust controls, and vibration patterns are something you would enjoy.
Check button placement to see if you can easily use them during play.
Make sure it's USB rechargeable – batteries won't support powerful thrusting motors or longer uses.
Find out if it's water-proof or just splash-proof (water-proof is obviously better).
See if the length and diameter are within your comfort zone.
Compare price vs materials, quality/build, etc. so you get the most bang for your buck.
Is there a remote? Do you need one/is it important for you?
Is there a video so you can see its movements firsthand?
Is a rabbit version (with the clit arm) important to you?
Check return policies.
SIDE NOTE: Always check user reviews to see what other people think.
ICONIC/TRADITIONAL TOYS
---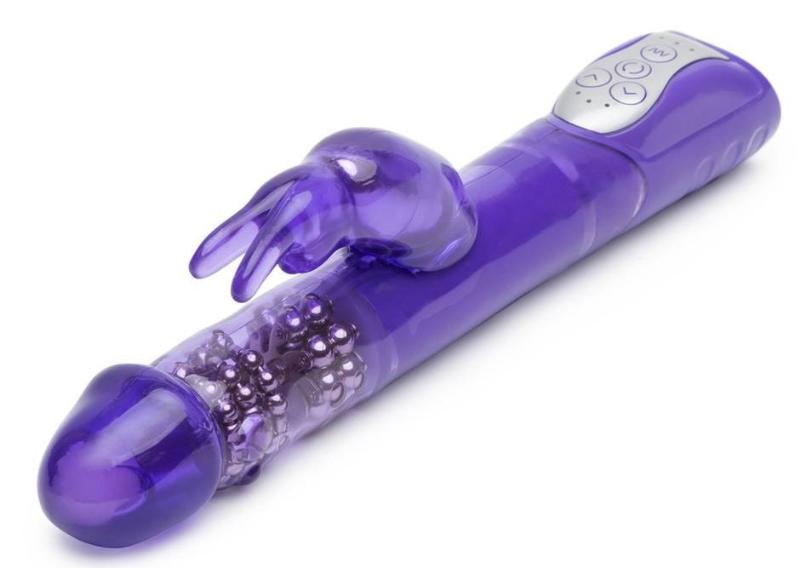 If you've ever seen Sex and the City, you'll know the famous rabbit vibrator. It's not like the featured toy was anything new, it just got a boost in sales because of the exposure.
Most of the models will thrust, vibrate, and even rotate. Some have beads to add extra stimulation.
The problem is, most are made from TPE rubber – which allows the stretch needed for the mechanics, but it's porous and any additional additives could turn it toxic.
I mean, we can't blame the writers for making an unsafe toy popular – they're just writers, not sex toy experts. Still, if you can get one of these in silicone, you'll be good. Or, if you're dead set on keeping the one you have, at least put a condom over it.
TIP-POSITIONED TOYS
---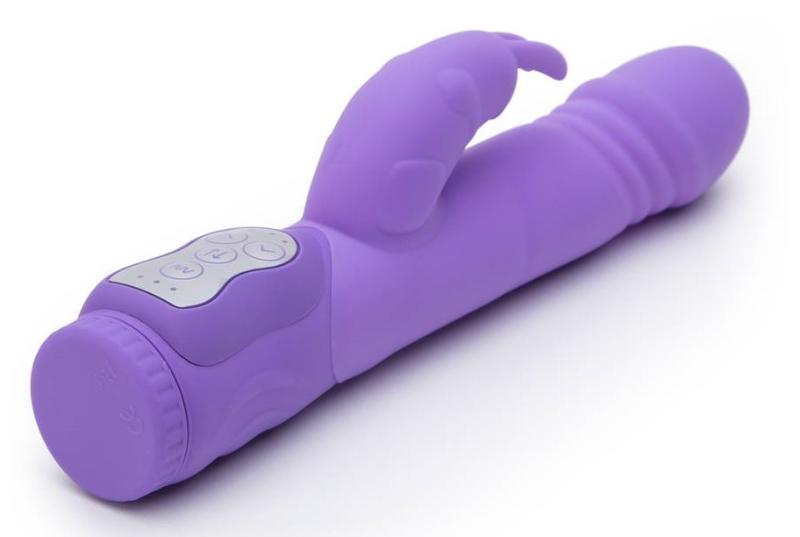 The thruster (and the extra material that allows some "give" so things don't tear) is located near the tip (and doesn't stretch the entire base, like the "traditional" models).
This is good if you want shallow or limited thrusting. However, watch out that it won't pinch anything. The Dream Rabbit is a good example of this type of toy.
BASE-POSITIONS TOYS
---

Personally, I prefer these. You get more stimulation because more of the toy is moving in and out. There's also less chance of pinching because, technically, that part shouldn't go inside you at all.
For example, the "Love Thrust-Her" model has a better suction cup base than move I've seen, but if you don't want to use it that way, the handle looks a bit wide for a comfortable grip. The "Maia", from SheVibe, on the other hand, looks like you're getting the same idea for considerably less money (especially on sale) and a better handle. You even get a slightly longer thrust length.
WHOLE THRUSTING MODELS
---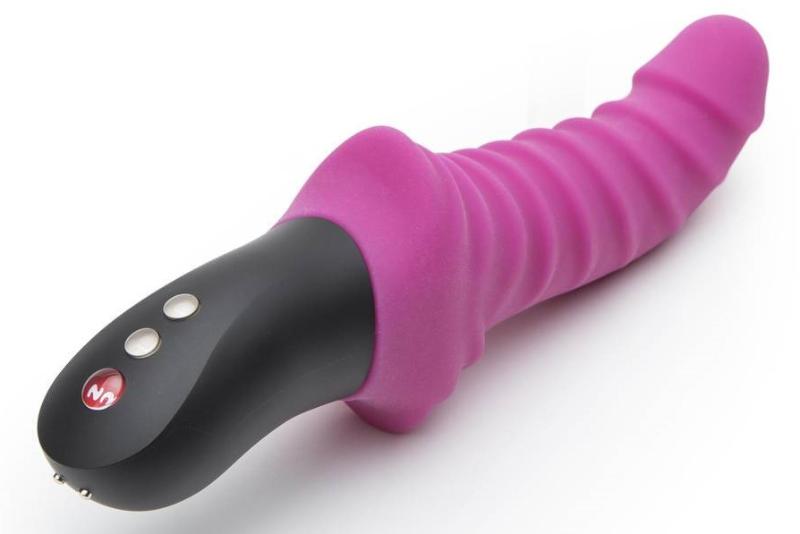 Fun Factory's Stronic Drei is a pretty popular/well-known toy in this category. I also like that Lovehoney has a video showing exactly what you're getting.
One downside is that since the whole thing moves, you might have to figure out how to hold it in place (and with lubed up hands, it will be even more interesting). It's also expensive AF (another thing to consider).
ANAL VERSIONS
---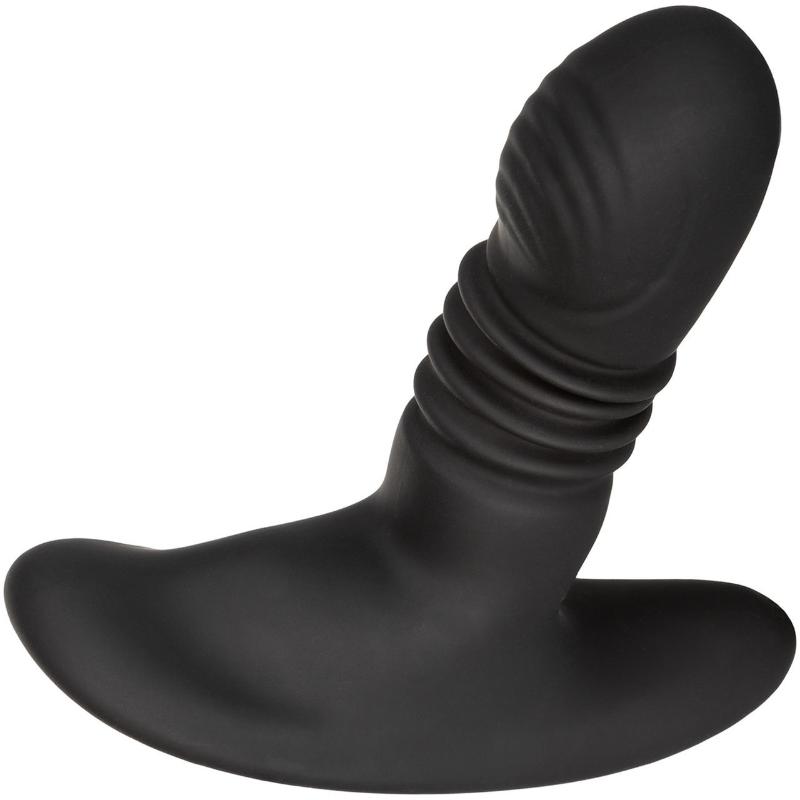 Yes, you can get the same idea for your bum! But please make sure it has a FLARED BASE so things don't get lost in your colon (which can happen no matter how long you toy is).
The "Eclipse" from CalExotics looks okay. Lots of specifications given. It's also more affordable. Remember you won't be getting as much thrusting length with the anal versions.
MISLABELED & MISLEADING TOYS
---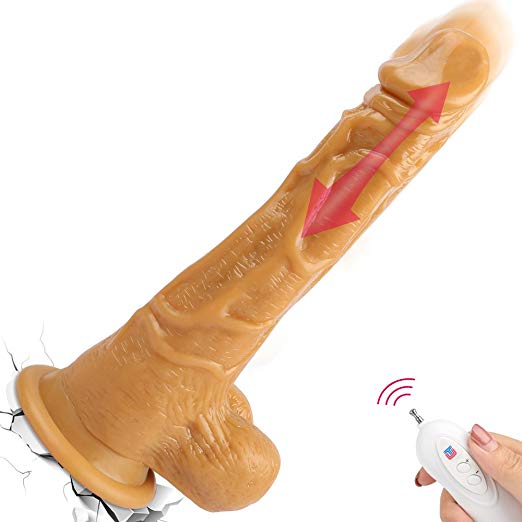 "Thrusting" is a hot keyword and will make most people want to buy the product. However, there are MANY toys that use this word that doesn't actually thrust. They put it because that's what YOU will end up having to do with it – good, old hand power. This is why reading the specifications, watching the videos, and reading reviews are so important.
This toy, for example, does not thrust. It just vibrates deep inside you.
Also, this is a good time to mention that suction cups and thrusting vibrators general don't go well together. The cups are never strong enough to withstand the vaginal clenching of an orgasm, or any wear and tear.
There are far more toy examples out there, but now you at least have a better idea of what will suit your needs and what to shop for. Good luck with your thrusting toy journey!
Also, if you want more useful review articles, check out these…
Anything you want to add? Share in the comments!