It's not often you find PORCELAIN as a sex toy material. So, when I came across an Italian company – My Fucsia – that specializes in them, I was immediately intrigued. I contacted them for a free sample in exchange for an honest review.
Here are my findings…
QUICK COMPANY PHILOSOPHY
---
Emanuele Pangrazi made these designs to "free taboo of the self-erotism, through a dildo to collect and show, with a personality that refers to an unusual thought, to a logic and worlds far from the specialized objects, all to distract the user from the legacy of shameful and morally objectionable."
Basically, they make fun, quirky sex toys to combat the social stigma around adult products.
THE PACKAGING & INSIDE STUFF
---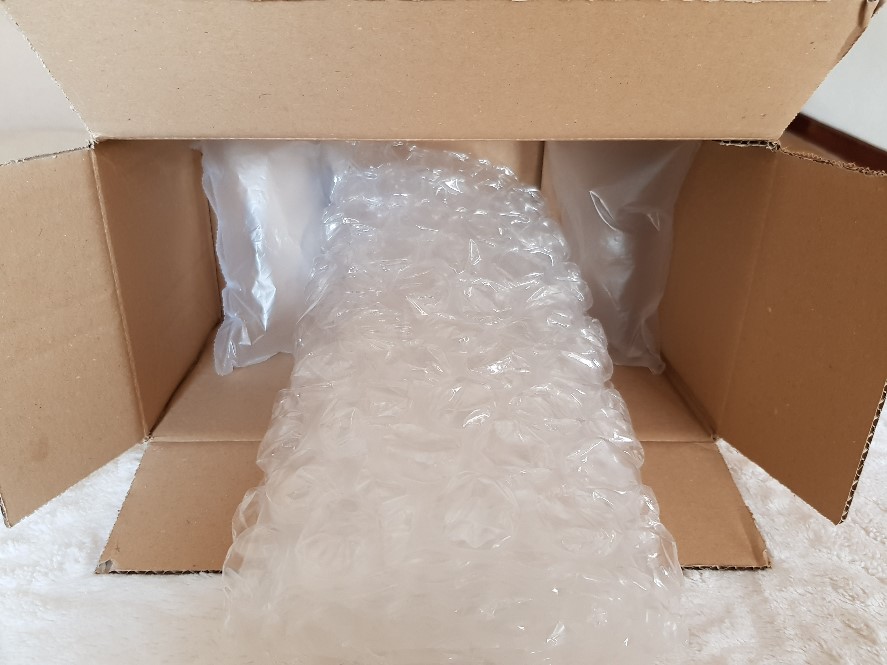 My particular toy (appropriately named VULVIO) came in a discreet cardboard outer shipping box. Inside, the toy was in its packing, rolled in a sheet of bubble wrap, and rested on two inflatable shipping pillows – quite safe.
I really like the packaging design. It's the appropriate fuchsia coloring that brands the company. The print and images are simple and clean. The tube also serves as another method of protection since the bottom and top sections have firm, custom fitted foam that hugs the dildo.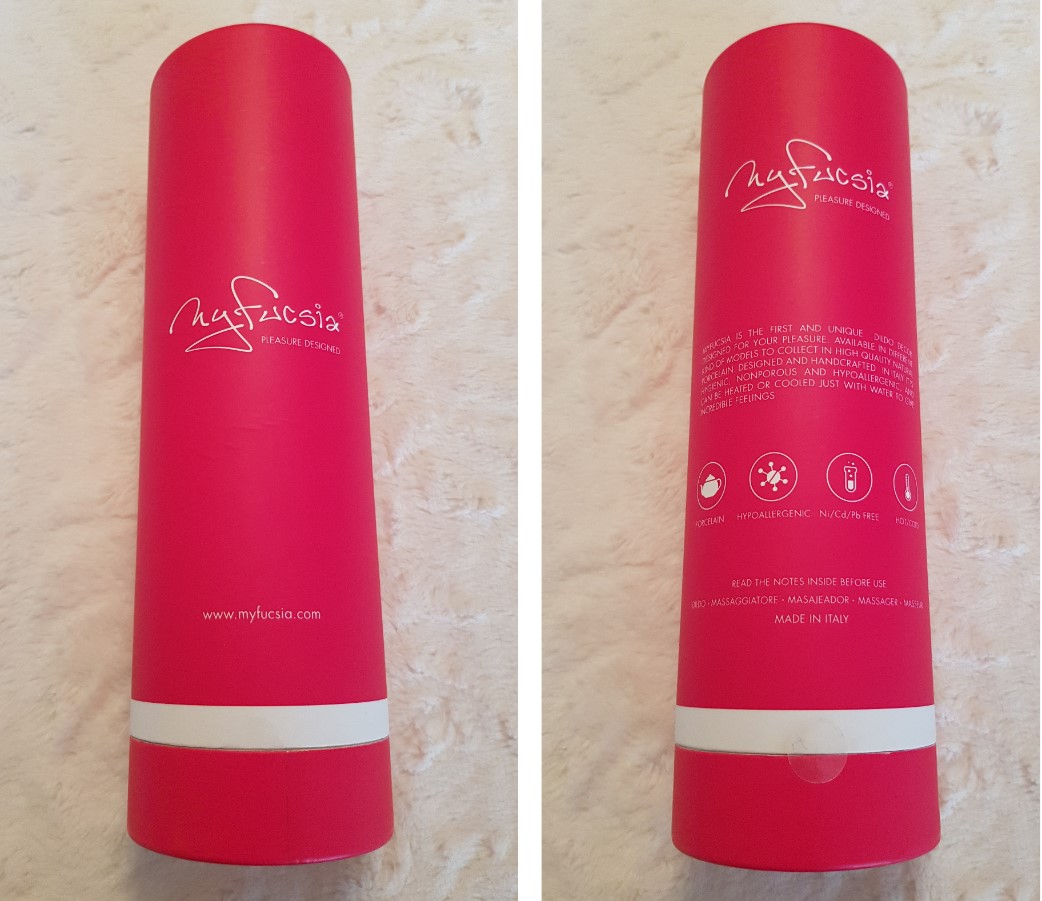 Inside, you'll find the toy and a small instruction manual. The leaflet is where I came into my first piece of constructive criticism. Part of the translation from Italian to English didn't turn out that well. A few words and sentences could do with a clean up from a fluent speaker.
UPDATE: Normal shipping will take around 3 days to get to you. However, if the item is out of stock, it will take around 1 week to restock and the standard 2 days to ship. Plan your gift giving accordingly.
THE DESIGNS
---
I like the variety of choices on their store. My favorite is the Blue and Red Tea Time dildos (and the gold ones of course), but the bumps on the aliens looked a lot more fun. I sent the site link to my co-worker, and she fell in love with the submarine ones – saying, "The yellow one looks like something I could eat. Like macarons."
The designs are thin decals that are baked into the porcelain (not just stuck on). The outer lip of the decal is very thin (I had to look very closely). You can sort of feel the difference between the design and the toy if you run your fingers over them, but it's subtle … and nothing you'll feel while using it. There's also no chance of it coming off.
The handle was easy enough to grasp while using but for the sake of my wrist, I had to hold it this way…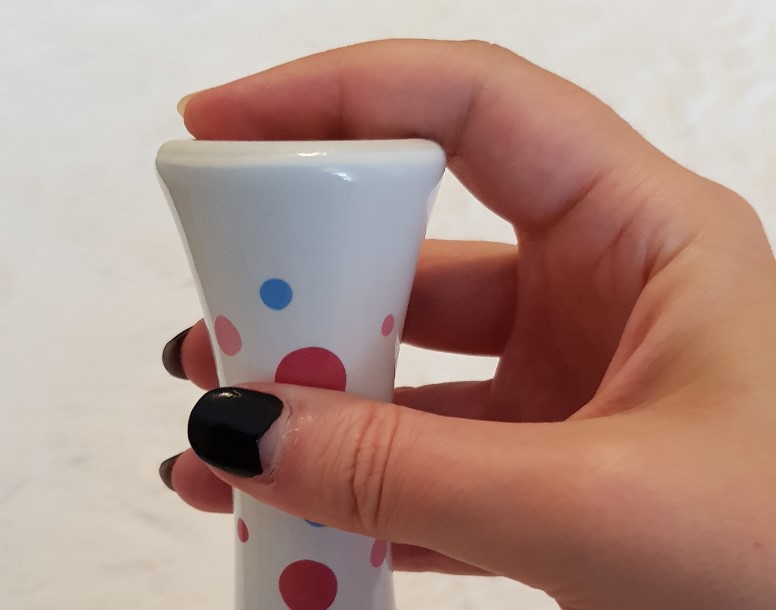 NOTE: If you NEED G-spot stimulation, this toy isn't built for that. BUT if you tilted it up, you might be able to target it somewhat.
USING MY FUCSIA
---
TEMPERATURE PLAY
Here are my rudimentary/crude temperature tests (based on touch and the faucet being pushed to the furthest hot/cold setting).
Using very warm tap water – Leaving it 1 minute vs 5 minutes gave a slightly warmer feeling to the porcelain, but the cooldown time for both was around 10 minutes.
Using very cold tap water – the difference between 1 vs 5 minutes didn't create a large difference in temperature. The cold faded quickly but the coolness stayed much longer than the hot tests (keeping in mind that this material is naturally cool on its own).
If you want cold play, I would recommend ice water for better results.
My Fucsia says that you can get 15-20 minutes out of it. So, if you use very hot/ice water, I can see those numbers being accurate.
I much preferred the warming sensation. It also made for a far more pleasant insertion.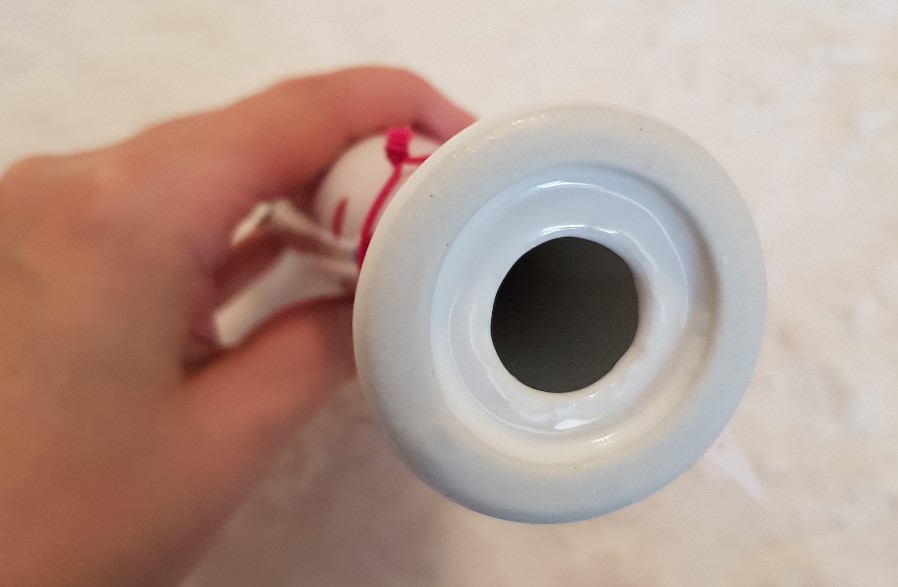 ERGONOMICS AND SENSATIONS
As for the curves and textures, I could feel the bumps on the tip as it went in – a very interesting yet pleasurable sensation. Using it was like any other solid dildo, but the texture was a significant bonus. It got the job done quite nicely.
The handle was easy to grasp as long as there wasn't any lube on it. Any lube that did get on made it slippery, and I had to clean it off once in the middle of the session. Still, that's normal with smooth toys.
NOTE: For any of you wishing the was a G-spot bump, I'm guessing nature of the material makes it harder to form an ultra curved toy that would be equally strong as a straight one (stress on a curved neck increases stress and eventually possible breakage).
CLEANING
---
Warm water and mild soap did the job fine. As easy as any glass or stainless-steel toy. I know it can go in the dishwasher, but I don't share my toys and just don't have the courage to try.
MY Q&A WITH THE COMPANY
---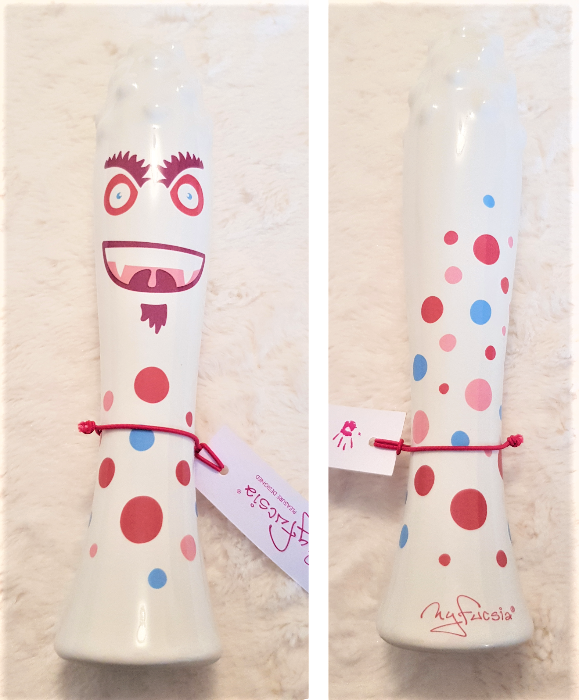 Naturally, I had a pile of questions. Emanuele from My Fucsia was prompt and helpful with all the answers.
Your toys have a " low percentage of micro porosity" – How does this porosity compare to 100% silicone toys? Are there any specific numbers you can provide to give customers a clearer idea?
If porcelain is a porous and permeable ceramic material, during the cooking phase with the addition of "fluxing" materials, usually calcium carbonate, they give life to a vitreous phase that binds the grains of the material, decreasing the present porosity near zero or near Angstom (0,1 nm) dimensions.
The MyFucsia products undergo three cooking processes: the first at 1280 degrees to vitrify the external glaze, the second at 950 degrees and the third at 890 degrees to apply graphics and/or gold.
We do not have comparative numbers with 100% silicone toys because there are many silicon polymers and it would be too expensive to test all of them.
What we are interested in exposing is that the silicone material to be "soft touch" must have a non-regular surface at microscopic level and jagged by micro protrusions as opposed to Myfucsia.
As you can see, this thing is baked more than my grandma's "oops" cookies. This is why there's no chance of the decals coming off. It's also a clearer picture of how this toy is a body-safe option.
Can you re-explain what this means but in simpler terms? — "a very high acid resistance of aggression, not allowing them to make the surface rough, the opposite of what happens with plastics" — I can foresee some people being confused by this and I would like to touch on this idea.
Thanks to the vitrification process described above, the material can resist the aggression of acidity and chemical agents (as happens with the toilet).
What is the maximum temperature you would recommend for cold and hot temperature play? What extreme tests have your run to make sure temperature play is safe with your toys?
Regarding the suggested temperature we refer to the common safety and common-sense rules, suggesting to the user to find his ideal temperature respecting his body. This is because it is not possible to establish a specific temperature valid for everyone, above all because we should take into account many factors including contact time and the sensitivity of the area concerned.
From our research, the safety temperature range is from 5 to 40 degree but as I wrote above it depends on also from other factors.
Are there any special cleaning tips?
We suggest washing it with water and neutral soap. Specifically, to the product it can be washed in the dishwasher also.
How strong is the toy? If I were to drop it, how would it fare? What drop tests has your company performed?
Although there is no Italian and international regulation on ceramic handicraft products about safety test, we have carried out mechanical strength and break tests at the University of Perugia – Faculty of Materials Engineering.
The test result confirmed a resistance of about 700J per mm2 as a breaking point. This means that the product is very hard and cannot be broken through contact with the body.
But as physics teaches us, the harder a material is the more fragile it is, so if it falls on a harder surface the product breaks down. Referring to this we added special warnings in the internal instructions that you can find below:
"Please always check the integrity of the products before every use. In the case of grain, chips or other signs of damage, do not use in any way."
Your company has strong ties to interesting and innovative design, but what steps have you taken to ensure these sex toys are as body safe as possible? Specialist you've hired? Testing? Prototype journey? Material and factory vetting?
In addition to the design of the object we paid attention to the ergonomics of the product and once the first samples were made, we did in-house tests and through sex bloggers.
KEY POINT RECAP
---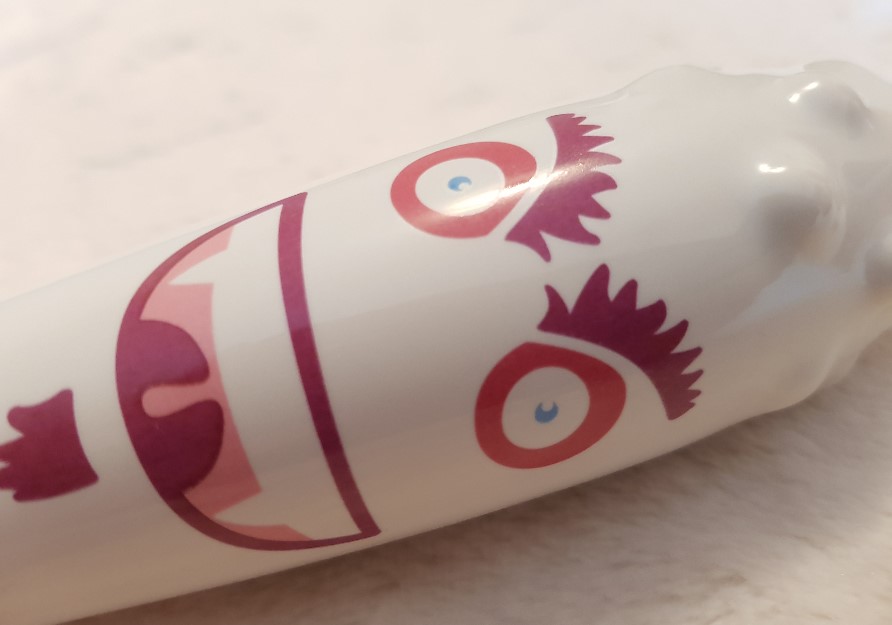 PROS
Unique material choice
Reasonably priced (for the lower end products)
Company open about its manufacturing processes
Safe shipping and good packaging
Great graphics and toy design
Good for temperature play
An eco-friendly material
Conversation starter
Easy to clean/dry
Hypoallergenic
Nonporous
Pleasurable texture
Girthy enough
SUBJECTIVE
Requires regular inspections
Different rates for different areas to ship (which is normal)
International shipping might take a month
Needs personal testing to find the ideal temperature for you
Hard/solid (better for those who like hard toys similar to NJoy).
Not for people who NEED G-spot action
Not for people who NEED vibrations
CONS
Can be broken/chipped if dropped. AKA not for clumsy hands or butterfingers.
CONCLUSION
---
You'll find plenty of wood and glass out there, but not much porcelain. It's also rare to find a company that has based its entire line on this single material – aside from things you would find on Etsy (which is often questionable).
The unique, clean, and fun design makes it a fantastic addition to any sex toy collection and a great gift for any sex toy coinsure or the environmentally-minded. I highly recommend it.
DEAL ALERT!
The lovely people at My Fucsia made a special discount code for this review – "MyRobin" will get you 20% off anything in the My Fucsia store. I do not make affiliate sales from this. It's just them adding something nice.
Also, if you want more interesting articles, you might like these…
What about you, dear readers? Which My Fucsia design catches your eye?