This one has been a long time coming, but it's finally here – my official review for the Ambi bullet vibrator.
Why the long wait?
Well, personally I prefer to do comparison reviews between first and second/third-generation products. But there have been a couple of significant changes, also, this little guy has waited long enough.
THE PACKAGING
---
My Ambi actually came in the old packaging and with the old charger. This brings us to the first big change.
Instead of the magnetic clip, there's now a charging dock. This is great because I always found the clip would fall off when I was trying to juice it up – especially if the cord was dangling off the table. I haven't tried the new dock yet, but I can it will be more convenient.
Second is the change that came with ALL the toys – a storage baggie.
And thank god.
Any sex toy enthusiast knows that dust and silicone are mortal enemies. It's also not a good idea to store silicone against silicone. All in all, these updates are very welcomed.
THE TOY
---
You'll notice this bullet vibrator is different from the standard "tubes/cylinders" that fill the market. But it's not just differently shaped for the sake of visually standing out. The three "points" have different situation purposes.
The front nub is for pin-point stimulation – basically what most people use the tip of any bullet vibe for.
The flat side is for broad stimulation – for anyone who doesn't like targeted vibrations
The thin tip is for "super" pin-point stimulation – the idea is to "tuck" the tip right against the clit or even under the hood if some girls can swing their body that way.
There's really no right or wrong spot or way to use Ambi. It just comes down to personal preference.
The different curves and points (as well as the angle of the head compared to the handle) is designed to be easier to hold during play for you OR if someone is playing with you.
THE EXPERIENCE
---
Personally, I'm a "front nub" girl.
I tried the other ends but it turned out to be a Goldie Locks experience. The broad side was too … well … broad. Also, the small tip was too uncomfortable and hurt at some points if my partner pressed too hard. That's not to say that the other two sides aren't good. It's just how my body preferred it.
The motor is great – but that's usually the case with Lovense's hardware.
The high levels were fantastic for a quickie and the lower levels were perfect for buildup or teasing. I wasn't a fan of the patterns, but again, that's just me. Some people love them.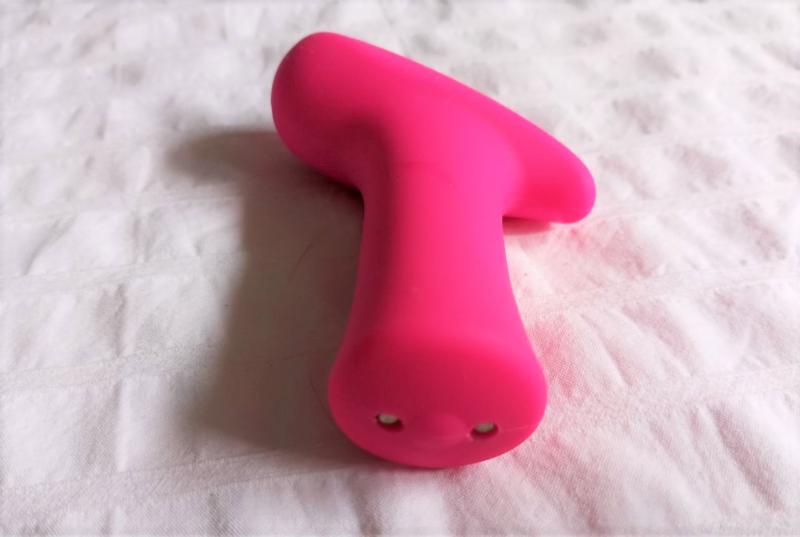 PROS & CONS
---
PROS
The battery life (at maximum power) gives upwards of 2 hours of play time. This is actually decent considering the strength of the motor.
Made of silicone – body-safe and easy-to-clean is always good
Waterproof – excellent if you want to play in the shower or wherever things get moist.
USB Rechargeable – good for supporting the powerful motor.
1-year warranty – never a bad thing
Easy to travel with – at least compared to bigger toys.
Great feeling and versatile – there will be something for anyone
One of the cheaper options in the Lovense line, so it's great if you're new to the line and not sure about the bigger investment in the other toys.
CONS
If you're a power queen, this might not be the option for you. Don't get me wrong, the vibes are superb, but if you want Doxy or Hitachi levels of power, you might not love Ambi.
Still pricey – if you're on a limited budget
It's pink – I personally don't care what color gives me orgasms, but some people genuinely HATE pink sex toys – so there's that.
Bit of a learning curve – it's not much, and I can think of worse things than experimenting with sex toys, but it's still worth mentioning. It will take one or two sessions to find your "sweet spot" with this toy.
For cam girls, it's not the "showiest" toy for viewers, but it can still be set up to control tips.
THE VERDICT
---
In my opinion, this is a solid toy and well worth the investment. If money is an issue, you can wait for sales, package deals, or other promotions.
Don't let the unconventional design scare you away – you also don't have to use it in any way that you don't like (eg. if you don't like pinpoint vibes on the clit, maybe try it on the nipples).
I would definitely recommend trying it.
Anything else you want to add? Share in the comments!