I like Velcro bondage products because they're great for beginners, strong for bondage yet easy to take off, and way more affordable than leather or other materials.
I took a look at some things on the market and have given my two cents worth based on my experiences with some of these products, my experience as a sex blogger, and general common sense.
SIMPLE WRIST CUFFS
---
I know that many kink kits come with fuzzy handcuffs, but I think Velcro cuffs are far more comfortable and safe for beginners. Even if you're not a beginner, they're great to have if you don't feel like elaborate restraints are want something easily washed.
WHAT I LIKE – HEAVY DUTY NEOPRENE

Keep in mind that fuzziness doesn't equal comfort – padding does. The layer of neoprene seems a decent thickenss. The clasp and stitching seem fine too. I'm also looking at the reviews and ratings – enough people have bought then and praised them that I feel confident in recommending them.
WHAT DON'T LIKE – GSPOT LINK

These tick me off for two reasons. First, they are WAY overpriced for what they are (the previous model is nearly the same and for much less). Second, the plastic clasp isn't going to be as strong as a metal one. And when it breaks, it's a bitch to replace.
WHAT'S A CHEAP SUBSTITUTE – DEJAVU CUFFS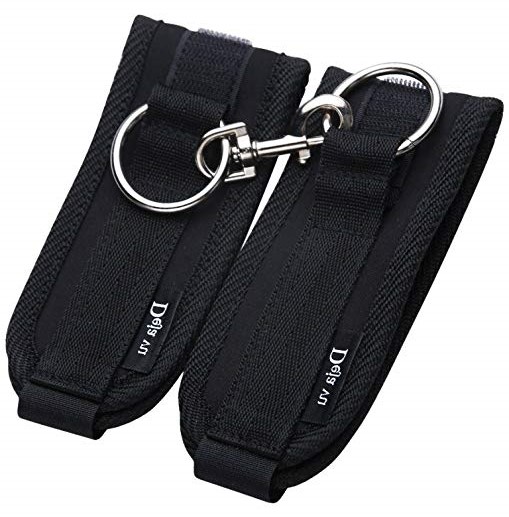 Nothing fancy, just something simple and affordable if you're just starting out but have zero idea if you're going to like these kinds of restraints. Great for fun gifts as well.
The cuff material might be thin but at least they've lined the edges with softer trim.
UNDERBED KITS
---
I love these because they are easy to clean, can be tucked under the bed when you're not using them, and are great for travel. I've had a set for a few years now and it's held up wonderfully.
My biggest suggestion would be double checking the product measurements against your bed dimensions. Mine is JUST enough to be spread eagle but with very little wiggle room to spare (in terms of adjustability). The larger/long the straps the better.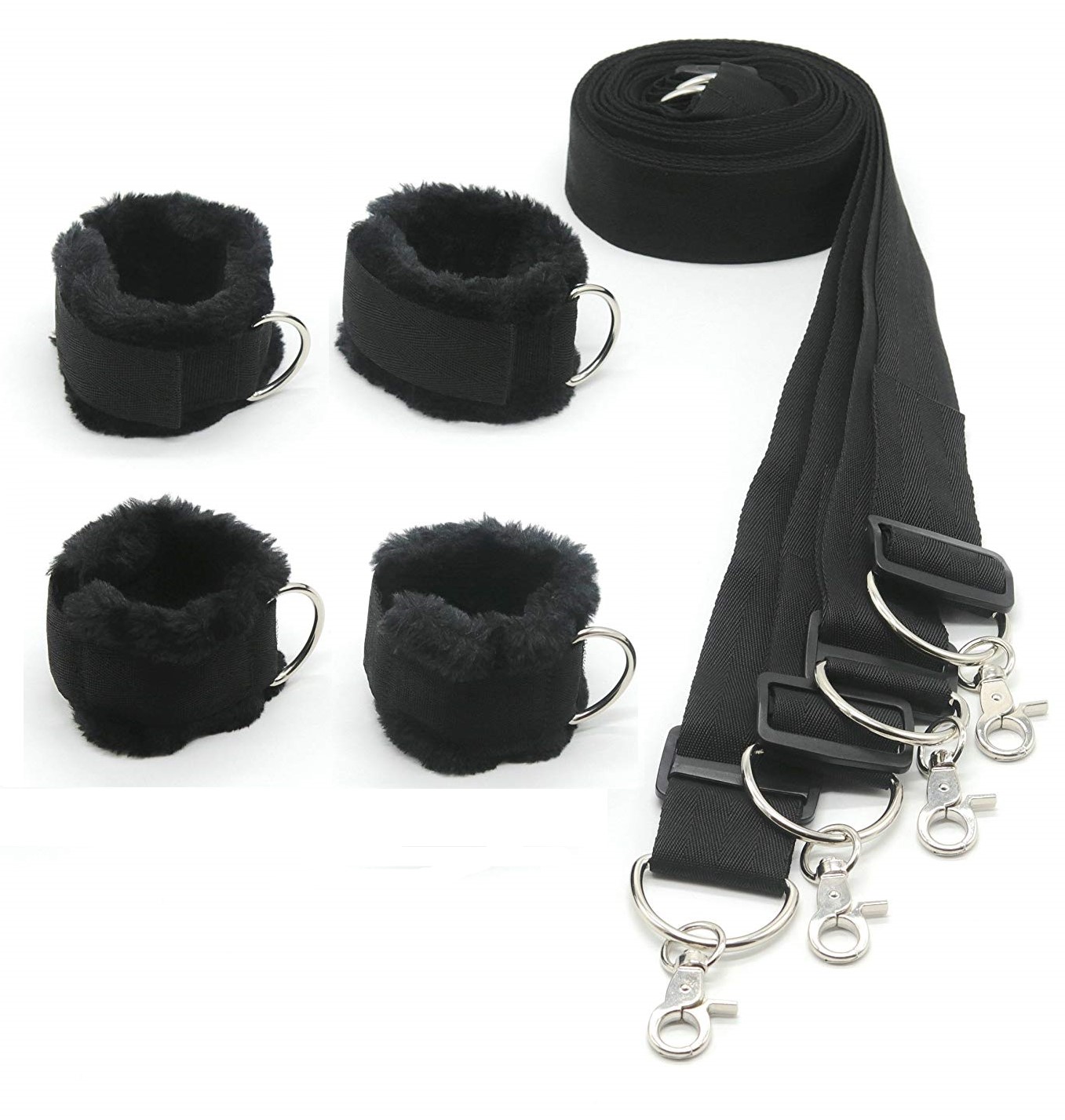 WHAT I LIKE – MEEYAR KIT
It's as basic as you can get, but that's okay. The cuffs are thick and fuzzy, which makes them really comfortable (especially for extended play). It's great for beginners and reasonably priced if you just want to add something extra to your kink collection.
It will fit upwards of a king-sized bed WITHOUT an additional top mattress or foam liner.
WHAT I DON'T LIKE – BED KIT
This might be another basic-betty product, but I greatly dislike it for one basic reason – the branding all over the cuffs is tacky AF.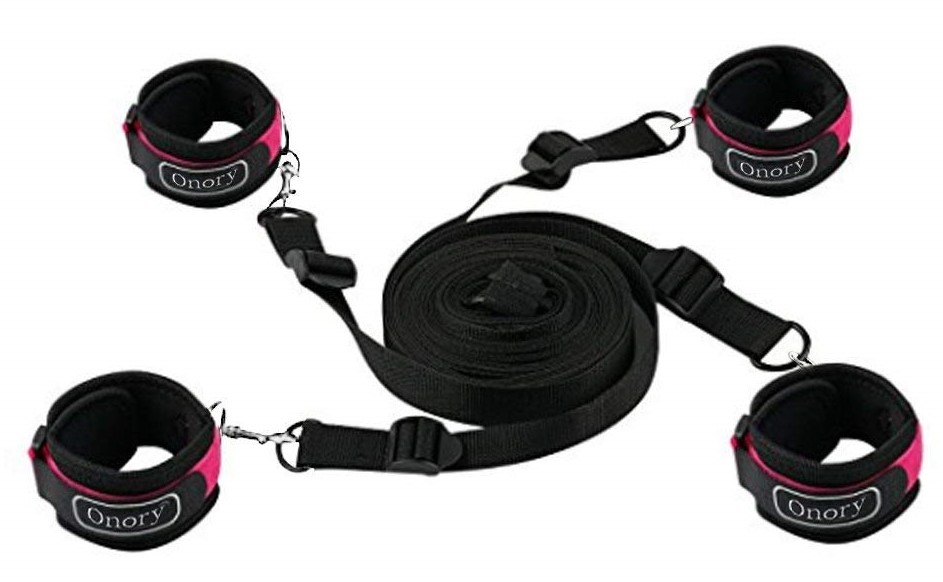 If you want to slap your name on something, fine. Just don't make it so "in your face". It also makes it look more like something you wear while exercising. I guess the deciding factor (if you're on a budget) will be that this is one of the cheaper ones out there.
WHAT'S DIFFERENT – BED RESTRAIN SET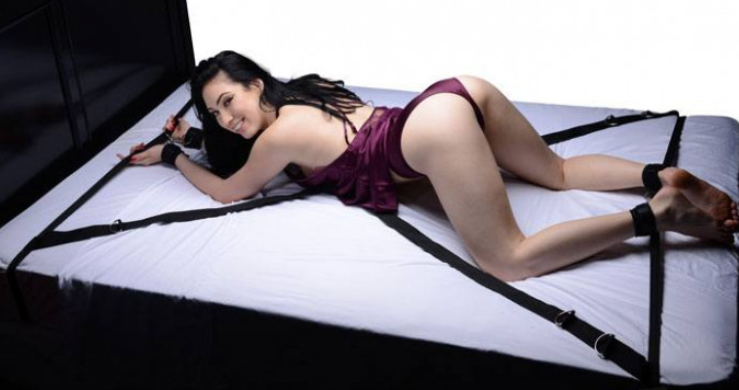 This one is cool because the extra straps in the middle (and additional loops) allow for WAY more positions and kinky fun. Considering the changes, I don't think that $35 is unreasonable.
ANKLE AND WRIST SETS
---
I think it's obvious why these are fun *Insert evil laugh here*. I'll just say that be aware if you're buying one with a solid bar (which becomes more of a spreader bar) or something flexible (which allows for a little more movement). Both are fine, just double check before you hit "buy".
WHAT SEEMS GOOD – EASY ACCESS SYSTEM

I'm a bit perturbed there aren't more product images, but the description tells me that the mid-section is rigid (which means less movement – which can be fuuuun). Not sure on the comfort level of the wrist and ankle bands (if the edges are rough etc). Still, I think it would be worth a try.
WHAT I DON'T LIKE – HAPPY N' HEALTHY SET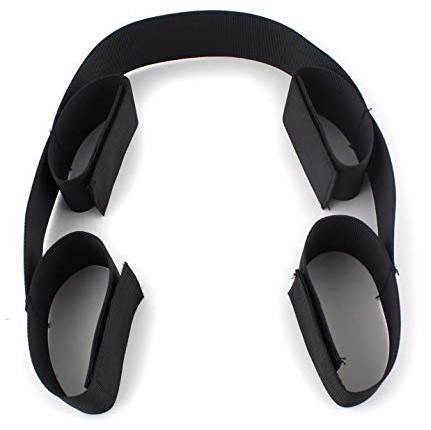 I know I often recommend affordable products (not everyone has tons of cash to burn on their kinks), but the quality of this seems just way too cheap to be any good.
The restraint edges look rough or downright "sharp" – one buyer even complained about friction burns.
The seams that connect the cuffs to the main strap also look flimsy. With all the options out there, I wouldn't bother with this one.
WHAT ANNOYS ME – FINOV SET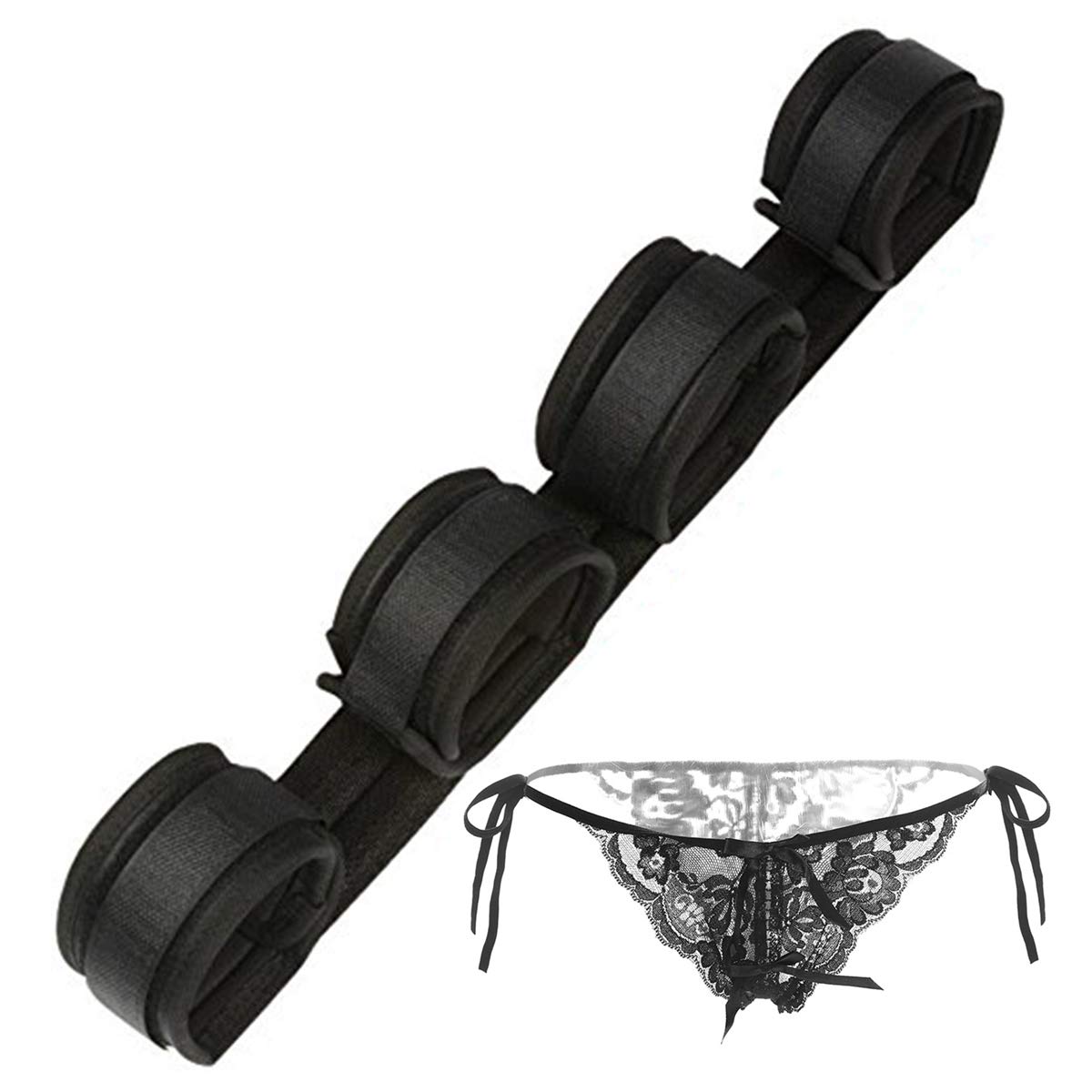 The padding looks great, but the image vs the product description is very conflicting – why bother showing panties if they're not included? Or they ARE included and someone forgot the fine print.
I also have no idea if the main strap is stiff or not. All in all, very poor selling tactics that a free baggie doesn't make up for.
DOOR RESTRAINTS
---
I had a set that included the legs, but it was just too terrifying to trust my cheap doorway to endure any wild sex. The good news is that there's a middle ground – door jam wrist restraints! You can keep your feet firmly planted on the ground while still getting freaky.
WHAT I LIKE – EXTREME RESTRAINTS SET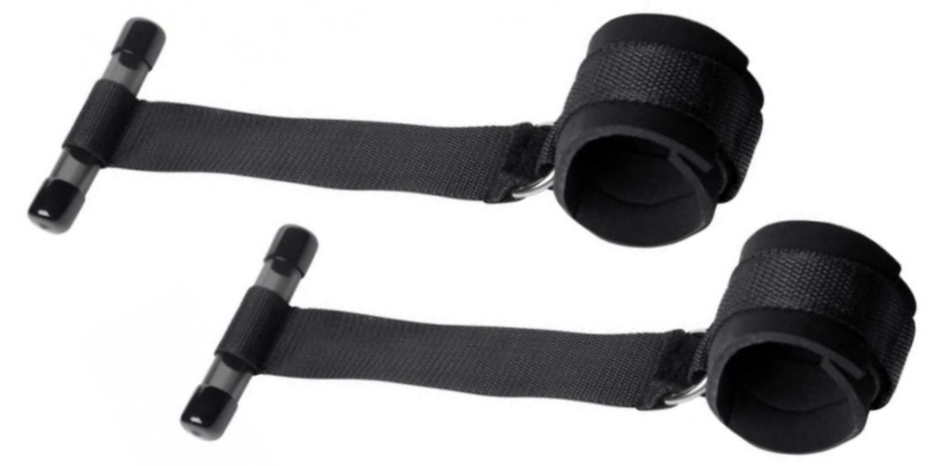 Foam-lined wrist bands and (what looks like) strong enough connections and stitching (multiple lines rather than a single line). Not much else to say other than it seems like a decent purchase.
WHAT I DON'T LIKE – BEKINKY SET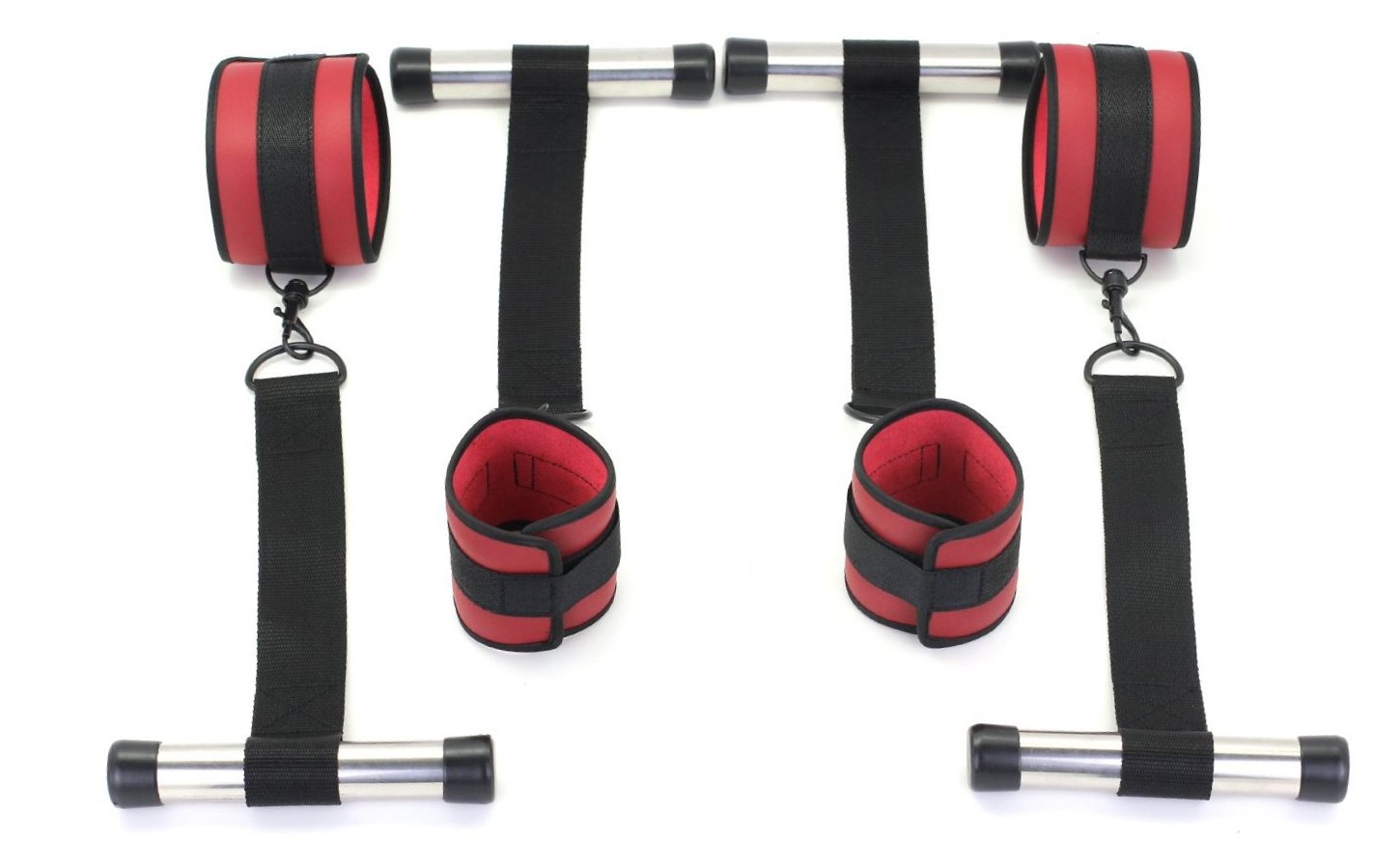 Ugh. These look flimsy and cheap AF. I would give them one try (or less) before they snapped or ripped somewhere. Even if it were sewn to hell, the wrist parts look like they would cause serious discomfort (or worse). Just don't bother.
WHAT MIGHT BE A LEMON – FRISKY SET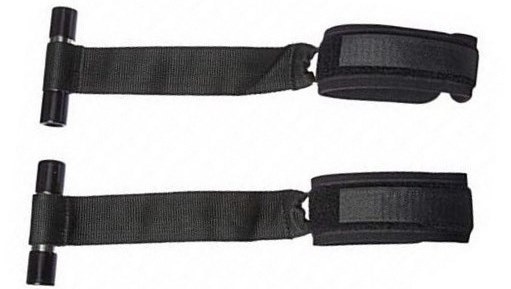 Always remember to read customer reviews before you buy anything. This one looked like something halfway okay, but then several people wrote that the sewing is shoddy and breaks easily. When it comes to things that might allow you to fall, I prefer to err on the side of caution.
DOUBLE RESTRAINTS
---
These are of a similar idea to the cuffs and ankle restraints to a spreader bar – except that the straps bind two body parts together instead of to an extra piece. There's no better vs worse with these choices. It's more of which preferences you have to which positions or restrictions these products put your partner/you into.
NOTE: If you've got thicker thighs, make sure the leg part is big enough (check the dimensions or ask the seller if the details are not provided).
WHAT I LIKE – TAKE ME CUFFS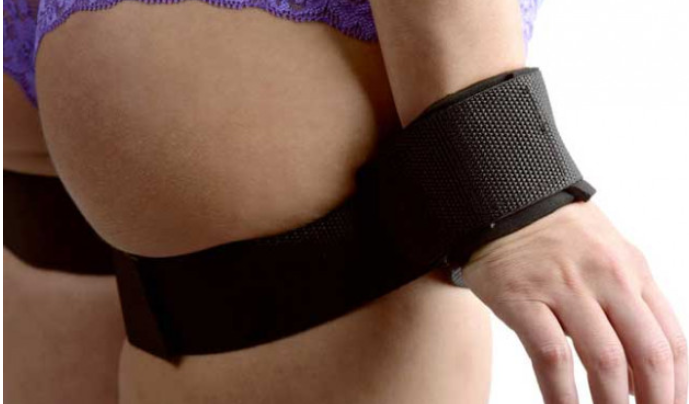 Attaches the wrists to the thighs – this gives the submissive/partner a better feeling of control over their balance (rather than bent over to a spreader bar). I THINK they are lined, but the pictures make it hard to see and the description doesn't tell us much. The reviews are good though.
WHAT I DON'T LIKE – KEMUSE CUFFS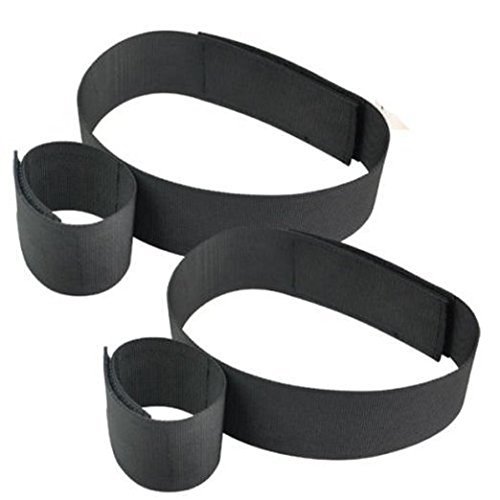 Like a couple of products earlier in this review – the material is WAY too thin. I can see possible chaffing or worse. It will be especially painful if you affix it higher up the thigh and it rubs against the crotch or bottom of the buttocks.
It's one of those instances where cheaper is NOT better.
WHAT LOOKS FUN – DOUBLE RESTRAINTS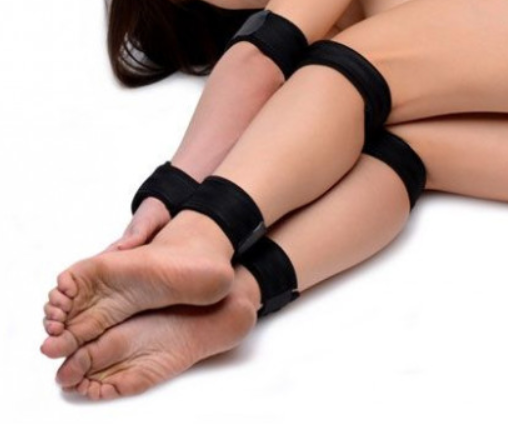 If you like the idea of these double restraints, but like more restriction in movement, these are perfect!
Just be careful with the seams around the back of the knees. Also if they're not something to be used while standing (unless your strong and attentive enough to catch your partner, should they fall).
NECK TO WRIST RESTRAINTS
---
These can be hot as hell, but since we are dealing with the neck, they can also be dangerous if they have a poorly thought-out design or bedroom play is too rough.
WHAT CONFLICTS ME – FETISH BONDAGE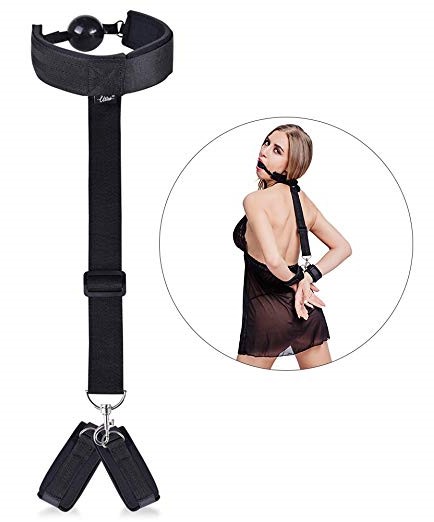 This seems like a great idea – there's face/neck inclusion, but the pressure isn't on the throat. The ball gag is rubber, so it won't hurt your teeth when the pull from your wrists is applied. But the side straps on the gag are flat nylon and look like they would hurt the corner of your mouth.
The back strap also doesn't look long enough (if the person is bigger). I shouldn't be surprised with such an elaborate set up only costing ten bucks.
WHAT I DON'T LIKE – WRIST RESTRAINT SET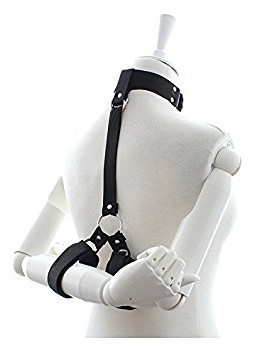 Any pull from your wrists (or any pulling down by your partner) will put pressure on your windpipe/throat – and even though autoerotic asphyxiation or choking fetishes exist, it's still considered dangerous edge play.
It might look like a cool idea but this doesn't feel safe to me. I mean, you could move it to the front, but I hate how they advertise it.
WHAT'S DECEIVING – COLLAR SET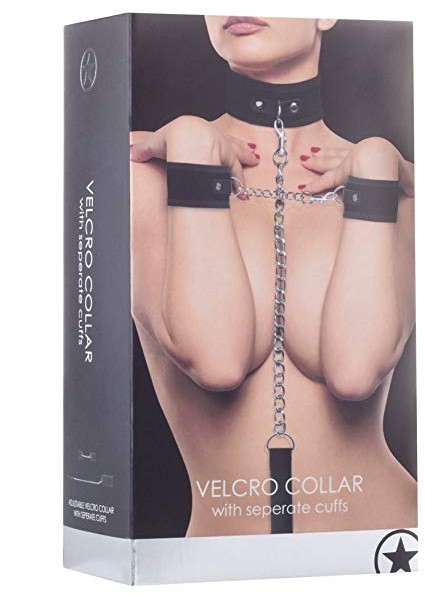 I threw this in as an example of why it's important to look carefully at the pictures and read the description.
It's two separate pieces, not one – but with an extra hook set, you COULD make it into a single restraint piece (one far safer than the other neck/wrist product, because the pressure isn't on the front of the neck).
If not, you'll still have some velcro bondage pieces.
WILD CARDS
---
These didn't really fit in any category, but I still wanted to include them…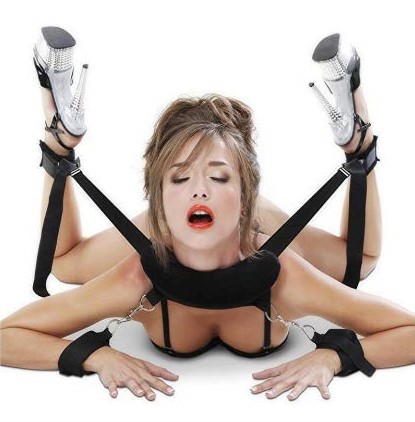 I've seen this one all over the internet, and it looks like fun – but I'm conflicted about the neck brace part. One image makes it look puffy, while the other just looks like a flat piece of nylon. I wouldn't use it how it's advertised, rather on my back (seen in another product image).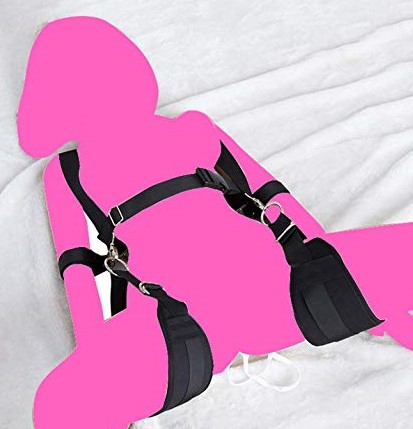 Let's first address the fact they censored a mannequin. Lol. But I particularly like this one better because the pressure is put on the parts of the body that can handle it (shoulders and thighs). There's also decent (I don't know what to call them) stirrups? That will support the thighs without anything digging into the flesh.
And, if you want more useful articles, you might want to check out these…
Also, keep in mind that this list is not the be-all-end-all. There's plenty more out there to explore and have fun with.