Not every sex-related article needs to be serious guides on how to not lose sex toys up your bum or proper cleaning and care. They can be fun, goofy, and possibly include images of a boob.
So, in the holiday spirit of giggles or giving no-sh!ts, here are some naughty Christmas sweater and why I love them, hate them or have a general "meh" feeling around them.
#1. HAPPY-ASS REINDEER
---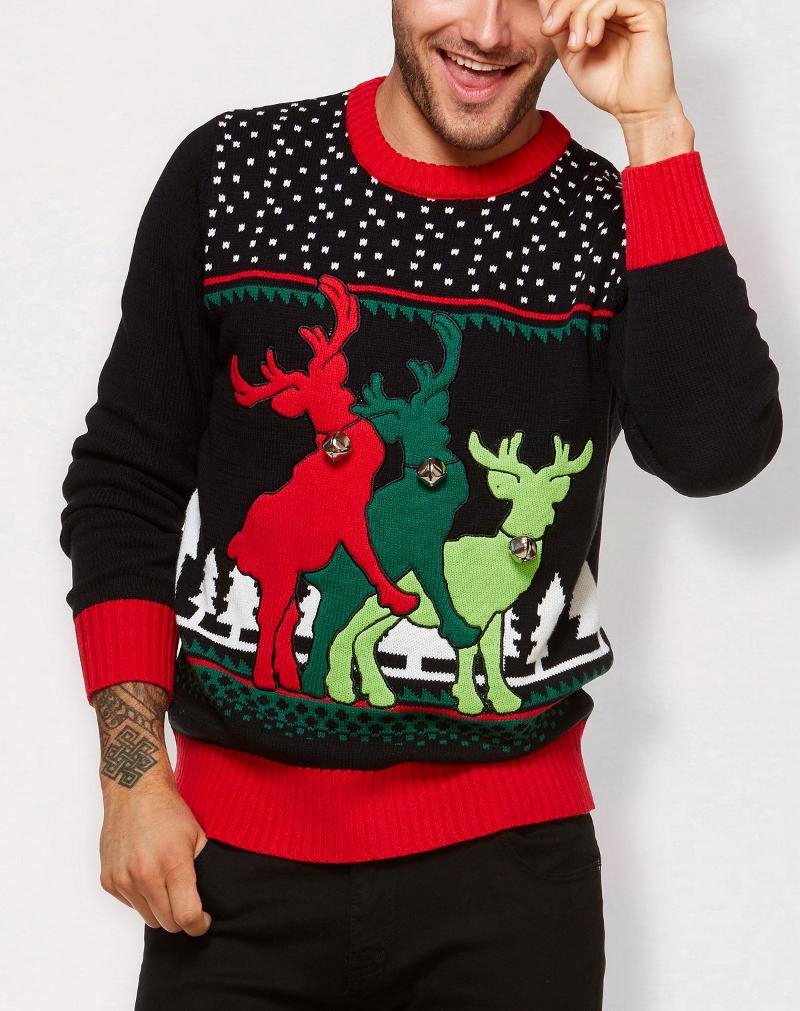 I had never seen reindeer humping in wool-form. So it automatically makes the "love" list – there are plenty of Santas, Mrs. Clauses, and elf jokes out there. But these horny creatures need love too, am I right?
#2. FEEL ALL THAT JOY
---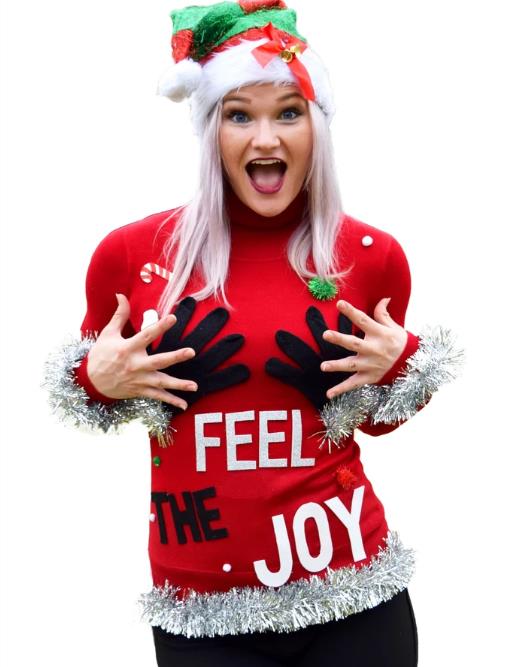 My friend actually made one of these for an "ugly Christmas sweater" party. It makes the "love" list for this one very reason. If you're low on cash, but still want to get dressed up in something wonderfully gaudy, you can easily make your own version – and yes you can make one for guys too.
#3. CUPID, DONNER, AND … BOOB?
---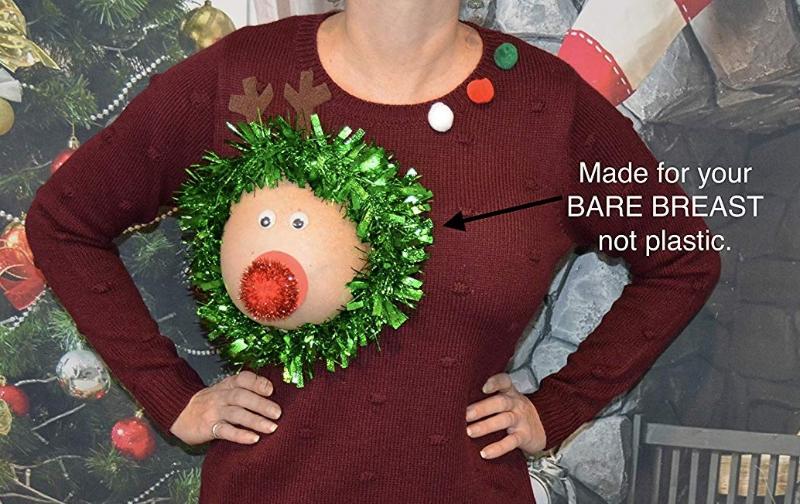 Sorry if you're a fan of this one. But for me, it makes the "hate list" for one simple reason – it's totally overdone. Okay, the first, second, and third time I giggled. I laughed at the Disney mouse version, but my god (plastic or no plastic covers), the bare breast joke is long dead and gone – let's stop beating that poor, dead reindeer.
#4. KISS THE UNDER MISTLETOE
---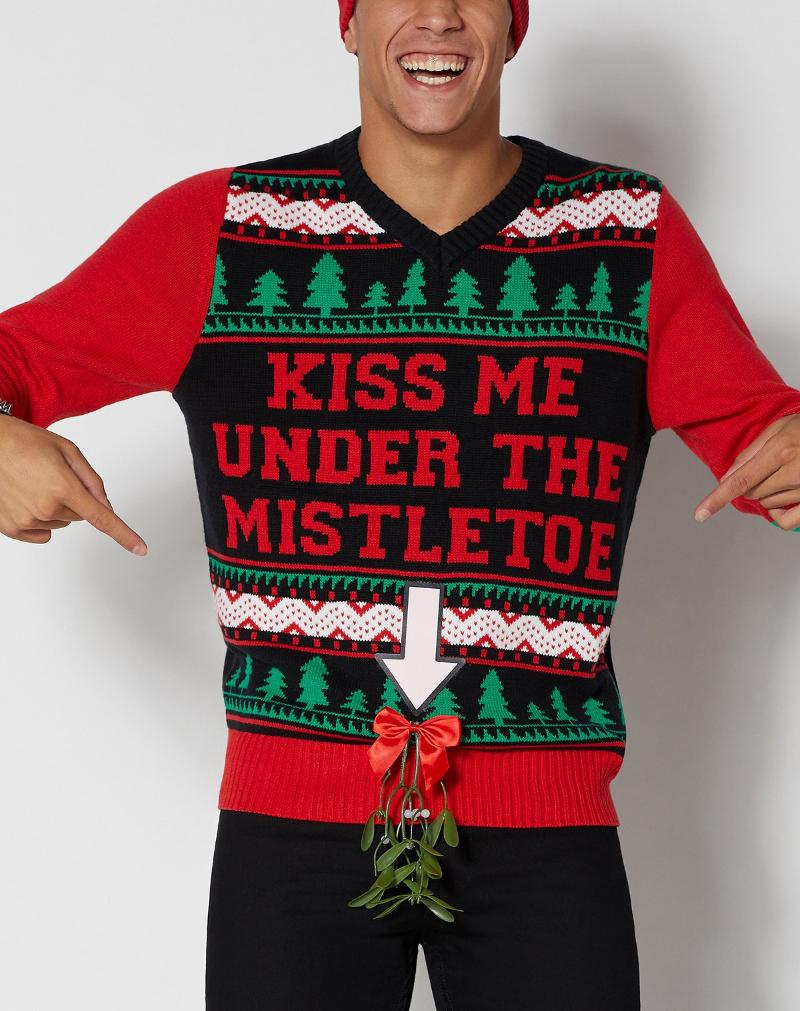 I'm a bit torn on this one. On one hand, the dangly mistle is as overdone (or more so) than the out-boob, but the sweater itself is the lovely-ugly kind. The dangles seem detachable, so I guess it's sort of a win (if you want it but not the plant part). I guess we will go with a "Meh" … for mehstletoe.
#5. WELL HUNG BALLS
---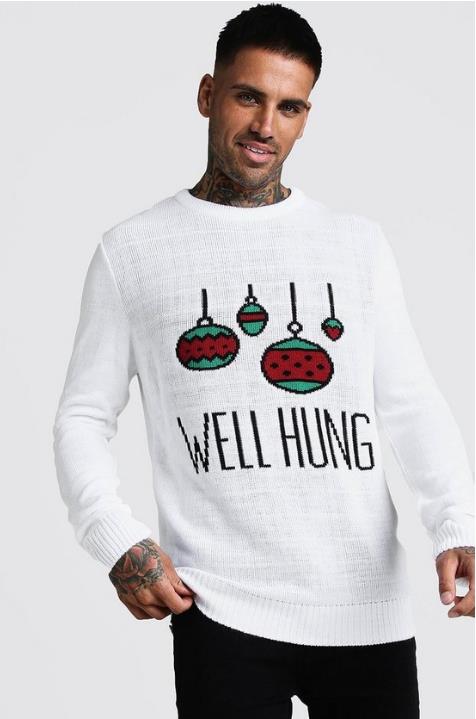 Love it. The material actually looks comfortable – not the kind you want to scratch your back with a cheese grater until you are given the sweet relief of pain instead of itchiness. It's simple, and as "classy" as you can get. I also like the reference? Would we classify it as a pun? Whatever. I just hope whoever wears this can back up their claims *wink.
#6. A VERY HAIR CHRISTMAS
---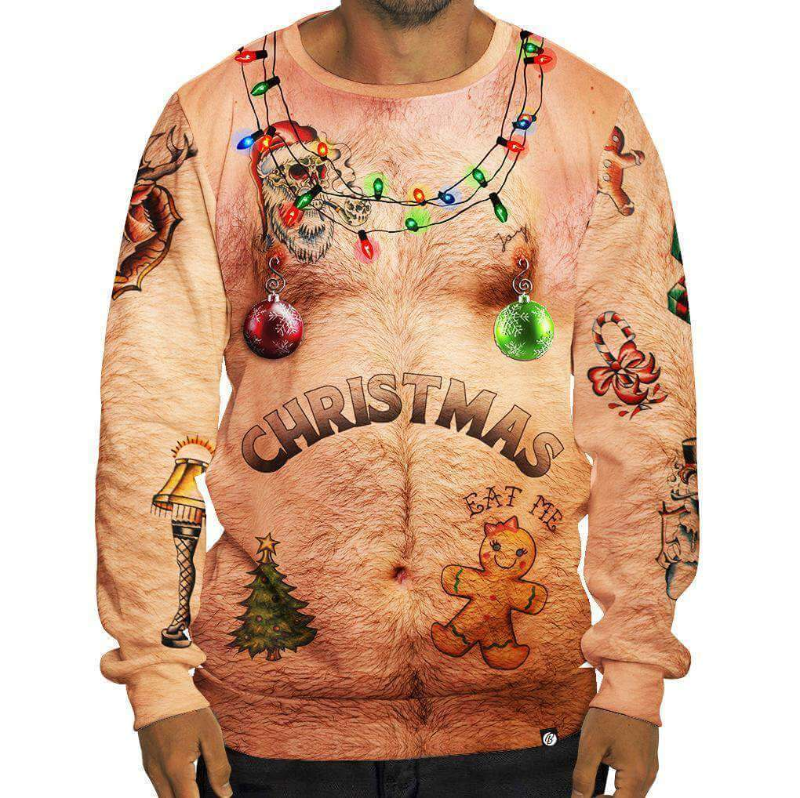 Hate. Hate. Hate. Why? I never thought I would find something that annoyed me more than the breast/dick sweater, but this one has managed to irk me. Hair bathing suits, hair leggings, hairy tanktops. Now we have hair sweaters with so-called tattoos. I'm sure there's an audience or family who would appreciate this sweater, but I just want to burn it. The ONLY saving grace is the "A Christmas Story" movie reverence with the leg lamp.
#7. WORDPLAY GALORE
---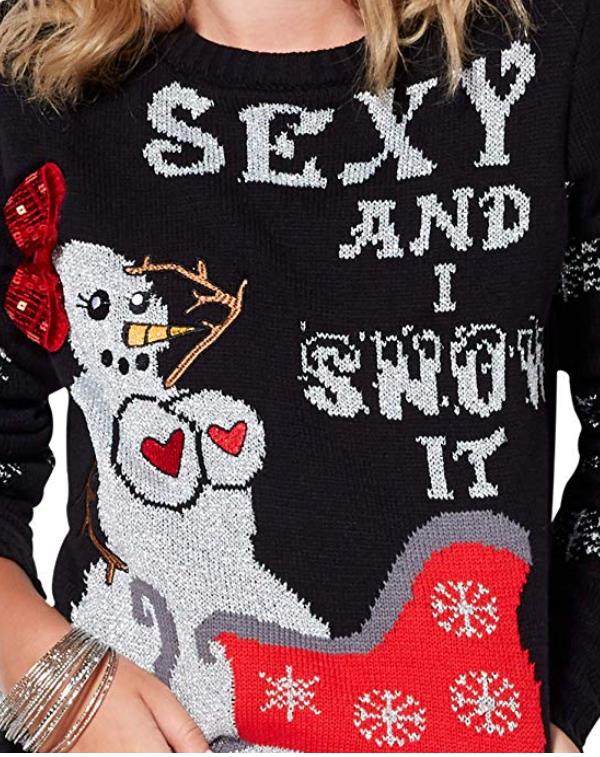 If this wordplay isn't to your taste, don't worry. There are literally hundreds of other versions with sayings that might make you smile. It's just all sorts of tacky in all sorts of ways – like a naughty and ugly Christmas sweater should be. But for me … it's just not ringing any bells. Meh.
#8. STRIPPER SHE-ELF
---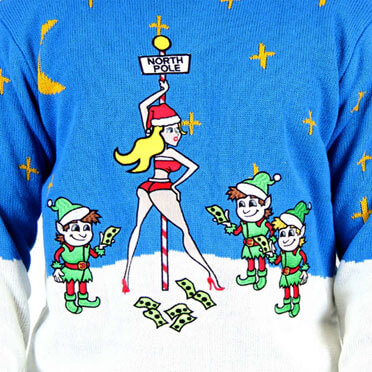 I adore this one for one simple reason. No, it's not the warm-fuzzy thought at the idea that even hardworking elves need time off. Nor that a working girl is making bank. Nope, this makes the "love" list for one totally unrelated reason. This picture…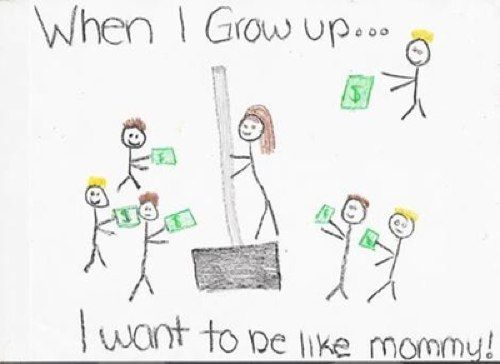 Remember this? A kid was asked to draw a picture of what mommy did at work. Gobsmacked mom had to write a letter to the school explaining that she was not a stripper but worker at Home Depot and she was selling the last snow shovel to a crowd of people that really needed one do to the snowstorms. Ah the nostalgia.
#9. GAME INCLUDED…
---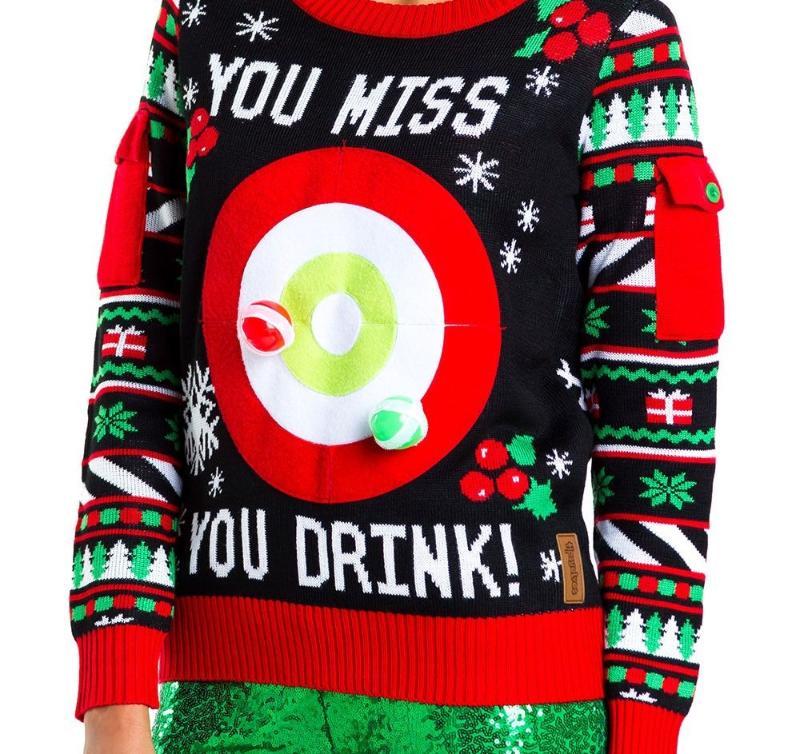 As far as I'm concerned, this is the winner. Not only do you get ugly sweater vibes, but you also get a naughty game that makes you drink to get even naughtier! There's no way you can lose!
Also, if you want more fun holiday articles, you might like these…
Which of these sweaters would you dare to wear? Yes, in public. Share in the comments!