20 Stocking Stuffers for Adults - Add Some Sexy Christmas Spice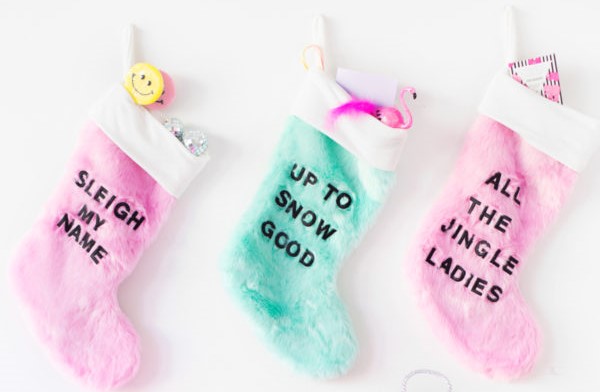 Image via Studiodiy.com
If you want to shower your lover with sexy or naughty gifts this holiday, but want to keep them on the small or cheap side, these adult stocking stuffers are perfect...
SEX DICE – they come in sex positions or body part + verb combinations (which are more for foreplay). They are teeny-tiny and can be found on most adult gift websites.
SULTRY PLAYING CARDS – These also come in different variations - Kama Sutra images, vintage porn, pinup girls, sex positions and more.
MINI BULLET VIBE

– They are small but a staple of any sex toy collection. Aim for silicone or ABS plastic. Remember, rechargeable batteries are more expensive than disposable, but they perform much better.
Check out this app-controlled bullet vibrator
AMBI by Lovense - The Most Versatile Bullet Vibe. Ever!
ADULT CANDIES – Blow job mints, penis candies, boob gummies, you name it. If you know After Dinner Mint Patties, you might love the adult versions that come in penis or breast shapes.
FUZZY HANDCUFFS – The fuzziness makes it kinder on the wrists. Just make sure they are the kind that have an emergency out button (if you lose your key). Extra points if they're in holiday colors.
WEINER SOAP – It can be sexy for funny, and probably won't last long if your beau likes the sensation. If you want to go raunchier, there is also face/fanny/butt labeled bars of suds.
COCK RINGS – A perfect size for stocking, but a toy that will give mountains of pleasure. Like any sex toy, make sure it's silicone.
BLINDFOLDS

– Good for BDSM beginners or those just stepping into sensory deprivation play. They can be plain, printed with dirty words, or personalized with embroidery (if you have the extra cash).
PERSONALIZED TOBLERONE – Chocolate is an aphrodisiac. Toblerones are a common addition to stockings. Why label them with your lover's pet/dirty name.
GLOW IN THE DARK CONDOMS – Maybe it's as close as you'll get to northern lights? If the glow in the dark versions aren't to your taste, try peppermint or gingerbread flavored ones.
SCENTED CANDLES – Either go for aphrodisiac smells or your partner's favorite scent. Either way, they will love it. Candles are also fantastic gifts in general because they'll definitely be used.
SLUTTY PANTIES – Or boxers, whatever floats your boat. The slutty ones have the added benefits of being made with less material and easier to fit in a stocking.
NAUGHTY KEY CHAINS – There are body parts, "ring for a shag/kiss/hug" bells, dirty bottle openers etc. You can also try BDSM themed key chains for more choices.
VAJAZLE GEMS – I can't believe these are a thing. But yeah … they're a thing. Decorate the outside of your vagina with gemstones … because. Whether you deliver this as a gag gift or a serious one is up to you.
SEXY SHOT GLASS – Shaped like body parts or printed with whatever your dirty mind can come up with. Go the extra mile adding dirty cocktail/shot recipes.
RUBBER DUCKIES – "Rub My Duckie" is the well-known version, but there are plenty of other duckies out there. Some have dicks/boobs. Others are dressed like nuns.
SEX WAX LIP CHAP – I'm not sure what classifies it as "sex wax", but cold weather is always a problem for the lips, so adding a tube of lip chap is always thoughtful. The sex wax just keeps with the theme. An alteration is getting your partner's favorite brand and adding a note about soft kisses all over the body.
STRESS BALLS – If your girl/gal needs a way to de-stress (besides sex), add some body-party stress balls.
BODY SHIMMER – If your partner loves makeup, try adding some body shimmer (not glitter, this isn't a disco). The glow looks magnificent while making love next to a fire or walking under the winter moonlight.
MINI LUBE – Instead of getting the big bottles (which you might end up not liking) try for the single-use pouches. You can find them in an array of flavors (including holiday tastes).
. . . . . . . . . . . . . . . . . . .
Any other fun adult stocking stuffer ideas? Share in the comments.
Also, if you want more fun articles, you might like these...
Have a naughty day!
Robyn
TagsStocking Stuffers for Adults