There's nothing wrong with spending some time with your dominant hand, but sometimes it's nice to change things up. In this case, why not try a pocket pussy?
What are they:
[spacer height="20px"]
CHOOSING A POCKET PUSSY
---
What to look for and how to improve the experience
[spacer height="20px"]
MATERIAL
Having a toy that "feels real" is usually the number one thing that guys look for, but it's this desire that can cause a lot of problems. The softest thing you can get is called "jelly" … but it's really, really toxic – full of chemicals that can leach, melt, and probably infect your penis. Seriously, stay away from the crap.
Any high-quality options will be made from TPE (thermoplastic elastomer) or TPR (thermoplastic rubber). Some brands use silicone (Bad Dragon uses 100% platinum-cure).
Silicone is non-porous (which is good). TPE and TPR are porous, which can be bad if not taken care of properly.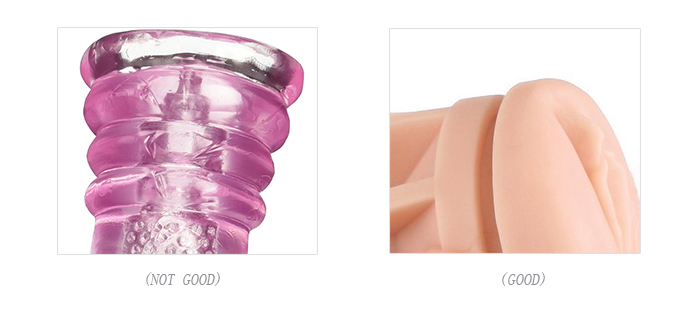 And don't let any company trick you into believing that they have a "super-secret formula" they have under lock and key with laser-shark guards.
[spacer height="20px"]
TEXTURE
There are thousands … literally thousands of texture variations to choose from. Who knows what will rock your boat. My advice? Just know if you like really textured vs. smooth.
[spacer height="20px"]
CLEANING AND CARE
---
Silicone is easy enough to take care of – wash with warm water and soap before and after each use. Then air dry. Done.
TPE and TPR are a little more work. Because they are porous, it's easier for mold, mildew, fungus, bacterial, and STIs to get caught in the micro nooks and crannies. They need to be cleaned with warm soap and water before and after each use, rinsed well, occasionally sterilized (as best as possible) and DRIED THOROUGHLY.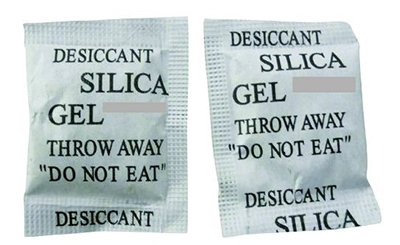 PRO TIP: Use silica gel packets to help keep the moisture away. You also need to dust it with cornstarch after it's dry.
Only use water water-based Anything else like silicone, baby oil, or Vaseline will cause the material to degrade and rips or tears to form.
[spacer height="20px"]
For WAY more sex toy care information, check out this article:
Buzzy and Clean – 30+ Essential Tips on How To Clean Your Sex Toys
[spacer height="20px"]
FUN WITH WARMING
---
Temperature play is awesome. Warming your pocket pussy before play is even more awesome. It's even better if you can warm the lube up with the toy.

[spacer height="20px"]
LARGE PENIS PROBLEMS
---
Society may paint large dicks as the "epitome of manliness" but ask most well-endowed men, and they will tell you this "gift" comes with an entire set of problems. One is the hole size of most toys. Make very sure you find the toy dimensions and what the length and girth limits are.
EXAMPLE: The Big Man's Masturbator will accommodate up to a 2″ girth.
[spacer height="20px"]
SAVING MONEY
---
Keep in mind that "you get what you pay for", but don't let the cheap ones totally turn you off.
There are plenty out there that aren't 100 bucks. There are also plenty of promo codes and sales floating around forums and websites. You can grab one at a great discount.
Just make sure the material is kosher. And, if in doubt get it right from the brand's site or don't buy it at all.
[spacer height="20px"]
POCKET PUSSY REVIEWS
---
Which pocket pussies are worth your time and money?
I asked my friends and co-workers to share their experiences and these are some toys that came up in conversation…
MEIKI ONAHOLE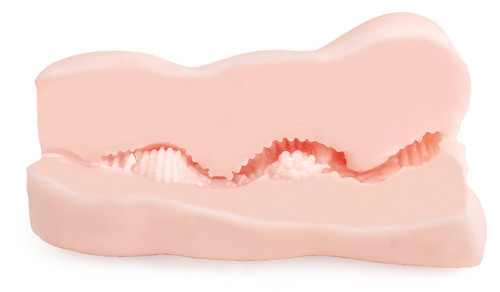 There are thousands of "Onaholes" across thousands of stores. They are actually a subset of pocket pussies that originate in Japan.
I was told (with great enthusiasm) that this particular one feels "so freaking good." And, if you warm it up, it feels ultra-realistic; with the bumps and ridges being the closest thing to real sex that they've been able to find.

The Japanese are pushing the boundaries when it comes to life-like looks and feels (like utilizing dual textures).
[spacer height="20px"]
FLESHLIGHT
This company helped make pocket pussies more mainstream!
The material is good – soft, squishy, and smooth. The outside of the toy is molded from various porn stars, so if you want to look at a specific pussy, you can have it. It also has their autograph right next to their fake pussy lips. LOL
The inside sensations vary. There's a bunch of textures and they all feel a bit different. It's impossible to go through them all, but there are websites and forums where users review the textures in detail.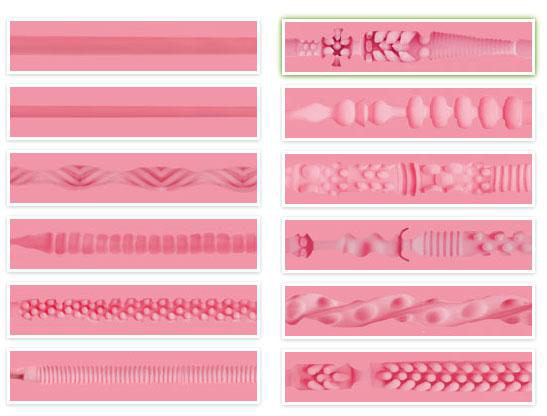 There are two I was able to get firsthand feedback for…
First is the "original". While it's non-textured and feels better than regular masturbation, it's not something to write home about. He ended a little disappointed.
The other one I tried was the "Vortex" The material spirals all the way down the sleeve, so it has a unique feeling – and SO much better than The Original.
The only downside to this texture is that you need a very generous amount of lube.
Pricewise, Fleshlight is a decent choice. It runs around $70 for a case and a sleeve. If you wait for a sale, you can definitely get one cheaper. And once you have a Fleshlight case, you can just buy just the inserts.
At $50/sleeve it's not cheap, but they last awhile if you take care of them.
[spacer height="20px"]
TENGA DEEPTHROAT CUP
Deepthroat — mmm, good marketing!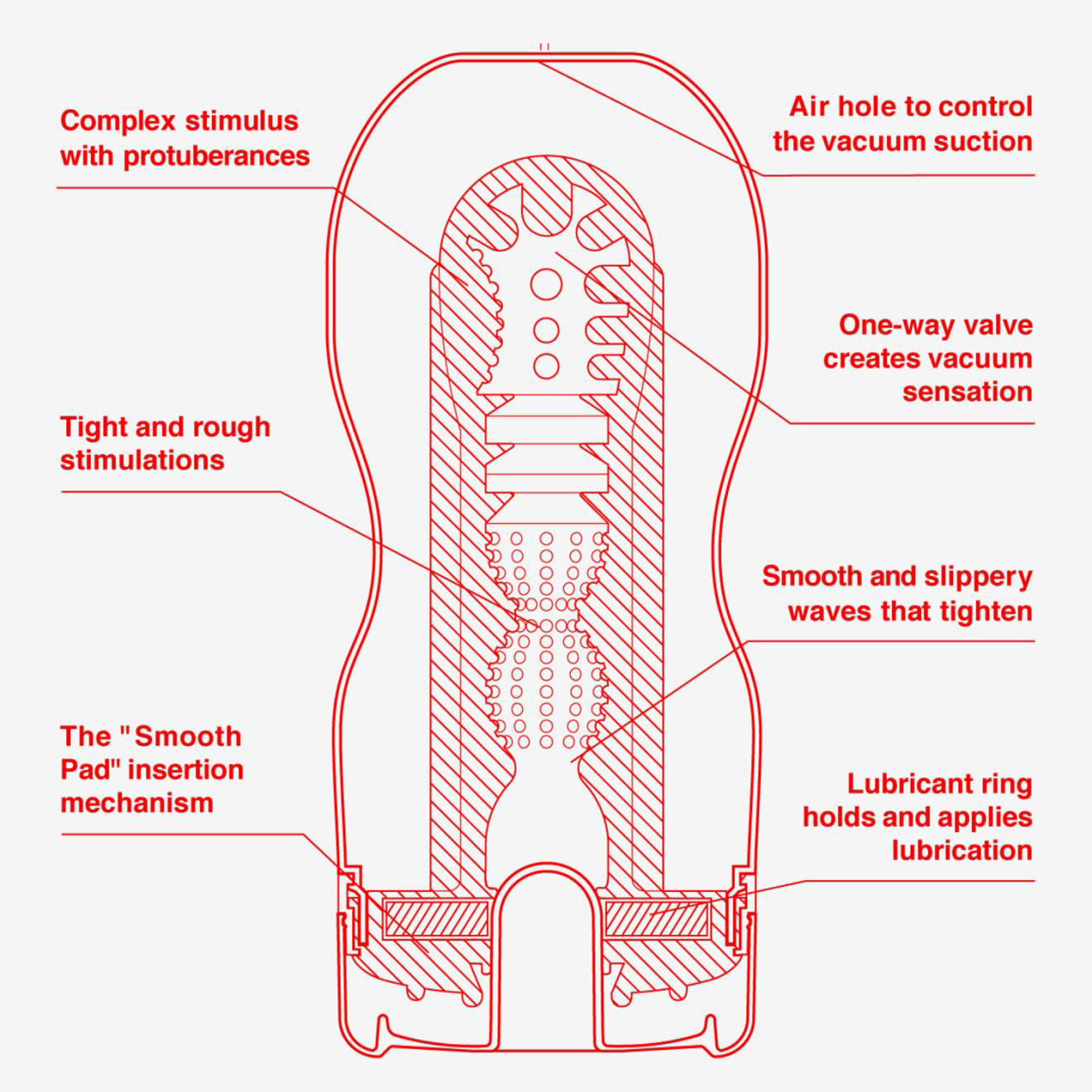 My co-worker explained this as "pleasant enough, but a sensation that was really hard to process." The word "rustic" was also in there. Perhaps because the texture was a bit stiffer than expected, or it just wasn't something compatible with his preferences.
There is a hole at the top to adjust the suction, which is a nice idea, but the sound it makes when in use could be distracting.
The overall price is okay (about $15) – BUT it's only a one-time-use sort of thing, and that might make it a waste of money for some people.
I won't say you shouldn't try it. Only be prepared for some different sensations.
[spacer height="20px"]
FLESHLIGHT QUICKSHOT BOOST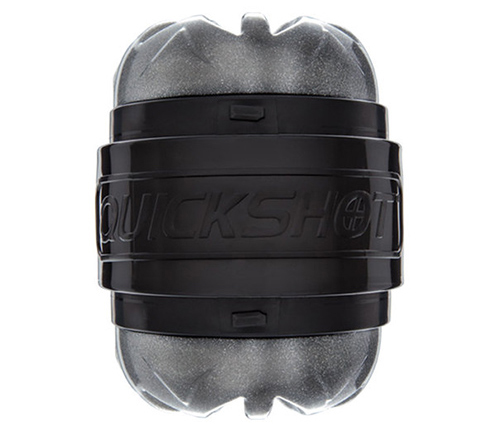 You know what sucks? Post masturbation clean-up.
QuickShot Boost is designed to be "easy to clean". While, technically, it's because of the double-holes, you still have to rinse off the lube, so it's not like there's no cleanup.
While this might seem like a good thing, remember that at least with a pussy cup, the after-mess collects in the toy. However, if the toy has a hole at the end, and you're not prepared, there might be different kinds of clean up. Just sayin'.
This one was from one of my friends …
"It sucks compared to a regular Fleshlight. I have such a hard time finishing and my dick got bored pretty fast."
BUT…
It's still worth giving it a try – because if it doesn't work for masturbation, apparently it's FANTASTIC to pair with a blowjob. The extra stimulation around the base of the shaft is epic.
[spacer height="20px"]
TENGA EGGS
Not sure if you can call this one a pocket pussy, but you jack off with it and it really does fit in your pocket!
These little guys are discreet and cheap as chips – $5 online or $10 in a brick-and-mortar store.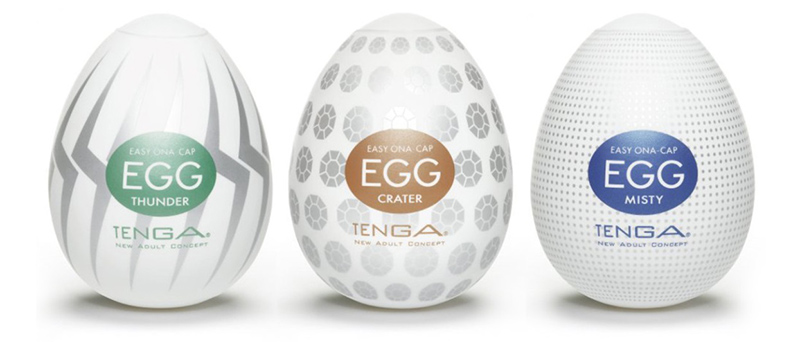 They've got a whole lot of different textures – but rumor has it that they don't feel that different. Also, they might not feel like the real thing, and certainly not like other traditional pocket pussies, but they are still better than your hand (if you're bored of it).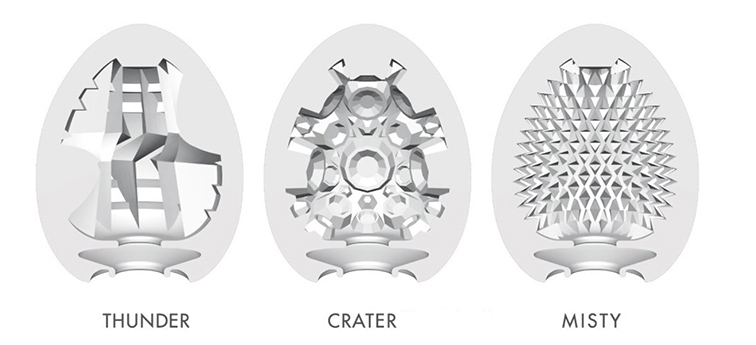 Techniques vary. You can pull it down over the shaft, or experiment with head stimulation.
The problem with eggs is they break easily. Basically, your penis pops out the back and then it's useless. Feels like you got a ring around your dick when that happens. I've had this happen to me during the first use.
Overall, it's a nice toy and a cheaper option.
[spacer height="20px"]
WEREWOLF MUZZLE BY BAD DRAGON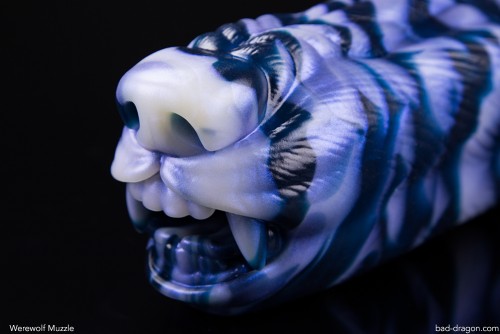 Another contender that sometimes gets overlooked is Bad Dragon.
Fleshlight "Freaks" has their own collection of vampire mouths, werewolf holes, and zombie sleeves, but Bad Dragon is only freaky toy designs.
The crappy thing is the price. They aren't cheap. I get that the designs are unique, the material is safe, and there is a lot of customization, but 130 bucks is still steep. There are discounts for certain color options, but it's still going to kick your wallet in the nuts.
It took a lot of asking around before I found someone who had one – specifically the werewolf muzzle. I'm told it's pretty amazing.
[spacer height="20px"]
TENGA FLIP-HOLE WHITE
I'm writing this on behalf of my man – because he loves this toy and it holds a place of honor in our toy chest.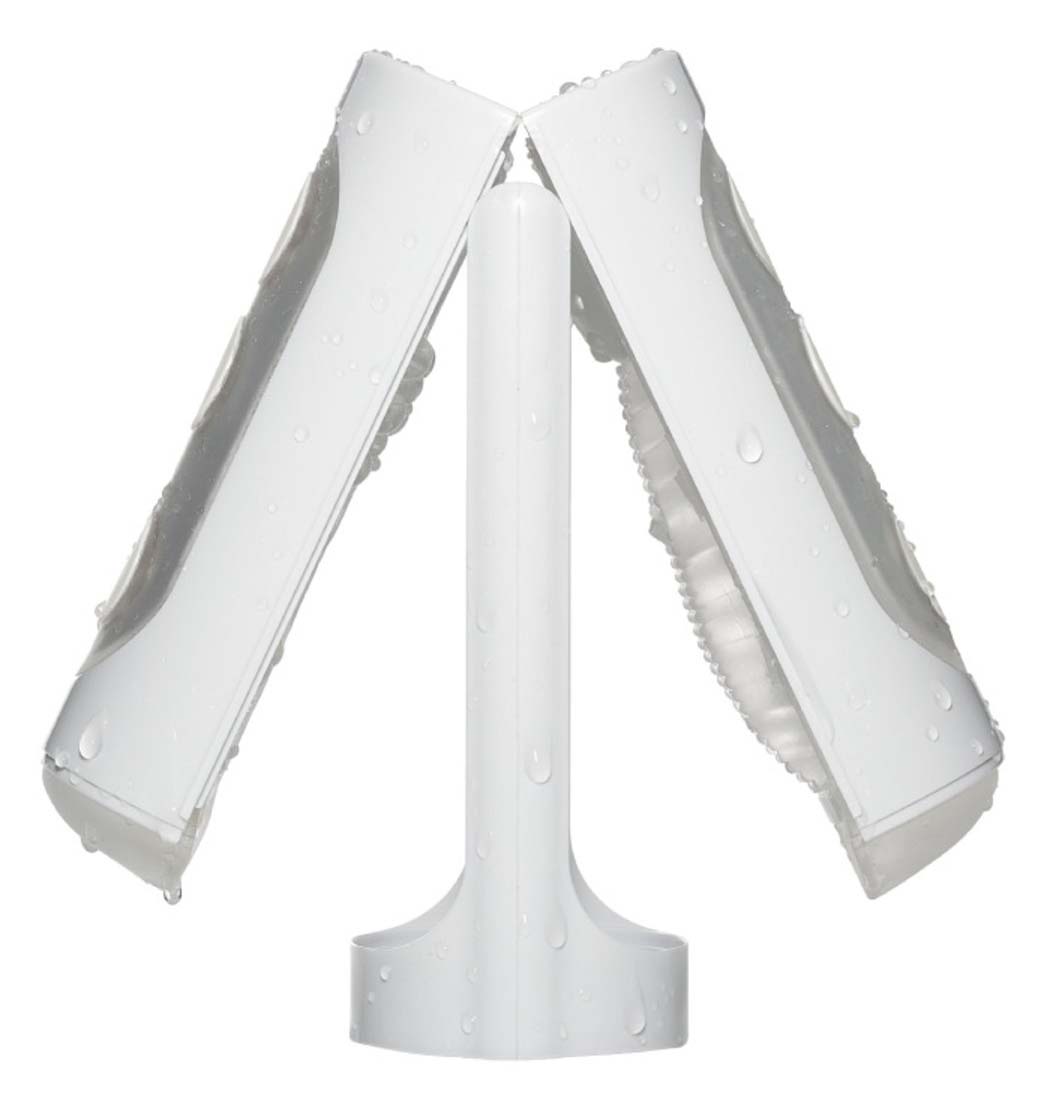 First, the interior is a ridiculously soft material that you would swear is jelly, but it's not. Quite body safe. It's also this strange "oily and sticky but not oily and sticky" feeling. Even I love touching it. The great part is the ability to open it up fully to clean or apply lube.
The three pressure buttons are also a favorite of his because he likes playing around with the pressure of the toy for different sensations.
The negative thing is our (and when I say "our" I mean "his") fault…
The "stand attachment" (or whatever it's called that holds the thing together) got lost in a move to a new apartment. Now, it gives us hand cramps when we try to hold it together. It doesn't help that he is a little *ahem* bigger – which is probably why the stand didn't make it into a moving box – and it's not 100% comfortable when locked shut.
We ended up having to throw the little guy out because the material took on a yellowish tint – despite taking good care of it, it either didn't like the lube, the humidity, or it was just an inevitable ending.
[spacer height="20px"]
MACHINE GUN MASTURBATOR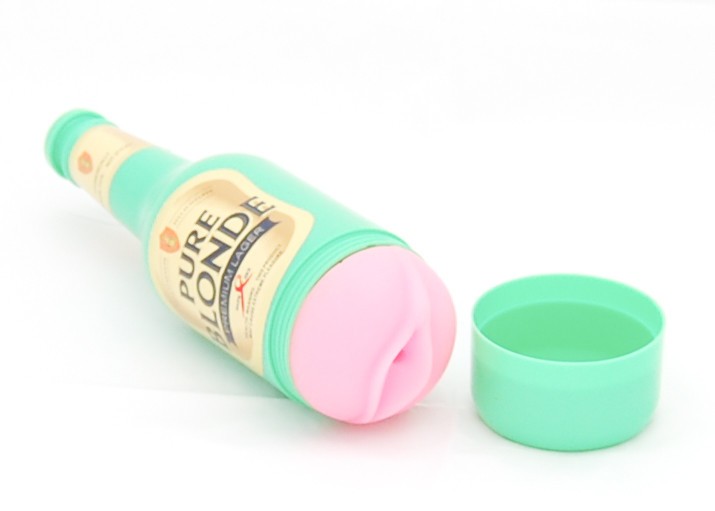 This one is an attachment to the "machine gun" fucking machine.
I got it as an addition to the machine I bought for another review, but I figured I would add this because it's just a pocket pussy with an extra thing at the end.
My man ended up using it (twice) before I could get home, unbox it, and look at it – greedy man. He loved it (obviously).
The material is a standard silicone feeling and with lube it's quite soft. The inside texture is simple but effective (I've seen some that didn't have enough inside variations to really do anything).
It's easy to take out/clean and clean the bottle part and silicone separately. You do need to dry it thoroughly and dust it with cornstarch to keep it in good condition.
[spacer height="20px"]
BLEWIT
Blewit is pretty and the spiral design makes things easier to hold onto. The packaging is also gorgeous, but the hole itself is generic (if that sort of thing is important).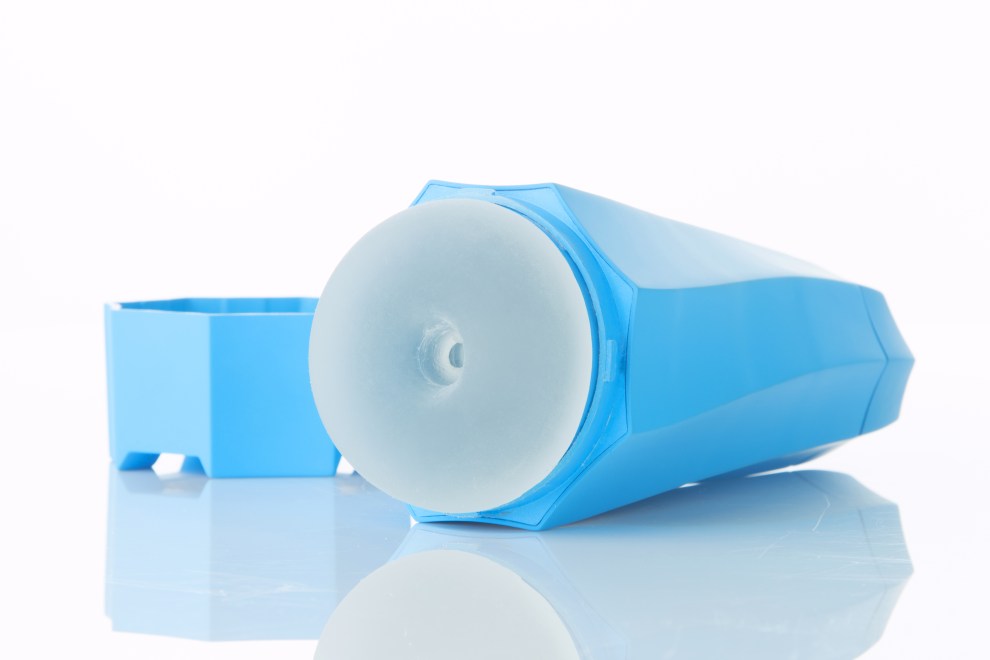 The experience is nice, but, in the end, it's just another masturbator comparable to Fleshlight sensations – not the ultimate "stamina trainer" and "performance enhancer" it claims to be.
Any masturbator can do that (at least if you have enough motivation and self-control to do it).
There are two pressure rings (to change how tight it feels). This might be a problem if you wanted to change the tightness halfway through play, since you would have to take the thing apart and reassemble it.
The flip cap at the end also controls suction, but only in an on/off capacity. It's an okay toy for an okay price that will get you off in an okay way.
The sleeve is also permanently attached to the toy. There's a removable cap at the end so water can go through, but I would find that particularly annoying to clean. However, some might like this feature (not having to worry about taking it apart).
Go beyond pocket pussies by adding VIBRATIONS and CONTRACTIONS!
Also, if you liked this article, you might want to check out these:
Anything you want to add? Share in the comments!