Today we're taking a look at finger sleeves – textured covers to enhance sensations while you're fingering someone. And while there are many with vibrators attached (usually called finger vibrators), we will stick to the non-buzzy ones for now.
Here are ten examples, my thoughts on them, and a general rating.
1. BESTOYARD SLEEVE (link)
---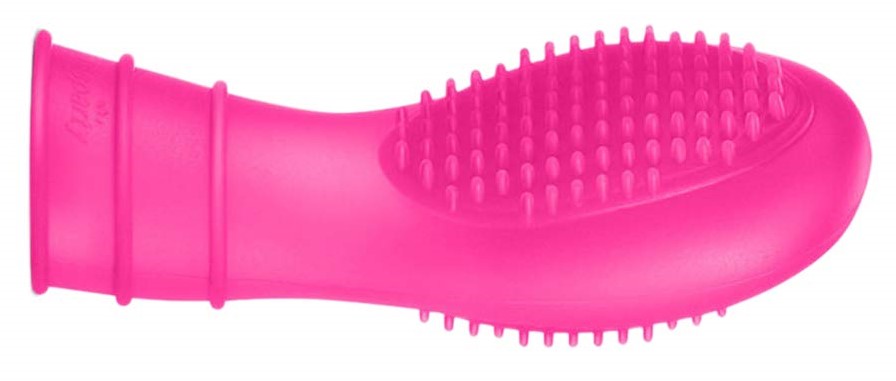 Not sure if this is a white brand, but it could be – which isn't necessarily a bad thing. The details say it's silicone, which means it's body-safe and easy to clean, but I would do a burn test just in case (to be on the safe side). The textured part looks fairly standard and the price is acceptable.
My one concern is the size – it looks like it could be a bit small. Silicone has some stretch and flexibility but if you have larger fingers, it might still be a problem. But, remember that too loose might also be bad because it might slip off during your fun time.
OVERALL RATING – 6/10 (there better options for a better price, but it's still okay)
2. 6-PACK TEXTURE SLEEVES (link)
---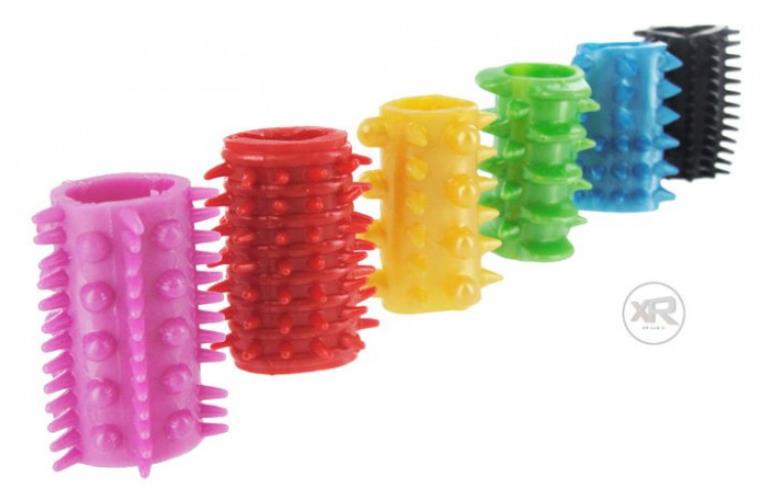 There are WAY more possible sensations here, which is good! The downside (for some) might be that it's made from rubber. It won't be toxic, but you won't be able to share with anyone outside the person you originally use it on since it's porous.
It MIGHT have better stretch than the silicone sleeves – at least I hope so because they say you can put it around your dildos for added stimulation. The description says you can put it around a "body part" and I'm assuming that they are hinting at an actual penis. If you want to go that route, make sure it doesn't fit tight (same principal as a cock ring) or you might hurt yourself.
OVERALL RATING – 7/10 (I hope it fits over toys and cocks comfortably)
3. SPOODY RINGS (link)
---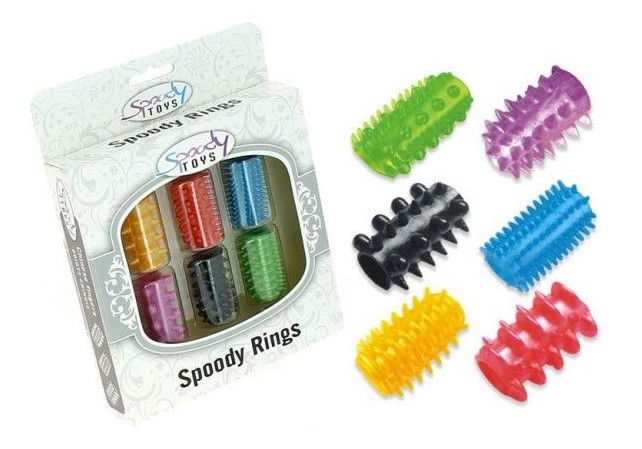 This is the suspect version of the 6 Pack Rings – REALLY suspect. The amazon page gives ZERO indication as to material. It could be anything from rubber to Jelly. And, when you click on the seller that's the only product they seem to carry. Bad mojo.
OVERALL RATING – 1/10 (too many red flags)
4. BANG BANG FINGER GLOVE (link)
---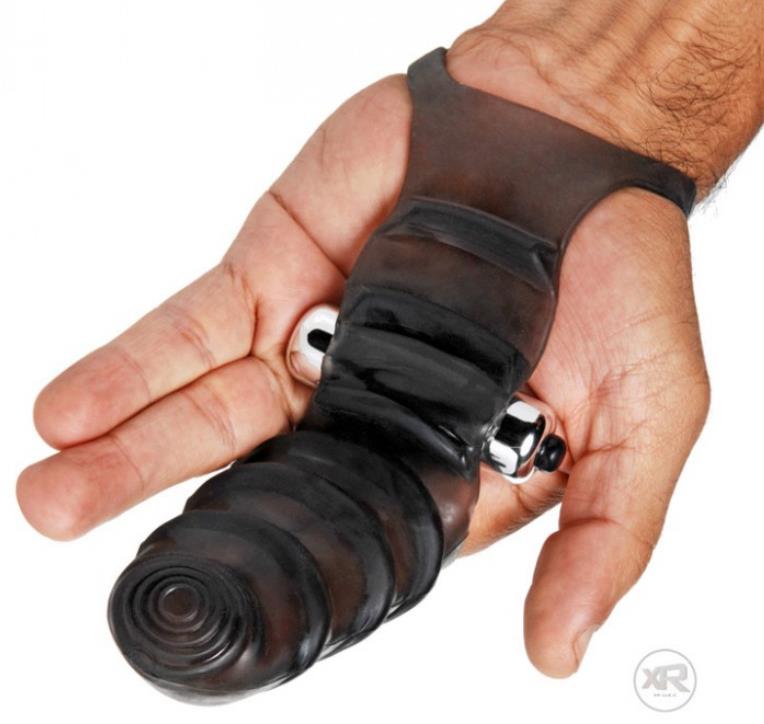 I know I said "no vibrators", but these one isn't part of the internal design and it's totally usable if you take it out. What caught my attention was not just the ribbing, but the fact it fits over two fingers (much better for internal stimulation) and there's a loop around the wrist so nothing slips off.
I was hoping for something better than TPS rubber but it's better than the alternatives.
OVERALL RATING – 6/10 (there are many positives)
5. FINGER FUCK GLOVES (link)
---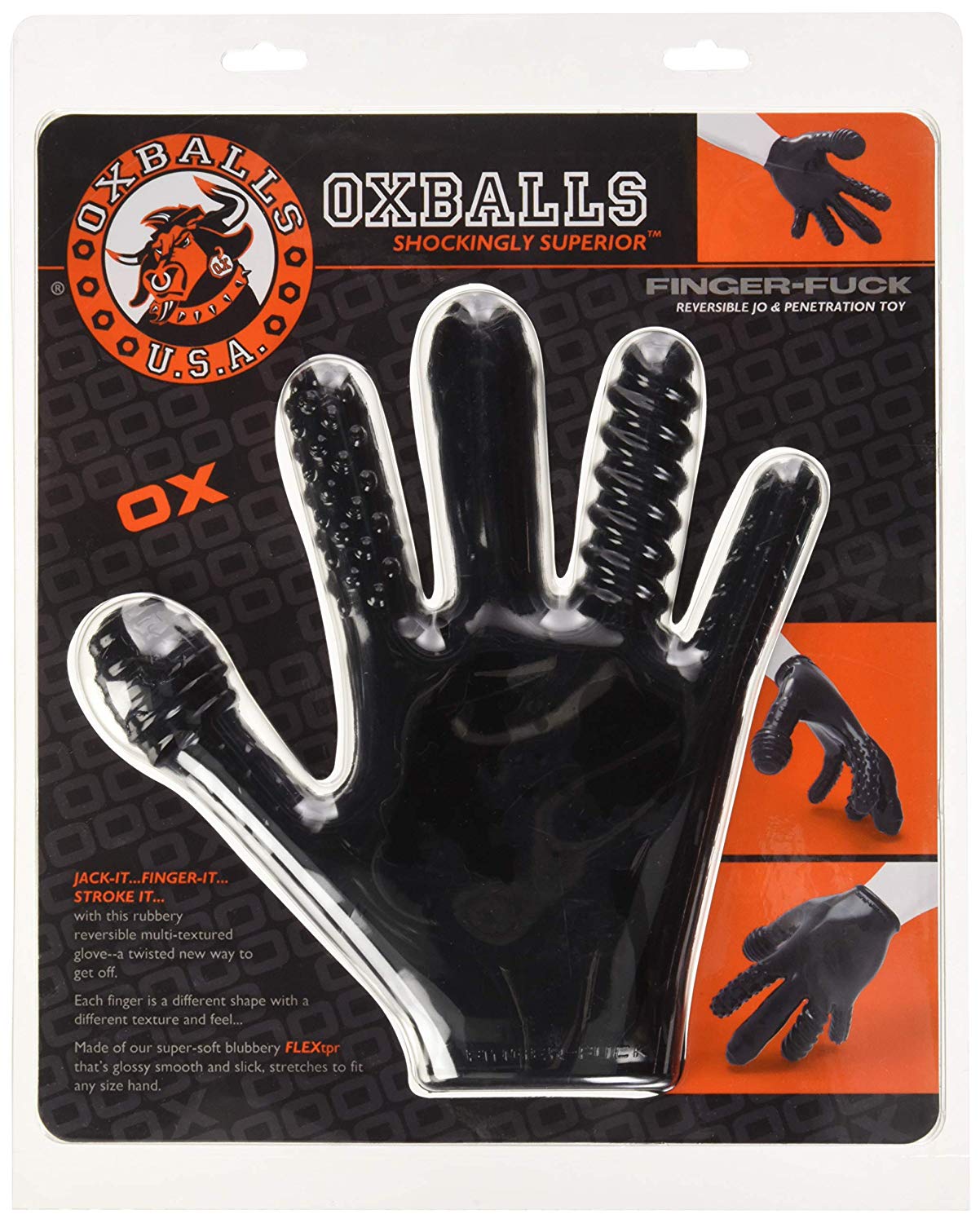 This takes finger sleeves to a whole new level. Each digit has a different texture and you can be sure it will stay on firmly when you're playing. The description says its "FLEX TPR" – I know TPR is rubber but I'm not sure what the other part is supposed to mean. Either it's an additive to make is stretchy or it's just describing the normal flexibility of the rubber. Dunno. I like the design but it's a "single size" sort of deal, which is bad news if you've got big hands.
OVERALL RATING – 5/10 (like the concept, would love to be sure about the material)
6. FIST IT GLOVE (link)
---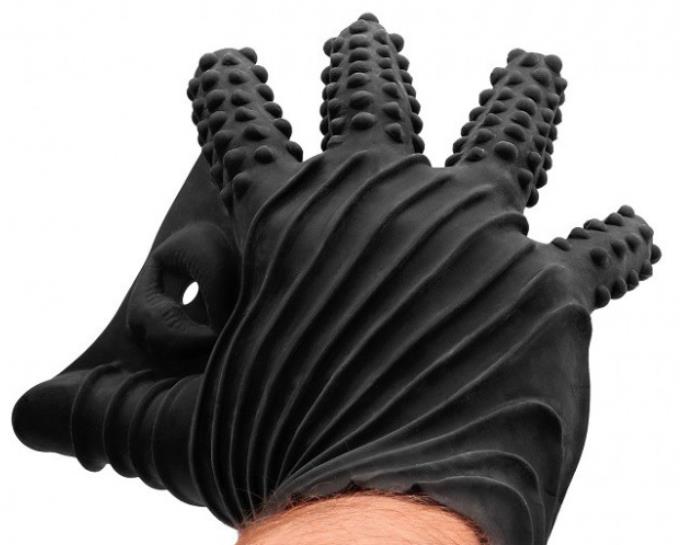 Yes, this is technically a masturbation glove, but it has enough going on in the way of finger texture that I would count it as having finger sleeves and a sexual "multi-tool". Another reason I included it? It's silicone! It might lack in variety, but it makes up for it with safety.
OVERALL RATING – 9/10 (impressive possibilities)
7. PINK FINGER SLEEVE (link)
---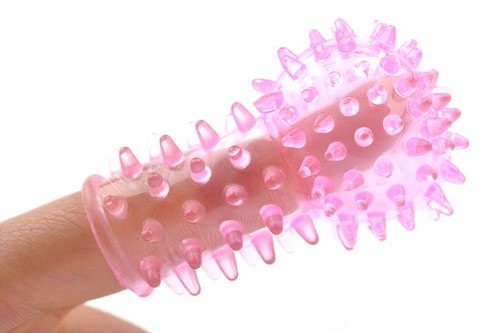 Assuming the product description is true, this is another cheap option if you want to experiment with textures. I also like it a bit better than the first sleeve because the nubs are all over the place instead of concentrated on the tip.
OVERALL RATING – 5/10 (good for beginners but only one sleeve)
8. TRICKY FINGERS (link)
---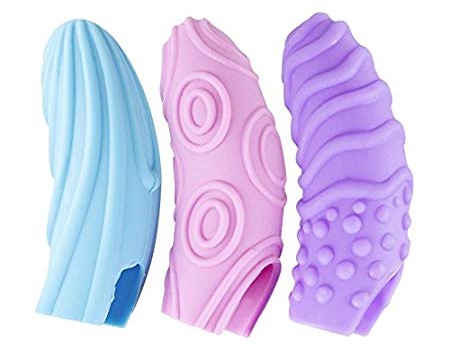 This is probably one of my favorite sets. They're made from silicone and have unique textures for each sleeve (rather than the nubs you see over everything). It also shows attention to detail with the small cut out around where your knuckle would sit (so when/if you curl your fingers, there won't be discomfort or resistance). The price is also quite good for what you're getting.
OVERALL RATING –9/10 (the winner in my books)
9. FOREPLAY SET (link)
---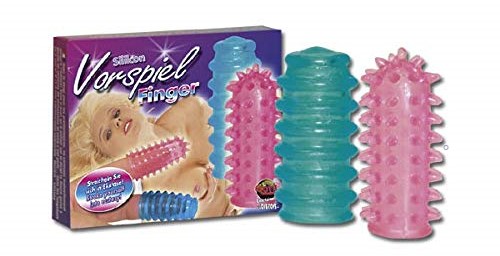 This set is also from "Orion" – the same ones that sell Tricky Fingers. However, while there were so many positives with the previous one, this sleeve set seems to take a step backward – TPE and the same old ribbing. Even the price is around the same as Tricky Fingers when they're on sale. Meh.
OVERALL RATING – 5/10 (We've taken a wrong turn somewhere)
10. POSH SWIRLS (link)
---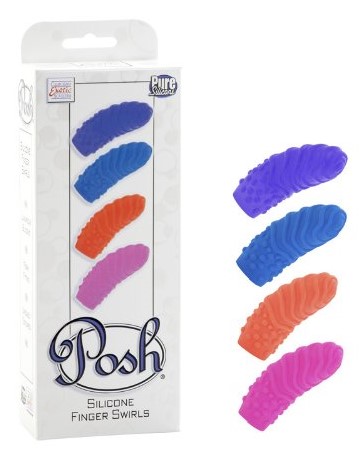 Plenty of positives here – material, price, and four sleeves instead of one or two. I just wish that each finger wasn't the same exact texture – otherwise, this would have made it to my number one choice.
OVERALL RATING – 7/10 (really sad about those textures)
Also if you want more handy toy reviews, you might like these…
Which finger sleeves was your favorite? Share in the comments.