Double dildos! The extra-long sex toys that are double the pleasure and double the fun.
However…
Not everything floating around the online (or brick and mortar) shops is safe for your body. So, I randomly chose ten and gave them a long, hard look.
SIDE NOTE: I mainly focused on materials, cost, and design – but some had vibrations so I factored that in as well. Then there were user experiences and quality vs accuracy of the product descriptions.
1. DOUBLE HEADER DILDO (link)
---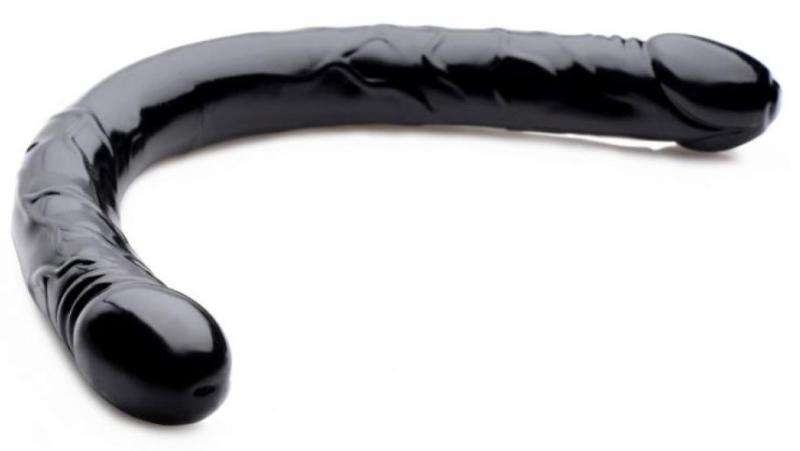 This is a standard double dildo. No bells or whistles, not that it needs any. However, I do NOT like that they don't mention the material. They mention that it feels like "real cock" twice and tries to make a joke about "meeting in the middle", but the only really useful details are the measurements.

I'm guessing it's TPE/TPR rubber (most black-colored toys that big are rubber because it's cheaper to make). However, until they change the description, I would avoid it.
SIZE: 18″ and 1.6″ * (the first measurement is length, second is diameter)
2. LOLLICOCK SWEET SLIM STICK (link)
---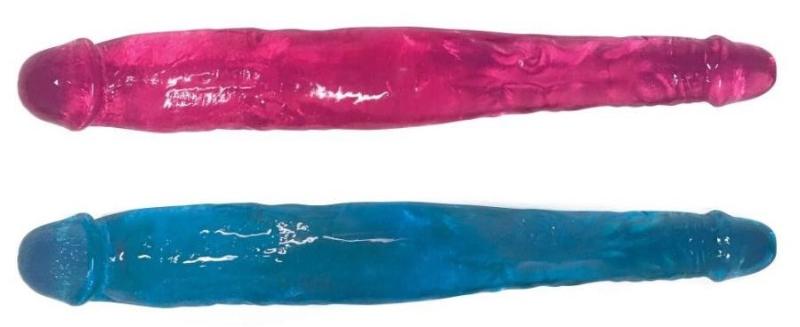 PVC is one of those materials that you should STAY AWAY FROM. The problem is, unless you've read articles on safe vs unsafe sex toy materials, it's way too easy to be enthralled by wording like "Ultra Premium Enhanced PVC, body-friendly, phthalate-free, top-grade materials, proprietary blend of bio-skin is mixed in-house, and leader in sexual health".
It's a shame because I like the design idea – one end being smaller and the other bigger. This would have been great for couples who have different size preferences, anal vs vaginal comfort, etc. But alas, they joined the dark side.
SIZE: 13" and 1.25" (small end) 1.75" (large end)
3. VIBRATING DOUBLE-ENDED DILDO (link)
---

Hmmmm. I'm torn on this toy. On one hand, it's silicone and a vibrator with patterns and everything.
On the other hand, the image that shows it "bending" gives me serious pause. It "pinches" like a bent garden hose. It makes me wonder if, past the vibrating guts, it's hollow. Add that to the fact that it's only "splashproof" and not waterproof, takes only batteries instead of being rechargeable, and is a whopping 75 Euros. It might "stay in place" but my interest doesn't. I think I'll pass.
SIZE: 14.5" (6" insertable) and 1.6"
4. BASIX RIBBED (link)
---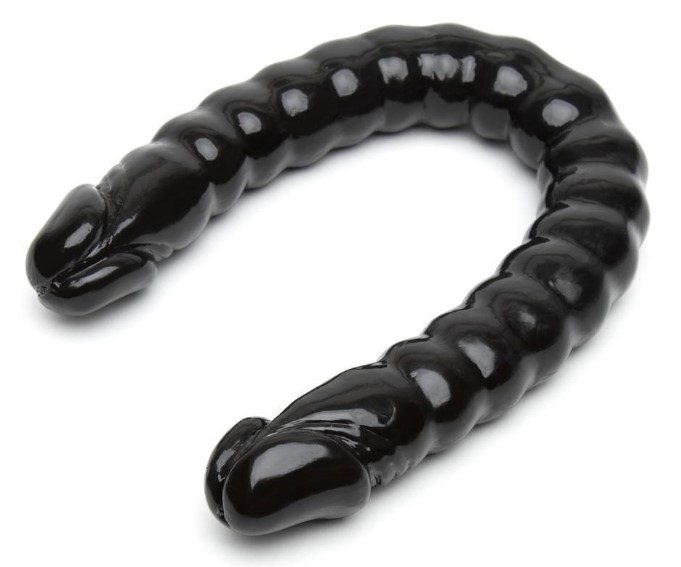 Another basic double dildo made from rubber. The ribbing looks nice, but you'll still have to put a condom over it to keep it as clean as possible. Remember, you can also use these models by yourself too.
SIZE: 18.5" and 1.6"
5. MAGENTA CURVED DOUBLE DILDO (link)
---

Some people don't really like "anatomically correct" sex toys. If that's your jive, then this toy is great for you. Granted, you have to sacrifice some length (which is okay), but you'll get body-safe silicone and some serious g-spot curves. It's also super affordable.
SIZE: 10" and 1.35" (widest point)
6. DOUBLE ENDED VIBRATOR (link)
---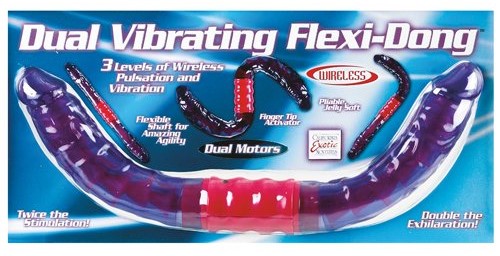 This looked good – flexible, vibrating, and an eye-popping 20 inches. Then you see it's covered in jelly. Nope. No no no no. And, for those of you who don't understand my tantrum, jelly is highly toxic. It bleeds oils (and eventually melts) and causes allergic reactions (or worse). Probably one of the worst sex toys you can put in your body.
SIZE: Doesn't matter. Don't buy it.
7. REALISTIC DOUBLE-ENDED DILDO (link)
---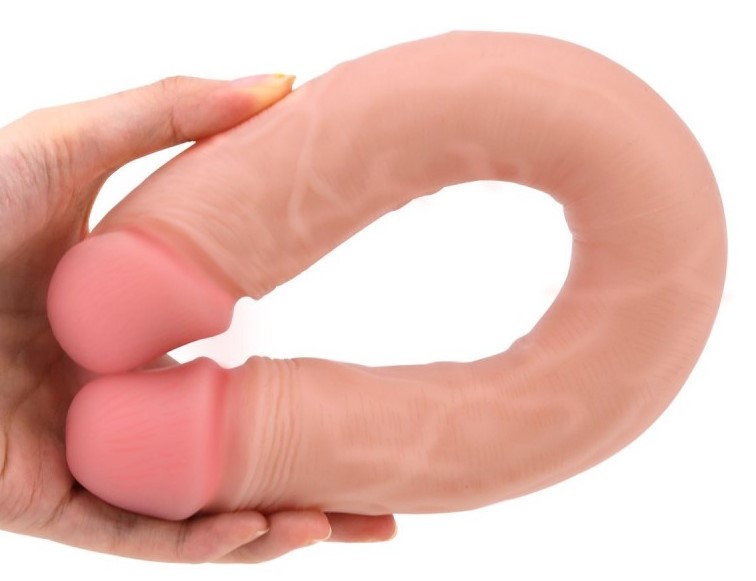 I had originally written a "yay" regarding the material (apparently silicone), and I was totally excited to endorse is manageable size etc. But then I read the product details … and it says it's TPE (rubber). These are NOT the same, not at all.
It could be a booboo in that section of the write up (since they've said it's silicone over and over). Take this as a lesson to read ALL the information carefully before your purchase. And, if you're not sure, email them to clarify.
Side note, if you put your toy against a flame, silicone will NOT melt. It might scorch or ash slightly, but the material will stay intact. If it melts, it will be rubber or jelly, etc.
SIZE: 13" and n/a
8. DOC JOHNSON JR. DOUBLE DONG (link)
---

Jelly or Jellie, whatever. Burn it. Burn it with fire!
9. ULTRA-LONG DOUBLE HEADS DONG (link)
---

I'm hesitant to recommend anything that comes out of AliExpress and has nothing but tag words for a product name. Yes, it might be "silicone", but I would feel better getting something from a company with an easier return policy.
SIZE: 17.7" and 1.7"
10. FF VIBRATING DOUBLE DELIGHT (link)
---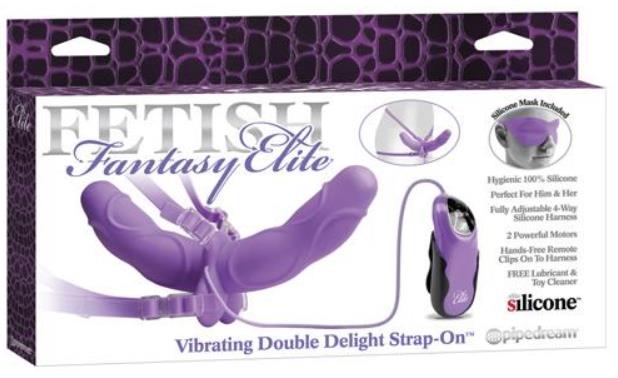 $100+ for a dildo (even a vibrating one) feels a bit expensive. If I compare it to my strapless strap-on I got for under $40 (including a remote, a wireless one) the addition of a second end, and a blindfold just feels steep.
Not to mention, FF isn't exactly known for high-quality sex toys. I just can't see this lasting long enough to get your money out of it. Who knows, I could be wrong, but I tend not to take chances with that kind of price point.
SIZE: 9.0″ (insertable 4.5") and 2.0″
#7 and #5 ended up the "winners" in my book. Although anything with TPE would be okay as long as you put a condom over it and didn't share outside you and/or your partner. I know there are WAY more out there, but at least now I hope you have a good idea of what to steer towards.
Also, if you want more sex toy reviews, you might like these…
Anything you want to add? Share in the comments!