Even if you've only dipped your toes into the large ocean that is the world of adult toys, you've most likely come across the Womanizer or the Satisfyer – clitoral stimulators that vibrate and "suck".
These toys are said to deliver quick and POWERFUL orgasms.
My problem with some of these products is that many of them are SO expensive – which is fine for some people, but what if you've never tried one before and aren't sure if you'll like it? What if you just don't have that kind of money but still want a half-way decent toy?
So, when the distributor BestVibe.com reached out to me and asked if I wanted to try anything off their product line, I jumped at the chance to examine one.
DISCLAIMER: I received this toy in exchange for an honest review. Also, I do not receive affiliate money from any links in this article (to ensure another level of unbiased opinion).
THE TOY
---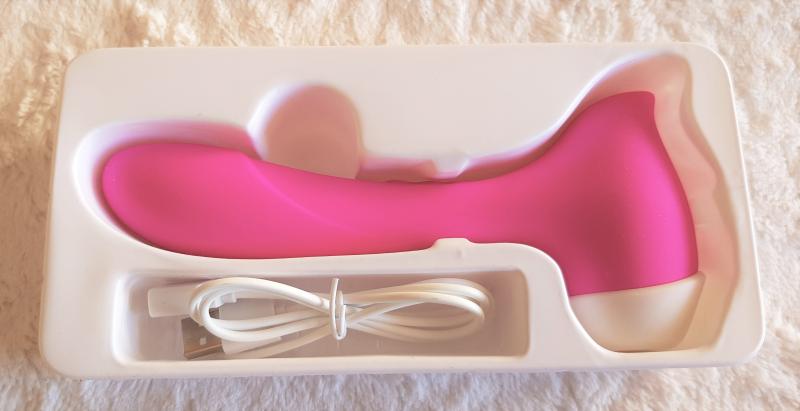 There was no brand name or manufacturer to hunt down (the box gave no indication). This tells me it's probably a white brand of some description – which doesn't have to be a bad thing (as long as it works well).
Length is around 19cm (entire toy)
Handle/Dildo circumference 11.5cm (3.6cm diameter)
Insertable section 9-12cm (if you insert past the buttons)
Low/med/high levels for suction end
Low/med/high levels + 8 patterns for dildo end
You're also probably wondering what I mean by "suction end" vs "dildo end" – which is where this toy surprised me and strays away from normal clitoral stimulators.
There are three buttons – ON/OFF + up arrow + down arrow.
The up arrow (button closest to the suction end), activates the clit sucking part of the toys on the lowest setting. Each press ramps it up one more level (low, med, high). The down arrow activates the vibrator in the handle, and each press will cycle through the low, med, high power levels then the eight patterns that follow.
What does this mean?
Well, two things.
First, you have a two-in-one sex toy – a clit suction toy and a vibrator. You can alternate between the different sensations and have internal and external pleasure or warming up before you use the main part of the toy.
Second, there are no patterns on the suction end. This might seem like a bad thing, but research and surveys have shown that most women prefer steady vibes rather than patterns (but if you love patterns, you're stuck with the handle section). Whether this is good or bad is completely personal.
BURN TEST: To see if it really was silicone, I held up a flame to the end of the handle and there was no melting. A slight discoloration that disappeared after, but that's it. This means that it IS really silicone.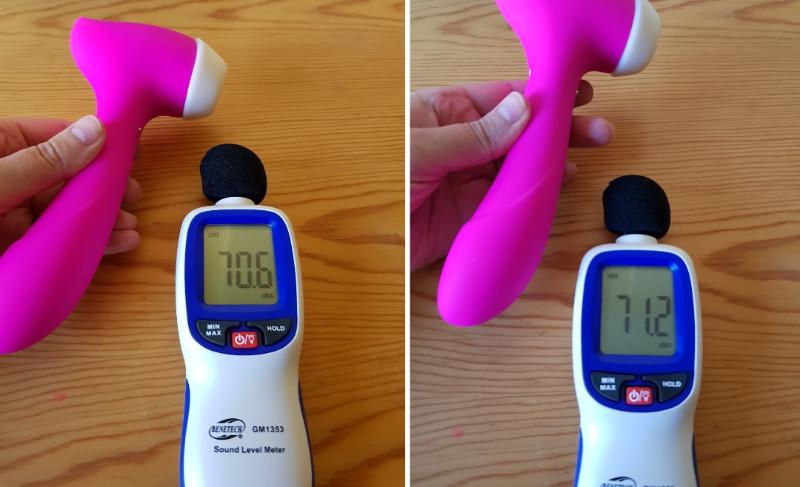 SOUND TEST: The site measurement was a bit vague, so I used my own decibel meter. The difference between the noise coming from the suction end vs the dildo end (on highest levels) was negligible (70.6 and 71.2 dBs). To compare, Lovense Domi measures in around high sixties and Ambi at low sixties or high fifties – which still makes it a quiet enough toy.
THE PACKAGING
---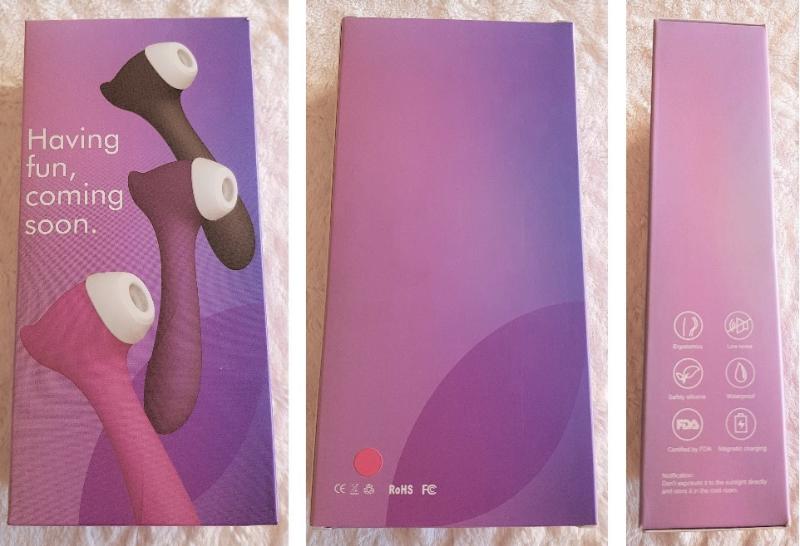 As usual, the main box was plain cardboard with no obvious indication of what was inside (ensuring discreetness).
The actual toy packaging was a fairly simple design (as far as product packing goes), with a slogan that doesn't quite translate but is still cute enough to make you smile. Compared to other boxes, this one is limited with product information, which speaks to its "white brand" nature.
Inside is a simple, thin plastic holder that's molded to fit the toy and the charging cable. Bit cheap, but not something that worries me.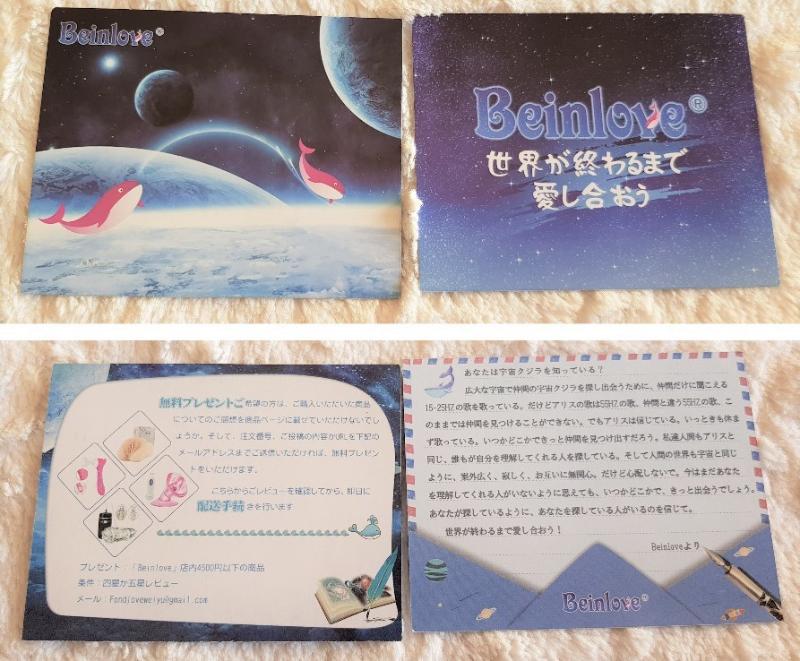 Inside was also two cards – in Chinese. Not much help.
THE USE
---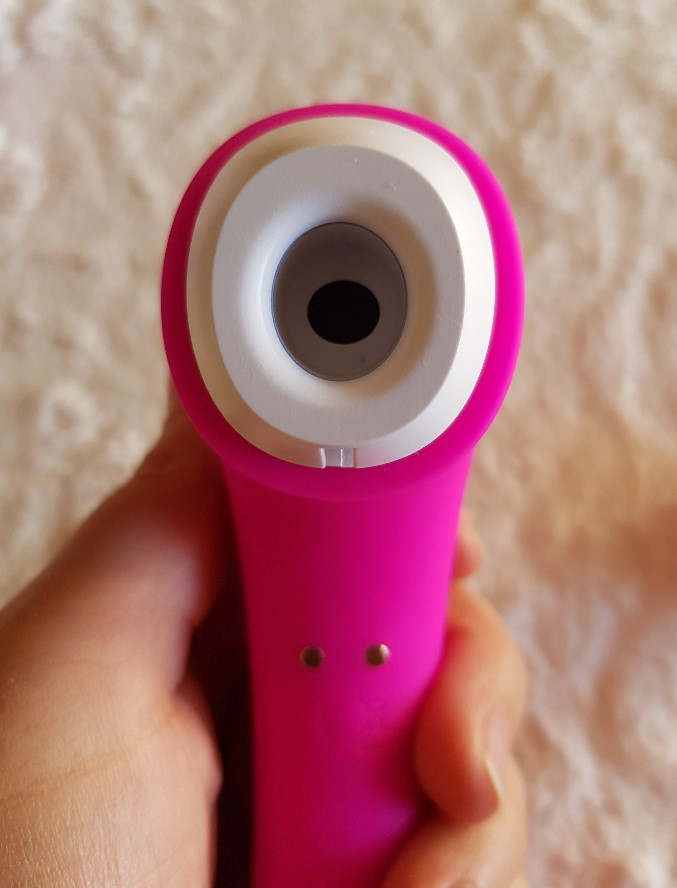 I've used plenty of vaginal vibrators, so I was more interested in the suction end.
Rumors and reviews say that these are "fast" toys – mean to make your orgasm quickly. So, I did a "no warm-up run" the first time to see what kind of sensations I was dealing with. I went straight for the clit … and it was intense. Later that day, I used the handle to get myself going first.
The difference?
Both resulted in a surprisingly FAST and INTENSE orgasm. However, there was less "shock" if I used the handle first. Think of it like slamming on the gas hard and getting jerked around versus applying steady pressure to get up to speed – both will get you to your goal, but one is more comfortable.
Granted, going straight for the clit without any foreplay could be an amusing play tool if you want to make your partner squirm. I also tried it on the nipples and it was wonderful.
I will say that there is a bit of "searching" to get the hole around your clit, but once you do, you WILL KNOW IT. Also, it's not "sucking" like a vacuum cleaner. It won't pull your skin into the hole. The reaction comes when you've pressed your skin against the opening, THEN then natural vacuum occurs. It's very subtle, but incredibly powerful.
All in all, I prefer using the handle as a clit vibe first.
THE CLEANUP AND RECHARGE
---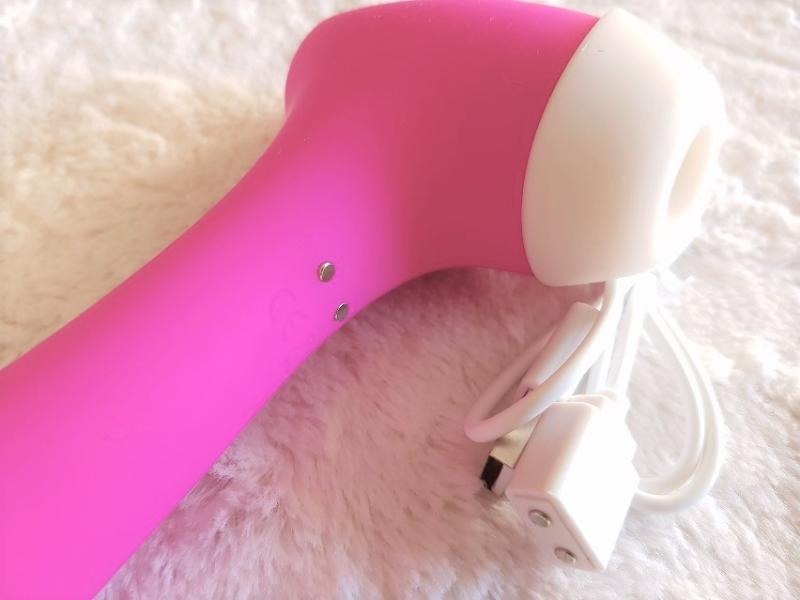 The silicone cap pops off easily and all you have to do is wash things down and dry thoroughly. It says it's "waterproof" so I'm assuming you can dunk it in if anything gets into the suction hole (eg. if you get really wet or squirt) – but I didn't do it.
Recharge the toy by attaching the magnetic ends to the connectors on the toy's neck. Easy peasy.
THE PROS
---
Simple and easy to use
Two-in-one sex toy
Rechargeable
Waterproof
Body-safe material
Quiet enough (as far as vibes go)
Powerful and strong orgasms
Very affordable without quality sacrifice
THE CONS
---
The instruction manual is on the website, not with the product
No patterns for the suction end (but this is subjective)
Silicone end a bit finicky to get back on the toy
The plastic insert is cheap and thin (not for long-term storage)
FINAL VERDICT
---
I have nothing against white brands if they are made well enough – and this product is. It's a great option if you want to try a clitoral stimulator but you aren't ready to spring a hundred or more dollars for the luxury brands just yet.
I would also say that if you're playing with someone, it's best to leave this toy for the finish line OR "forcing" (consensually) multiple orgasms.
It's a definite winner in my books.
Want to get your hands on this toy?
Want more useful sex toy reviews? Check out these…
Anything you want to add? Share in the comments!