The start of a new year is a time for resolutions – getting healthy, quitting smoking, landing a promotion etc.
But what about your sex life? How about romance? For some reason, these things are usually left out in lieu of losing ten pounds.
Here's a list of things you can consider adding (or even making a priority) for the next 365 days as well as simple tips to help you actually keep them (instead of giving up after a month).
(The spicier stuff is near the end of the list).
1. TAKE BETTER CARE OF YOURSELF
This can include many things – improving your daily hygiene, getting more exercise, eating better, taking care of your mind. Any health professional will tell you that a healthy body equals a better sex life. Even something as simple as better oral care will improve your kisses.
This also isn't only about feeling good.
For example, improved physical cleanliness will reduce infections etc. and therefore decrease your "out of commission" times and lessen the chance of passing any bacteria over to your partner – one example being a yeast infection (which can be passed to partners).
2. GET AN STD/STI TEST
If you've been putting off getting tested, now is the time to stop! Take a deep breath, go to the nearest clinic and make sure you're clean.
3. GET AN ANNUAL PHYSICAL
Assuming you're lucky enough to live in a place with accessible health care, don't put off the essential yearly checkup. Your doctor will have plenty of advice to help keep you in tip-top shape. Also, if you're having any sexual issues, it's the perfect time to address them.
4. LEARN YOUR BODY
For some, masturbation is as easy as breathing. But that's not the care for everyone. Take some time to explore your body and learn what makes you feel great. That way, you'll be able to tell your partner what you prefer and improve your sexual experiences.
5. REVAMP YOUR APP PROFILE
Resolutions aren't just for people in a relationship. They can be for those in the dating scene too! Take some time during the new year to spring clean your profile. Update pictures, tweak your profile etc. Re-evaluate your priorities and make them very clear.
6. DATE SOMEONE DIFFERENT
If your swipes are ending up in dating disasters, maybe it's time to try something different? Who knows, the new leap might end up in something special.
7. TAKING A NEW DATING APPROACH
"A new approach" can mean many things. It might mean being clearer in your communication, more/less flexible in what you will/won't put up with, anything. Because, if something's not working, why stick with it?
EXAMPLE – Taking a moment to actually read someone's bio is a good start.
My friend used to put her profession at the end of her blurb. So, if someone asked, "What do you do?" they were an automatic ignore. Because, if they couldn't even bother spending a couple minutes reading essential information, then she wasn't going to spend any time on them.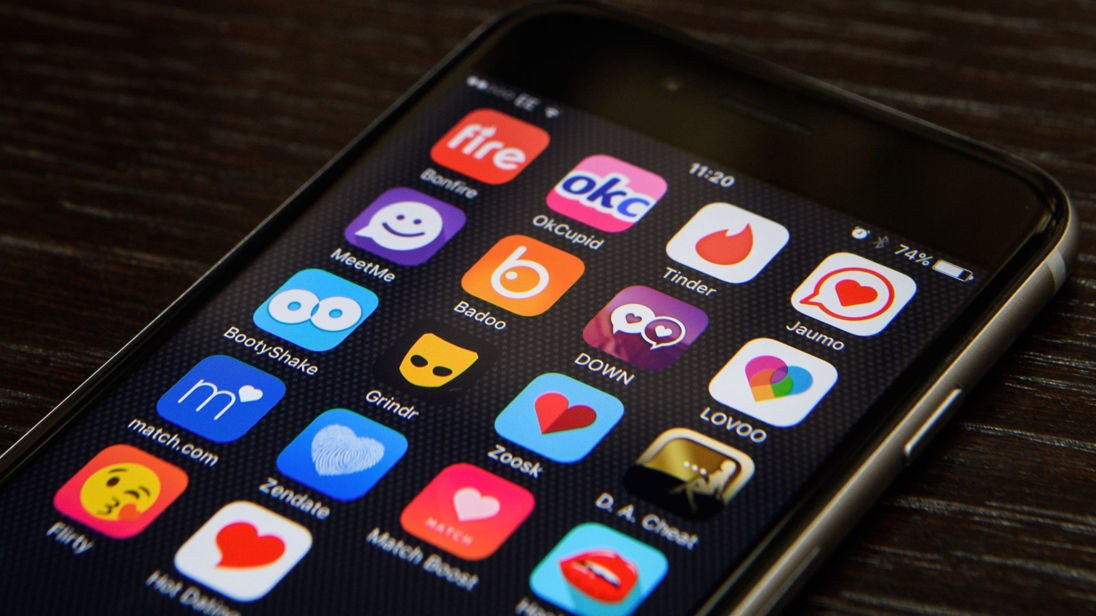 This could apply to hook up apps as well
8. PAY MORE ATTENTION
Inward exploration and love are important, but we can also get so wrapped up in ourselves that we might forget about our partner – or we've been with them so long that we set into monotony or habit (even with sex).
Take a few moments every day to REALLY pay attention to your partner. See what new things they're doing, what likes/dislikes have developed, find out what currently makes them happy or stressed etc.
That in an of itself will be something your lover appreciates, but it will also give you plenty to act on – eg. helping them reduce anxiety or doing things that make them happy.
9. MORE CUDDLES
They can be post-coital or just romantic. Up to you. Either way, you'll be building/rebuilding the connection to your partner.
10. BE MORE KISSY
It doesn't have to be make out sessions in public. Just spend the year doing more smooching.
11. IMPROVE YOUR COMMUNICATION
Talk more! And honestly too. Talk about your sex life, what you want, hope for, or dream of. Discuss what you need to change. Communicate more during sex. You can try to improve all areas or just one. And, if you don't know how, there's online help or even professional services.
Out of all the resolutions, I believe this one will have one of the biggest impacts.
12. SPEND TIME UNPLUGGED
Put away your electronics as your winding down for the night. It will help you get ready to sleep faster. It will also leave more time for other things – like cuddles, kisses, communication (you know, your other yearly promises).
13. IMPLEMENT A DATE NIGHT
Drop your children off at glorious kid prison – I mean babysitters or grandparents. Spend one evening a week dedicated to just you and your partner. Even those without kids can get caught up in life and let intimacy fall by the wayside. Three or four hours once a week will do wonders.
14. LEARN TO LOVE YOUR BODY
No matter what size or shape, you're beautiful. But it's not easy with the daily battle against society and media (or the mom that constantly tells you that you look tired or need to lose five pounds). Pick the things you hate about your body and spend the year falling in love with them.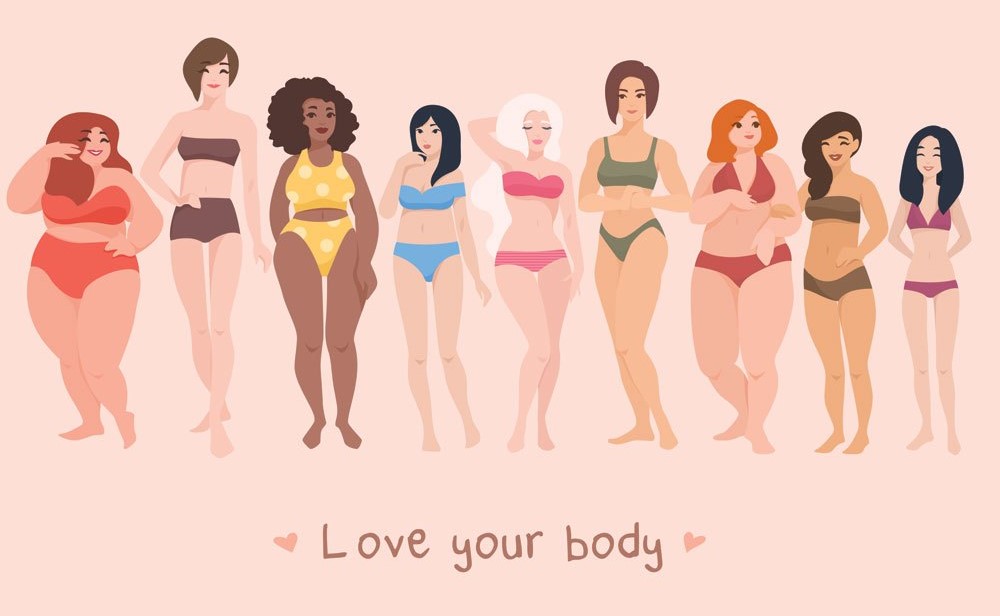 It might be a long road for some, but it IS possible!
15. BECOME A FOREPLAY PRO
Yes, straight-to-sex episodes can be fun, but spend time brushing up on your foreplay. If you do things right, your partner should be a lovely pile of shaking goo at the end.
16. RELEARN EROGENOUS ZONES
This ties in with foreplay. Some people don't know that there are places aide from boobs and genitals that can make someone squirm with pleasure. Learn them! Use them!
17. STOP FAKING
There are many reasons people do this – fear of rejection, being worried about their orgasms, not wanting to hurt their partner's feelings.
However, you're not doing anyone any favors by pretending you're having a good time. You deserve pleasure! It's also a great opportunity to do some of the other fun things on this list (like foreplay, sex toys, communication etc.)
18. BUY A SEX POSITION BOOK
Or, you know, find something online for considerably less money. These books are great because they help break you out of the 3-position rotation you might be stuck in. There are also versions for anyone with physical restrictions. And hey, if they don't work, it's okay! You'll have created a memory and maybe something to giggle about in the future.
19. GET FLEXIBLE
If the sex book has things that look like only a contortionist could accomplish, maybe it's time to work on your flexibility. Yes, it will help you bend in VERY sexy or newly accessible positions, but even basic stretching/flexibility is good for your health.
20. TAKE POLE DANCING LESSONS
Maybe you want to kill several birds with one stone. If so, pole dancing is the answer! There's no sticky stage or sleazy strangers trying to stuff singles in your thong. It's a legit (clothed) exercise class what will build strength, flexibility … and confidence.
These classes are places without judgment. They help build confidence. And, it's an hour where you can be sexy for YOU.
21. GET BETTER LUBE
If you're having genital issues, your lube could be a culprit. If not, you should still look at what you're using. Good sex lube should have acceptable PH levels, body-safe ingredients, and the correct osmolality.
MORE INFO: The Best Lubes – A Comprehensive Guide on the Slick Stuff
22. TRY DIFFERENT LINGERIE
Step outside your comfort zone and buy something you normally won't dare to bare. Who knows, you might end up loving it. This can also be as simple as new panties…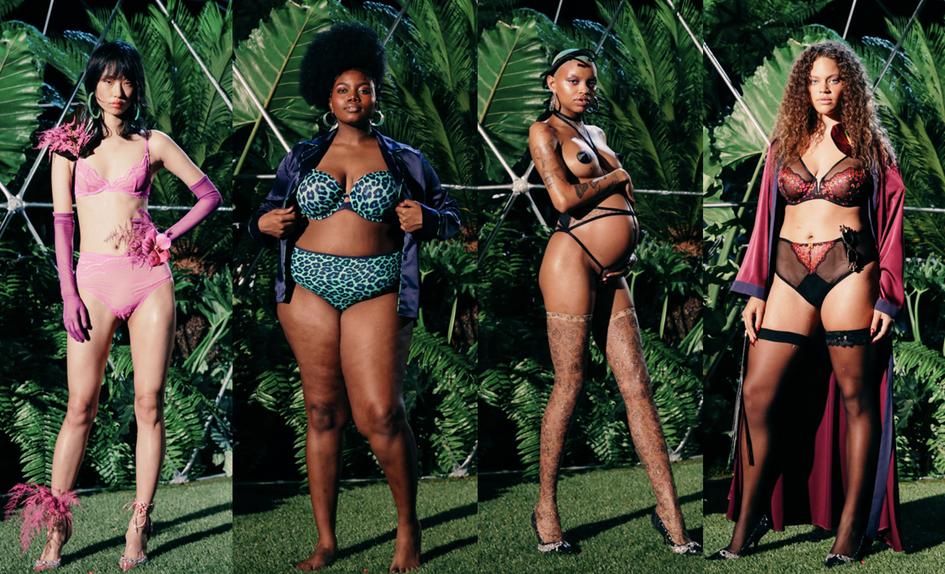 Fenty Savage X is an example of a body and size inclusive lingerie company.
23. GETTING NEW UNDIES
Toss out that old underwear with the holes, dead elastic, and stains. Even the new version of your old go-tos can feel great.
24. BE MORE PROACTIVE
If you're not usually one to initiate sex, maybe this is the year be a little more confident and be the one to ask for sexy time first.
25. HAVE ALL-DAY SEX
Stock up on snacks, drink plenty of water, and walk away at the end of the 24 hours feeling drained, sore, and chaffed. Good times!
26. HAVE NOT-BED SEX
Tables, chairs, floors etc. If it's sturdy enough, get jiggy on it.
27. HAVE OUTDOOR SEX
There are entire logistics to having sex outside, the thrill alone can be totally worth it. HOWEVER, remember that outdoor sex is NOT public sex (even "public" sex really isn't public) – meaning, anywhere outside needs to be a place where non-consenting eyes won't fall upon you.
28. HAVE MORE ORAL
Yep. Nuff said. If it's a new partner, remember to stay safe with condoms and dental dams. Here are some articles that might help…
29. IMPROVE YOUR "TASTE"
Sometimes people don't like going down because it really doesn't taste nice. But did you know the things you eat and drink effect how you taste? Smoking, booze, and red meat will leave an unpleasant taste. Water, certain fruits, some vegetables/herbs, and other consumables will make things yummier (or at least tolerable).
BUT…
This isn't an "hour before" fix. You'll have to practice it long-term (days or weeks) to notice a difference.
MORE INFO: 20 Foods to Change the Taste of Semen – Go from Bitter to Better
30. READY EROTICA
Reading sexy books can make you feel sexy … or give you ideas.
31. START SEXTING
You don't have to be physically there to get your lover hot and bothered (or even just let them know you're thinking sexy thoughts about them). Try adding sexting to your daily/weekly regiment or as a build up to date nights or other special moments.
MORE INFO: 12 Sexting Tips That Will Drastically Improve Your Game
32. TRY A DIFFERENT KIND OF SEX TOY
Be adventurous and try something new! Get a butt plug, magic wand, or even a smartphone-controlled sex toy so you can give your partner an orgasm even while miles apart.
MORE INFO: Long-distance sex toys you control with your phone!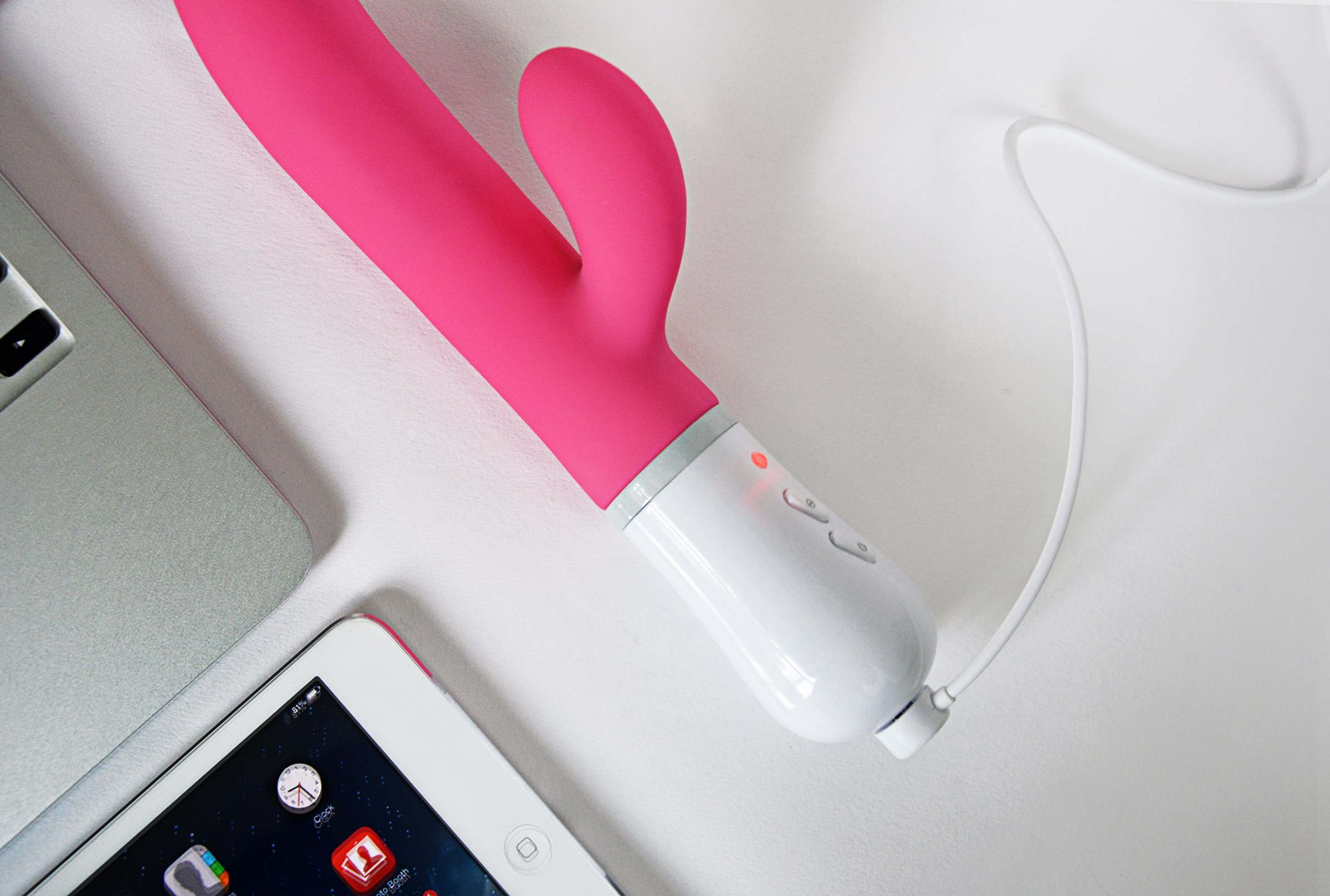 Some sex toys even sync to virtual porn
33. IMPROVE SEX TOY HYGIENE/CARE
Whether you have one or an entire closet full, make sure you give them the proper TLC. Wash them properly, dry them thoroughly, make sure you're storing the right, double check they're not made from unsafe materials.
If you're not sure about how to do this, part of your resolution should be learning how.
MORE INFO: Over 30 Essential Tips on How to Clean Sex Toys
34. PLAY A SEX GAME
Search online for ideas or buy one of the hundreds of commercial options – like erotic board games, sex dice, truth or dare cards etc.
35. TRY ANAL SEX
Yes, this is part of "try a new position", but anal sex is a beast onto its own. If butt love is new to you, it might be worth a try (for both women AND men – it's called pegging). If you're worried about any pain, read this guide on how to have pain-free anal sex.
MORE INFO: Up the bum without the OUCH – 20+ tips on how to have anal sex
36. EXPLORE A FANTASY
Maybe it's a threesome. Perhaps you have a roleplay you want to finally try. Don't keep putting it off. Start communicating with your partner and see if you can work out the logistics of fulfilling it.
37. RESEARCH A KINK
If your fantasy is a bit technical (eg. being tied up vs dressing as a nurse). You'll need to start boning up on your BDSM knowledge. Because, trust me, most kink practices need preparation and understanding before you try them.
38. PLAY WITH CHASTITY
Sometimes withdraw (rather than sex binges) is the answer. You can simple abstain or try chastity devices. There are also some fun games you can play! I've heard many people say some of the best orgasms are the ones after they've been pinning for months.
MORE INFO: 15 BDSM Chastity Games for Wicked Keyholders and Playful Subs
39. TO YOUR FIRST MUNCH
Maybe you've moved past the beginner level and are ready for something spicier – but aren't ready for full orgies yet. If you don't know, "munches" are gatherings of kinky people in a non-kinky environment to do non-kinky things.
It's basically a social mixer/event where you can meet people in the community with similar tastes, ask questions, and get comfier. Try Fetlife.com for munches near you.
EXAMPLE – If you want to learn about Japanese bondage, there are a tone of people all of the world that practice and even formal workshops.
40. GO TO YOUR FIRST SEX PARTY
After you've gone to a few munches, you might be invited to a private party. OR, you can keep an eye out online for legitimate sex parties. Don your sexist clothing, stuff your bag with condoms and return the next day with a smile on your face.
HOW TO KEEP YOUR PROMISES
---
Often, people make promises to themselves and don't bother keeping them.
Why?
They've bitten off more than they can chew. The key to making things stick?
Go SMALLER. WAY smaller!
For example, if you're a vanilla person, planning to attend your first sex party isn't reasonable. However, working on better foreplay (or even a mild fantasy) is totally possible.
Or, "We'll have a date night" isn't enough detail. "We'll have a date night once every other week. We'll have a budget of (insert money here). Each of us will take turns planning the date night" is WAY better.
Any other resolutions you want to add? Share in the comments!