If you like pain, sensory play, or the tingling that comes with light (or hard) scratching, Wartenberg wheels are something you definitely need to explore. The extra good news? They won't set your bank account back hundreds of dollars like some adult products.
So, what's the deal with this sadistic looking device?
NOT-SO BORNING HISTORY
---
If we, as a perverted society, took the Hitachi and made it a sex toy or decided that urethral sounds were something erotic, it shouldn't be a surprise that we adapted this particular object.
Robert Wartenberg originally made this as a neurological tool to systematically test nerve sensitivity – basically to make sure your brain wasn't screwing around with your nerves.
The thing is, like the lice checks at school or ASMR soap cutting, some people ended up really liking the feeling it created.
SIDE NOTE:They're also called Wartenberg pinwheels or Wartenberg neurowheels
GETTING YOUR HANDS ON ONE
---
The design hasn't really changed much (because it didn't really need to). It's a disc with evenly spaced pins that can be rolled across the body. The handle will always have a grip as well as a slight curve to it.
As far as materials go, there are three choices…
STAINLESS STEEL – It's the best choice because you can sterilize it and use it for multiple partners.
CHROME PLATED IRON – Often cheaper (but sold at the same price point as the stainless steel options), but it will rust over time. I would avoid this kind if you can.
PLASTIC – You can find them in various colours, should you want to coordinate with clothing or a scene.
After that, there's the number of discs. There are single wheels and even ones with a row of five. I've also seen a few that play around with how they attach to the handle, but in the end, it's all the same concept.
HOW TO GET KINKY WITH ONE
---
The simple act of running over the skin can be enough to send some people over the moon. However, setting up your scene and building up tension (like with any toy) can deliver amazing results.
Run it slowly and lightly along less sensitive areas to start. This helps get your sub in the right state of mind and their blood pumping in preparation for more.
Different areas have different sensations and reactions. Explore and experiment to find out what makes your bottom moan, giggle, or wince.
Play with different pressures and speeds. Obviously, pressing down harder will cause more pain, but hard pressure on thin skin versus hard pressure on thicker, meatier areas will also be different.
Play with different temperatures. It's steel so you can make it cold or hot (careful not too hot!).
Play with moving the toy at different angles – it can create sort of scratching sensation.
As always, save the genitals and other fun bits for last. It also goes without saying that you should start LIGHTLY on these areas and slowly build pressure.
Some wheels can be fitted to work with your favorite electro-box or a violet wand – so you can get pin-point shocked across the whole body!
You can use it in conjunction with other kinds of play. After impact play can be especially fun since the skin is already super-sensitive. Mixing with pinches, tickles, and bites is also great.
USING THEM SAFELY
---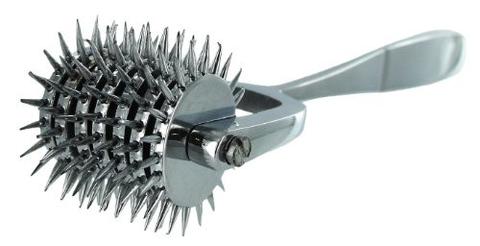 There are the standard SSSC and RACK rules to follow with any kink play – even if these wheels seem simple, basic good-practices should not be ignored.
After that, it's just common sense.
Also, be aware you CAN break skin and draw blood with these. For some, it will be a big nono, but for others, it could be a turn on. If you do aim for blood play, make sure you've sanitized your toy and the area you'll be playing with.
A 10% bleach solution is good for sterilizing it – make sure any nooks and crannies are also addressed.
WHAT TO DO AFTER
---
Aside from cleaning and dressing any open wounds, you'll need to tend to the skin in similar ways you would with impact play. This can include massaging, gentle caressing, adding lotion, adding a cooling element, applying aloe or something for any itching or discomfort, etc.
Then there's your standard post-communication on what your partner loved or would change in the future as well as cuddles. Lots of cuddles.
Learn more about post-BDSM play here
BDSM Aftercare 101 – Ways to Care for Your Sub After Play
Want more kinky articles? You might like these…
What about you? What's your favorite thing to do (or have done to you) with a Wartenberg wheel? Share in the comments so others can try!