Realistic sex dolls, even at their cheapest, are a huge investment. So, before you even think about pulling out your credit card, make sure you're prepared on all fronts.
This simple guide will help you get started (and know if you're ready to get one).
WHY A SEX DOLL?
---
There are MANY reasons people own sex dolls (realistic or otherwise), but in the case of models that step on the edge of the Uncanny Valley, it comes down to several reasons…
1. FANTASY – Since these dolls are highly customizable, the sky is the limit. You can have anything from books the size of New York or an alien penis. It's a way for someone to have sex with their "dream" partner.
2. LONG DISTANCE – For those in a long-distance relationship, it can keep people from being lonely.
3. CONNECTION – If someone has trouble interacting with others in a sexual way, dolls can help that person overcome their anxieties. Or, maybe someone has given up on dating all together but still needs someone to stave off loneliness.
4. SEX TOYS – At the moment, sex dolls are stigmatized, but let's not forget that many people have dildos and masturbators in the nightstands. I'll also hazard that many people, if they don't watch porn, at least sometimes fantasize while masturbating. Sex dolls are just elaborate, expensive, versions of your vibrators.
5. NOVELTY – In the world of sex toys, it's sometimes difficult to make something different. Sex dolls are certainly different.
6. DESIGN – Like it or not, high-end models have an incredible amount of design behind them. They really are works of art.
DECIDING ON YOUR BUDGET
---
A base model will cost you at least $900. They can run in the tens of thousands depending on how elaborate you go. If you can't afford that, you'll have to either save up for years, not buy that new car, or downgrade to a different sex toy (like fucking machines, blow up dolls, or tech sex toys).
But, if you have some extra coin, decide on what your limit will be – because with all the bells and whistles it's really easy to rack up the bill.
INITIAL DECISIONS
---
GENDER – They come in male, female, or even a mix.
SIZE – Specifically, how tall the doll is.
Ethnicity – What distinct race (if any).
SHAPE – Athletic, curvy, slender, waist size, overweight, big boobs, large ass etc.
REAL OR FANTASY – Do you want it to look like someone, an alien, a movie character? The girl with three boob from Total Recall?
AGE – They usually look like hot 20-somethings. Not many people ask for older looking dolls, but it's possible. Don't get them looking really young, because that's gross.
IMPORTANT – Keep in mind, the bigger or more "off menu" you go, the higher the price tag.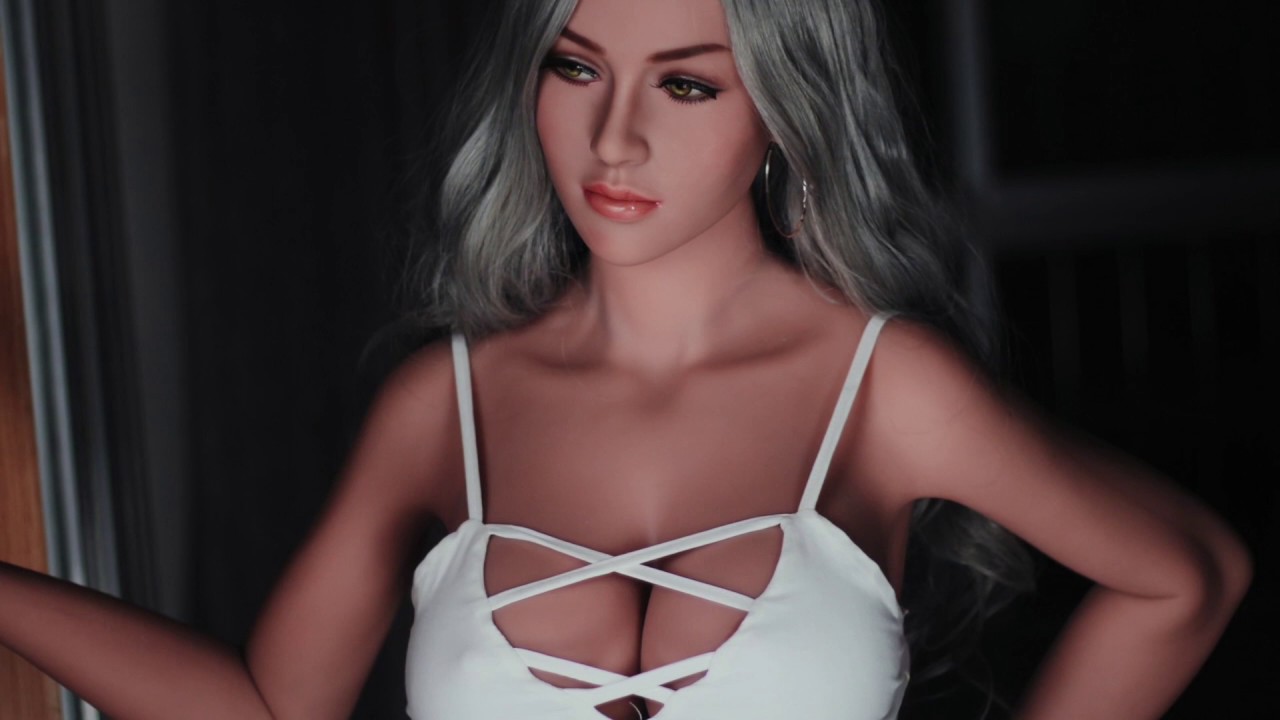 Make sure you like it … because there's no going back.
CHOOSE YOUR MATERIAL
---
Realistic sex dolls, for the most part, come in two materials – TPE (rubber) or Silicone. Each comes with their own pros and cons.
TPE is softer and WAY cheaper. However, it's highly porous, doesn't handle high temperatures as well, is more prone to tearing, and can have an oily residue.
NOTE: Despite what sellers might tell you, TPE is not "difficult" to sterilize. It's IMPOSSIBLE to sterilize. No matter how much antibacterial soap or manufacture cleaners you use, the micro-crevices will always retain something.
SILICONE is more durable/longer-lasting, can handle higher temperatures (for things like baths), has no residue, is hypoallergenic, and is non-porous. But … it's WAY more expensive.
AFTER THAT, DECIDE ON…
---
INTERNAL STRUCTURE – Pay attention or read up on how the maker constructs the internal metal skeleton. This will affect the range of movement and positions possible.
ORIFICES – The mouth, vagina, and anus can be built-in or detachable. The detachable options are much easier to clean.
APPEARANCE – Hair color and style, eye color, finger/toenail style and color, nipple color, vagina/penis style (maybe texture) and color, pubic hair, freckles, beauty marks, makeup, tattoos, etc.
STANDING FEET – Most dolls can/should not "stand up". If you want it to stand up on its own, you'll have to pay extra for this feature.
WARMING RODS – Some models/companies have devices that can warm up an orifice before use.
TRAVEL CASE – Dolls might be made to take a pounding, but they're not built for travel. If you're going to be taking your girl/guy places, you should consider a custom carrying/shipping case.
STORAGE
---
Keeping your investment for years to come is going to take work on your part. First is storage. Dolls are not meant to stay laying or sitting down for long periods of time. It can crease, wrinkle, distort, or even tear the material.
The absolute BEST way to keep your doll is by hanging them in your closet with the limbs in the "resting" position (the position that the doll came to you from the manufacturer, so pay attention when you open it). The heads should come off with a special hook attachment. Just make sure your closet rod can take the weight.
Also, it doesn't matter the material, always store your doll away from direct sunlight, extreme temperatures, or any materials that could stain it.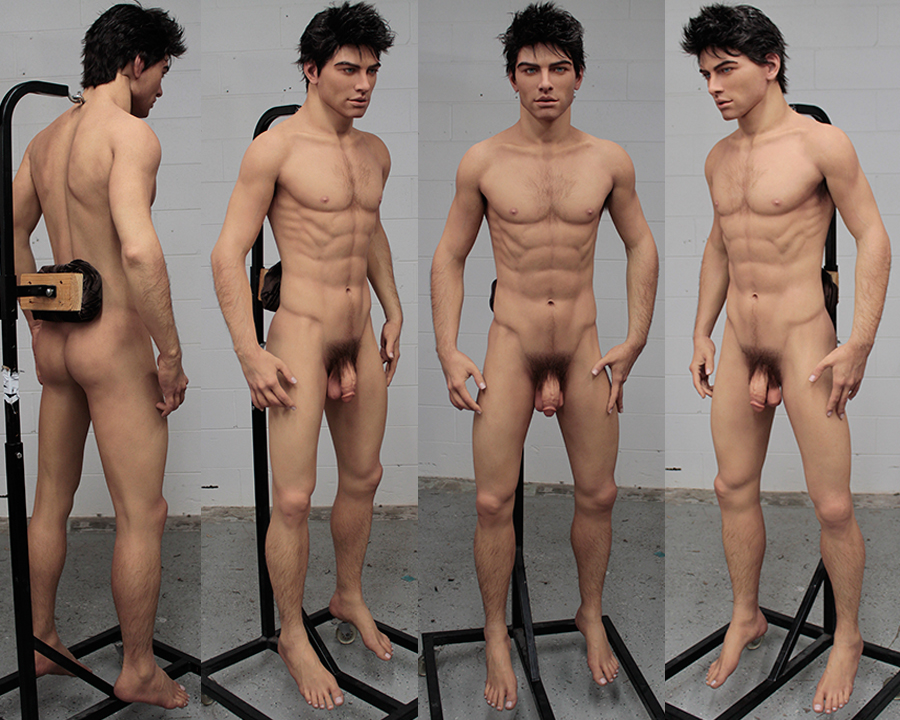 Yes, you can get male dolls too.
CLEANING
---
This is another key factor is taking care of your new friend.
Clean your dolls orifices well after each use.
If you just cuddle often, clean it once every 3-4 days.
If you aren't using it, give it an inspection once every month to see if they need a maintenance wash.
Wash with warm water and mild, unscented soap. Or whatever cleaning agent the manufacturer recommends.
Rise, wash, rinse, and then rinse well again.
If the orifices are not detachable, use a vaginal irrigator or other tools recommended by the seller.
Dry it completely.
Dust it with renewal powder (if you're told to, often with TPE dolls)
Store properly.
NOTE: Do not put your sex doll head in the water. Detach it and wipe it down with a cloth and pat dry.
OTHER THINGS TO KEEP IN MIND
---
Some sellers provide a set of clothes. Others don't. If you're going to buy your own, make sure the fabric won't stain your doll. Give new clothes a good couple washes, with a little salt to set the dye, if you're not sure.
Do not use oil perfumes. It's best not to use perfumes at all, but if your set on the idea, make sure they are water-based.
I recommend against additional makeup because you don't know how it will affect the material. If you REALLY want to change up her/his look, stick to powders. And, always test in an unseen part of the doll first.
Keep your wigs brushed using a metal comb or brush and starting from the ends and working you're way upwards.
Shower sex and bath sex is okay (great for warming up the doll), but make sure it doesn't go higher than 40C. The same temp goes for any heating blankets.
Always use WATER-BASED sex lubes. No exceptions.
Do not share your doll with others. This reduces the chance of infections, spreading of diseases, or additional bacteria.
Wearing a condom make it easier to clean up.
Don't bang or drop your doll. And don't leave it anywhere your dog/pet can find… It might end up an expensive chew toy or scratching post.
You can pierce your doll, but don't leave the earring backs on. Also, make sure any jewelry won't scratch or puncture the material.
DECENT VENDORS
---
After you've made all your decisions, hunt down a reputable vendor. Do your research and then contact them with any questions.
SIDE NOTE: In my opinion, although Chinese sellers might offer cheaper products, their after-service is usually abysmal. I would stay away from them.
Also, if you're looking for more interesting articles, check out these…
Do you have any other advice for buying realistic sex dolls? Share in the comments!