I LOVE Japanese rope bondage – utterly adore it. So when I spotted silicone rope, I was eager to get my hands on some and test it. I will also add the disclaimer that I received this for free in exchange for an honest, unbiased review.
QUICK SPECS
---
THE PACKAGING
---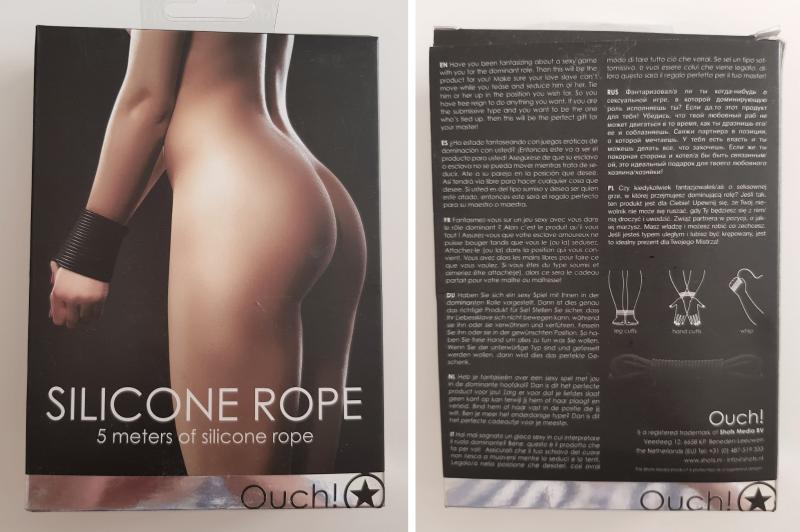 The packaging is what you would expect from an adult product – heavy on the black and some sort of sexy form sporting what's inside. It's a simple item, so simple packaging works fine. There's no need for padding or foam since it doesn't need protection.
I will say that if I wanted to look at it from an eco-friendly standpoint, you could reduce the dimensions (although that would cut off space for the multi-language instructions). But that's neither here nor there when it comes to the actual rope.
SIDE NOTE: It's quite twisted when you take it out of the plastic wrap, but a few gentle pulls straightens it out.
TESTING IT
---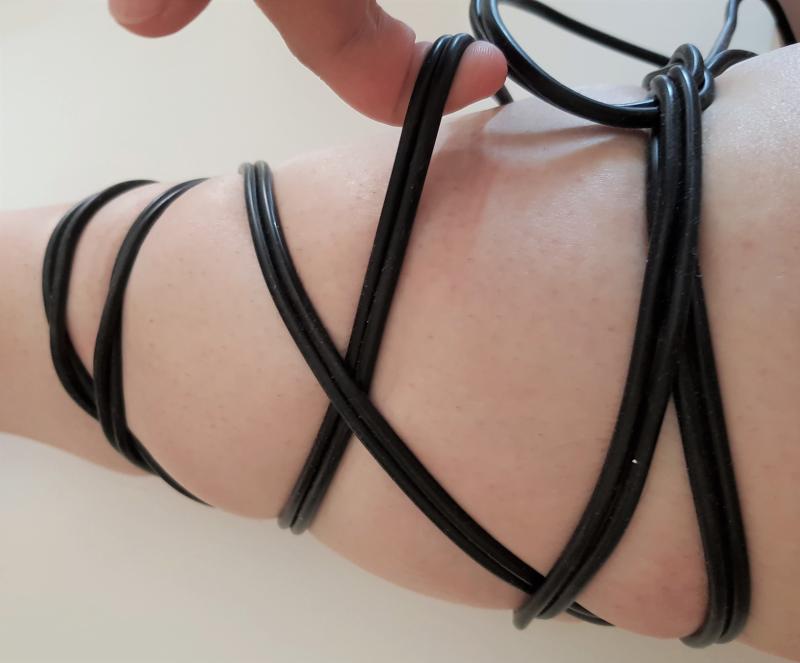 Even with tying it snugly, there's still a lot of stretch.
The first thing I noticed was the silicone had SIGNIFICANT stretch – comparable to a stiff rubber band. This could be considered a pro or a con, depending on who was using it.
What does this mean?
You (obviously) cannot use this as you would hemp, jute, or even cotton fiber (like in Shibari). The friction of silicone rope makes it really hard to pull across it, and any pulling across the skin would, at minimum, cause serious discomfort. Besides, rope forms need something with strength and hold to sit properly against the body and not slide to areas that could cause damage.
Keep in mind, however…
The packaging is very clear about the three ways you can use it…
1. Wrist cuffs
2. Ankle cuffs
3. As a whip/flogger
I will add a fourth – some simple cross bands over the leg, thigh, possible the forearm.
I tried all three and these were my reactions…
It's better to wrap either ankle or wrist cuffs with the rope folded in half (doubled, like you would in Shibari). This makes it much easier and faster to complete the cuff and helps reduce pinching.
It's best to use as much of the rope as possible when making a cuff restraint because it helps reduce the ability for the wearer to stretch out or distort the wraps. It's also safer.
Unless you take it very slowly and are very careful, you will not get the perfect looking cuff like on the packaging – especially if the wearing enjoys struggling.
It doesn't have to look perfect to be functional.
A hairier partner WILL feel the pull against the skin.
Wraps should not be tight (you don't want to compromise circulation). Any "sadistic" wrapping on the leg or forearm should not be left on the body too long – I had mine for less than a minute and I already had deep marks.
It works great as a whip/flogger and is high on the "sting" levels.
It needs to be washed thoroughly after each use, but it's easy to do so. Also, dry thoroughly and store in a bad to avoid more lint attaching to it.
Can never ever be used in suspension – only as an aesthetic addition that will have no load-bearing responsibilities,
Want to learn more? Check out this article…
Bondage Rope 101 – 12 Useful Tips and Extensive Rope Rundown
RIGGER REACTIONS
---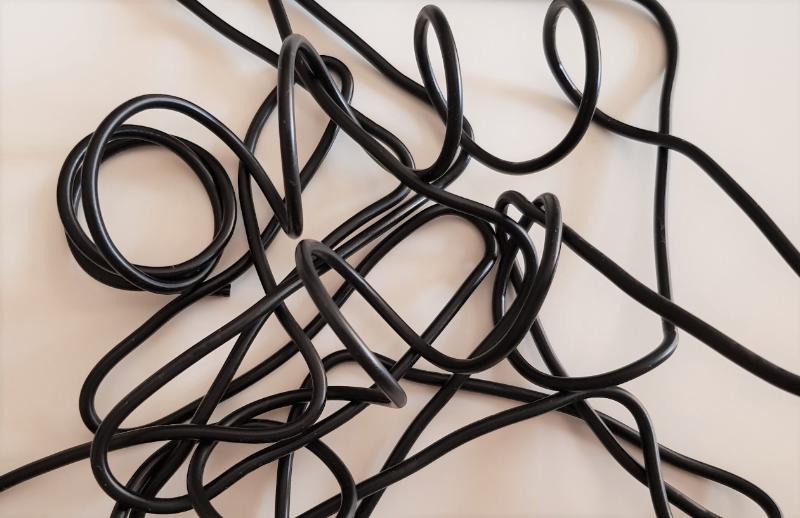 I took it to one Shibari rope jam and got some opinions from other riggers. Here's what they said…
"I really like it for flogging, but not tying. The impact sensations are fun."
"The simple cuffs are fine, but I don't like the sensation of the silicone as rubs against itself when trying to tie it."
"It's interesting. I like how easy it is to clean – WAY easier than shibari ropes."
"I could be something fun to add as a mouth gag (since it's easy to clean).
All in all, when I first showed them the product everyone was really excited.
PRO VS. CONS
---
Affordable (all things considered)
Easy to clean and sterilize
Fun if you want to be sadistic
A different sensation against the skin
A good addition if you are a rope collector
Gathers dirt and debris like a magnet
Not beginner-friendly
Limited to two cuff forms
CONCLUSION
---
Despite the "limitations", I like this product. I think it would look great in photos with a model wearing latex, PVC, or rubber (or nothing). It could look extra nice if you used various colors. I liked it as a casual kink product and something to use when I'm feeling a bit on the sadistic or mischevious side.
I will also add that if you get it, and don't like it as a bondage tool, it's still really useful for other things – I've seen reviewers buy/use it in similar ways to a light bungee cord. It's one of the only adult products I can say would not be a waste of money.
Want more useful articles? Check out these…
Have you ever used this kind of rope before? Share your experiences in the comments!