Bondage tape isn't on the kink radar as much as it should be – which is a shame because it's a wonderful toy to include in your sessions. It's great for beginners and a safe baby steps into restraints while also being something even advanced players can enjoy.
So, whether you're curious or ready to go shopping tomorrow, here's a useful guide to help you on your way…
WHAT IS BONDAGE TAPE?
---
You're probably thinking, "Why can't I just go to the hardware store and buy any old tape?"
Well, even though it might look like colorful duct tape, bondage tape (which is a thin layer/strip of PVC) is special because there is NO glue and it sticks only to ITSELF.
This makes it useful for many reasons…
It won't pull out hair or hurt the skin
It won't leave glue residue on anything
There's no gross scent or taste
You can reuse it!
It comes in a wide assortment of colors
It's very affordable/cheap
It's great for any water play or sploshing
WAYS TO USE BONDAGE TAPE
---
► RESTRAINTS – WRISTS
Beginners are always told to get fuzzy handcuffs – which are fine. But the classic wrist binding can be easier with tape because there's no pinching or chaffing.
However, you'll need to apply a few more layers than on the ankles because it's easier for the "bottom" to move around and wriggle out of their bindings.
Also, if it's easy for them to get at it with their mouth or fingers, make sure the end is in a place where they can't reach it. Even if they do get out, remember, you can just reapply the same stripe. Another solution would be binding their hands behind their backs or in whatever creative position your wonderfully twisted mind can come up with.
SAFETY NOTE: Always bind the wrists with the inner parts touching (extra protection)
► RESTRAINTS – ANKLES
Depending on how squirming your bottom is, or how strong they are, you might have to adjust how many layers/wraps you put around their ankles.
There's also a trick – don't bind them with their ankles directly beside each other. Instead, move one foot slight behind/in front or above/below so the ankle bones aren't pressing against each other (it's not the kind of discomfort you want to go for).
► SHIBARI – BUT NOT
The beauty of tape is that you can do some shibari concepts or positions without needing the rope. For example, you could easily reproduce these positions…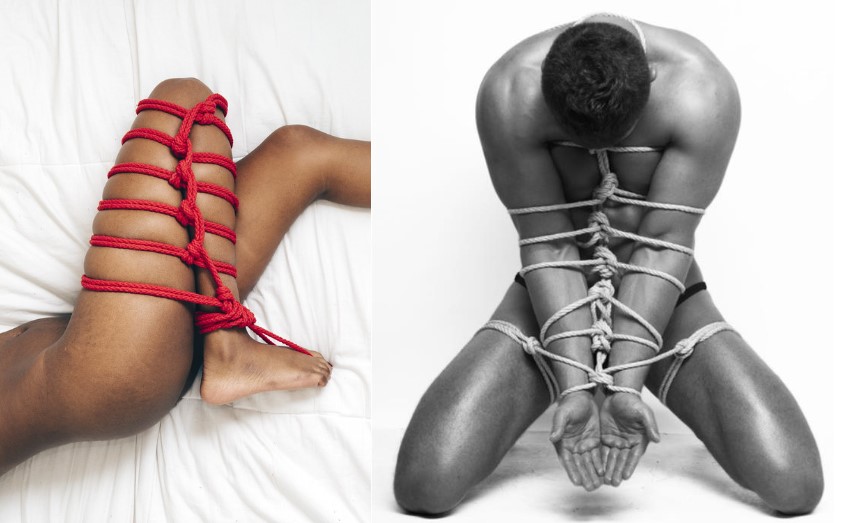 Remember, you're NOT making any knots; you're just aiming for the position.
SAFETY NOTE: If you want to get into elaborate bondage with tape, you should still study the safety principals of Shibari. Example, floating ribs are delicate and easier to break then the upper ribs. And you're certainly NOT going to do any "suspension" with tape. No no no. Just "floor work".
► RESTRAINTS – TO OBJECTS
There's attaching someone to a chair for interrogation … or tickles, heehee. And since there's no glue, you don't have to worry about any finishing being ripped off or any residue left over. Use your imagination – there are beds, stools, railings, door handles, table legs, etc.
Get a smooth rod (get your mind out of the gutter) – things like bamboo, metal, plastic etc. and attack the wrists or ankles to make a spreader bar.
► GAGS
Since water doesn't affect the tape, it won't tear out hair, and there's no taste or chemicals to swallow, it's perfect for gags. It can go over the mouth (closed) or through it (open). If it's an "in the mouth" gag, make sure any tape edges won't be pressing against any soft areas, like the corners of the mouth.
SAFETY NOTE: With any gags, make sure you have a non-verbal safe word.
► BLINDFOLDS
You can also get into light sensory deprivation by taking away their sight. However, any wrapping around the eyes doesn't need to be tight – you're aiming for darkness or lack of sight, not tightness. If you've bought a lighter color tape, you might need to add a couple more wraps to block the light out (if that's your goal).
► PET PLAY
I've seen puppy or kitty mitts that sell for A LOT. It's a rather large investment if you're not really sure you'll like this kind of play. However, you can get the same, basic experience if your sub simply makes a loose fist or paw shape and you wrap it up in that shape. There are more elaborate positions like this one…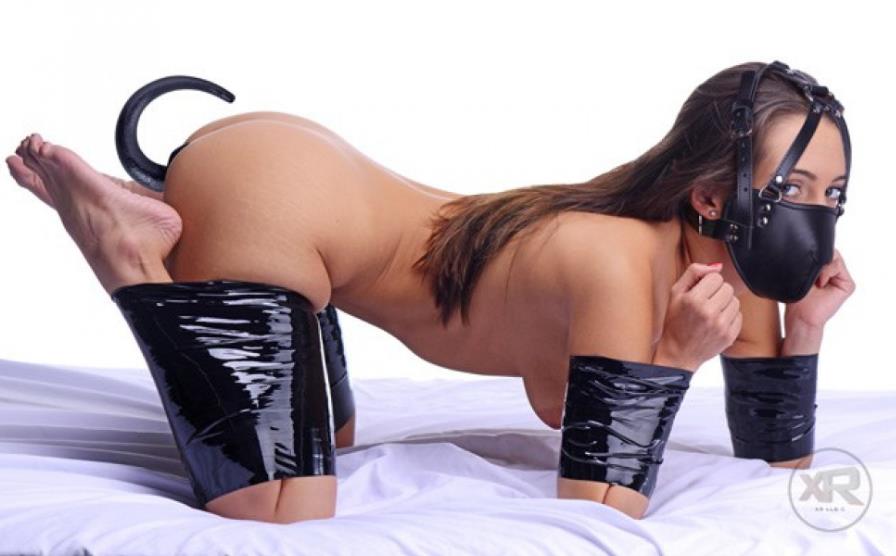 Remember, this wrapping should only be done on a bed or VERY soft surface so there's less pressure or strain on the elbows and knees. It's also not a position to stay in for very long – so let them lay on their back as well. If you have special knee and elbow pads that let them "walk" with comfort, it's still not something to do for a long time.
A good compromise would be restrained legs with unbound arms.
► MUMMIFICATION
You might be thinking of the entire body being wrapped up – and you're not wrong. It's about as "bondage" as you can get. However, you can also do partial mummification, where only the upper or lower half of the body is restrained.
If you want to only wrap the lower half, get them to sit in a comfortable position and start from the feet or ankles and work your way up. If you want to do the upper half, sitting on a stool or on the floor is ideal. Standing is possible (though not a great idea), but if you're working on the lower half, falling could become a danger. For a full body, always start with the upper half.
After that, it's a matter of making sure you leave enough overlap in a straight line so nothing comes undone.
Also, one practitioner mentioned that you leave all your seams (where one piece of tape stops and the next one begins) at the back so it looks nicer. You'll need A LOT of tape but remember, it's reusable!
SAFETY NOTE: Don't wrap the entire head in tape. If you've never done mummification before, start slowly, it can be an intense experience for the person being wrapped.
► CLOTHING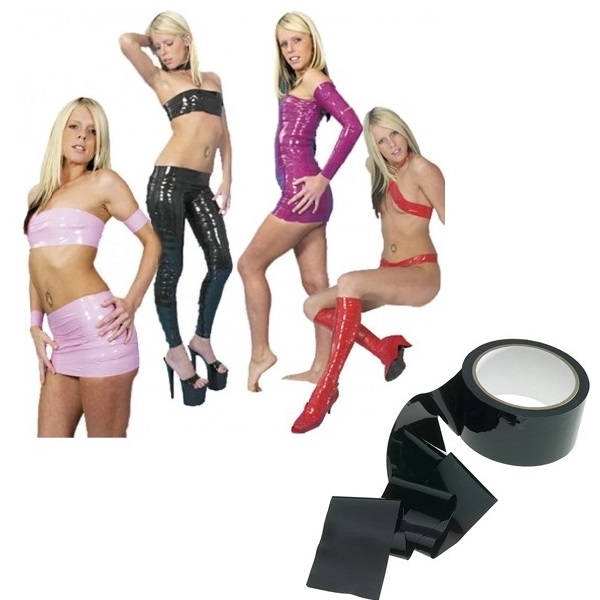 Does anyone remember when duct tape clothing and accessories was a thing? Well, bondage tape is the next step up. You can make form-fitting clothing, and since you can get any color under the rainbow, you'll be able to create some amazing designs – skirts, stockings, tube tops, harnesses, shirts, dresses, etc.
A few things to remember…
Have an idea of what kind of design you want before wrapping.
To lift the breasts wrap from the bottom upwards.
You can wear it out in public, but it can get hot and it might get slippery if you sweat.
IMPORTANT TAPE TIPS
---
You can wash any sweat or other unwanted residue and bits off with water. Dry it then rewrap it on a roll. I prefer using a wider spool the second time around so it's faster and easier to put it back (think like those paper towel rolls.
Some tape with have more stretch than others, so keep that in mind if your sub will want to "fight back" against their restraints. It will go back to its original shape when you untie it.
Pay attention to price vs. meter/feet. The average is around 50 to 60 feet.
Being bound in tape WILL get hot. It doesn't breathe so you won't be able to keep them in it for too long if a lot of the body is covered. You can also extend the length a little by turning on the air conditioner or getting a fan.
Always have safety scissors on hand for a quick escape if something goes wrong or you sub needs out FAST. Tape can be replaced – your sub's mental health is far more important.
First-time mummification should NOT be the whole body.
Pay attention to your sub's circulation and that no areas are getting cold or numb.
Have a safe word and non-verbal safe word (if you do gags).
Deliver aftercare after any bondage session. How much depends on the session and your sub.
Want more interesting articles? Check out these…
Anything you want to add? Share in the comments!