While the "CNN streaming porn" incident might have been an isolated incident or even a hoax, the Asics porn boo-boo was very much a real thing that MANY people witnessed.
And this wasn't anything like an Apple store's screens showing an MS Window operating system.
It was hardcore humping.
And if you think it doesn't get any crazier, you're dead wrong. The Asics porn incident took place in Auckland, New Zealand from 1 a.m. to 10 a.m. – in their flagship.
Hackers weaseled their way into the Japanese company's systems and for the next nine hours … streamed hardcore porn. And it wasn't inside the building. It was on the huge window screens that faced out onto the street.
When the public saw the flashing, naughty images, most scuttled away but a few stopped to watch.
"I took a second look because I just couldn't believe what I was seeing," one woman said.
"It's totally inappropriate and offensive, not something that you want kids exposed to," another commented.
The store's official comment was hilariously "stiff".
"An unknown person gained access to the screens above our central Auckland store and some objectionable content was displayed on the screens".
As soon as the manager saw what was going on, he ran to the control panel and ripped the cable out.
Asics Porn mistake. It's more "common" than you think…
It would be easy to imagine that something like this would only happen once in a blue moon – and as some kind of disgruntled employee prank or weird series of events. But this kind of thing happens more than you would expect.
Another example was when a Washington State news channel, KERM2, was airing a simple weather report. Meteorologist Michelle Boss (great name by the way) was talking about whatever cold/hot fronts were coming in when at 6:30 PM (October 17th, 2021) the audience was gifted with a 13-second clip of hard-core porn.
The thing is, news anchors don't see what's happening on the screens behind them. It's just a well-orchestrated stream of scripts and images that takes place in the behind-the-scenes tech room. So, Boss continued on with a bright smile, completely oblivious to what was happening behind her.
Here, however, is where the Asics story and this one take different paths.
Because the "hot" weather clip was aired on national television, it reached far more eyes (of all ages) than something streaming on a storefront screen.
"The Spokane Police Department Special Victims Unit responded to a local news outlet Sunday evening after a disturbing image/video appeared on the screens of viewers during the station's weather report," Spokane City Police Department said in a statement.
Needless to say, the corresponding police district ended up having a slew of phone calls alerting them to what had happened. Also, KERM immediately put out an apology for the "hiccup" during their 11PM segment.
Here's a screen shot of the official statement…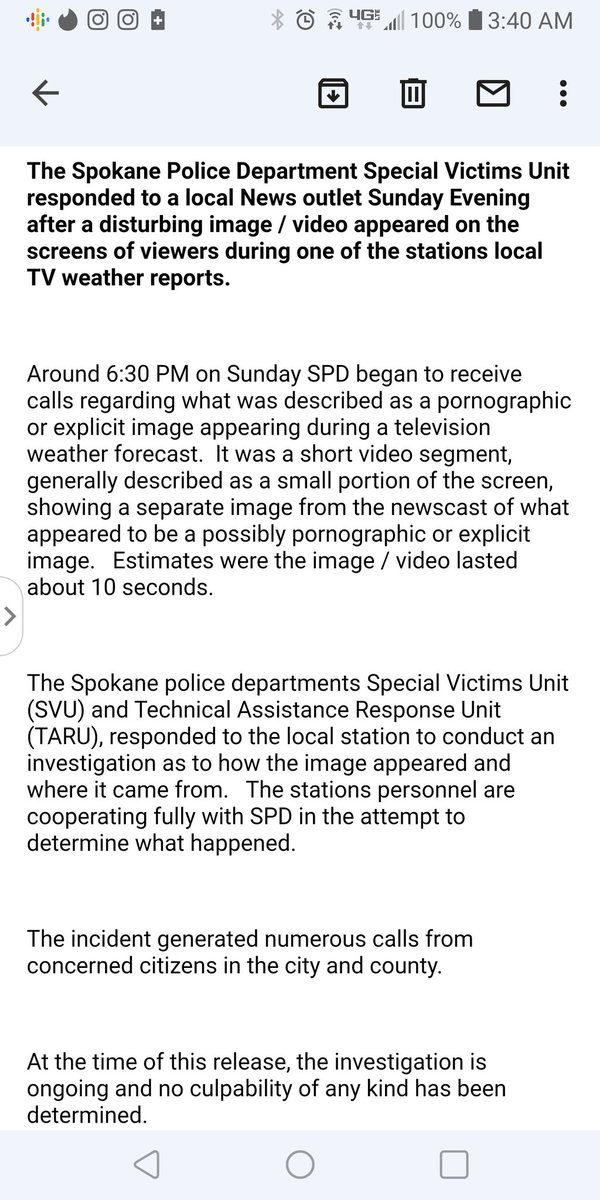 "An inappropriate video aired in the first part of the show. We are diligently working to make sure something like this doesn't happen again," the anchor said.
The Spokane Police department was also quick to jump on the case and investigate every avenue.
"The station's personnel are cooperating fully with SPD in the attempt to determine what happened."
So, you're probably wondering what the repercussions were and to who?
The Federal Communications Commission was quick to publically announce they would probably fine the station for the X-rated content The Spokesman-Review also added that a station in Roanoke, Virginia, had a similar incident in 2012.
In the end, it didn't matter who on the staff put in the x-rated. It just mattered that it made it through at all. The outlet violated federal law by airing "indecent programming from 6 a.m. to 10 p.m. when there is a reasonable risk that children may be in the audience," the FCC ruled, according to the Roanoke Times.
It was ultimately fined $325,000, "the highest fine ever at the time for a single indecent broadcast, according to the report" according to the New York Post.
Any news of who was to blame hasn't made it into the media so far – just the fact the news station was fined.
Then, there's Discord…
For those of you who don't know this platform, it's basically a site for gamers and such to communicate. It's often coupled with Twitch and YouTube for streamers to reach a wider audience or make money.
If you've ever been on these chats, you'll be quick to notice that it can bring out the internet's worst people. There are safeguards (like content filters). However, inappropriate content still finds its way into feeds – where are a large group of underage eyes watching. Also, there isn't much in the way of punishments that will really deter trolls.
Now, there IS intentional adult content groups on Discord. But the groups in charge of this content actually do a better job at restricting who can come in – at least compared to generic streams.
In the end…
There's really no blocking adult content from regular channels. Based on the few examples in this article, it's clear that if someone really wants to upload something inappropriate for that platform, they can. It still might be a fluke that parents shouldn't freak out about. But it's also a good reminder to be a tad more vigilant with children's media consumption.
Any accidental xxx stories like the Asics porn you want to share? Leave a comment!