Whether for added girth or anal training, inflatable sex toys are often overlooked and left out of the fun (mostly because they can seem rather intimidating). But I hope this article will lay any fears to rest and perhaps get you excited about a whole new category of sex toy.
Here's a quick guide and product reviews to get you started…
THINGS TO THINK ABOUT…
---
MATERIAL – Silicone is the way to go, although sometimes it's not always a luxury we can afford and TPR rubber ends up a contender. But if you're going to use rubber, remember it's impossible to sterilize and you can NOT share them.
CONNECTORS – Make sure the hoses, pumps, and values are on securely and nothing is going to pop off (especially where the hose meets the toy – extra important if it's an anal toy)
DURABILITY – Some are meant for only a few uses (even if the price suggests otherwise). Some will last you a respectable amount of time. However, nothing lasts forever and inflatable toys have a shorter life span.
PRICE – Duh. But it has to be said.
DESIGN – This is important for anal toys that need some sort of base or fail-safe for not slipping up the bum.
LUBE – If it's a silicone toy, you can't use silicone lube – which might be a problem with anal play because silicone usually performs better. A hybrid might do the trick. Or just use anal lube and hope the ingredients don't degrade the material.
PRODUCT REVIEWS
RENEGADE INFLATABLE (link)
---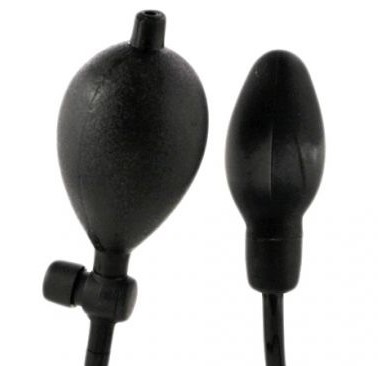 This anal toy is perfect for beginners. It goes in small/thin and only inflates a little (to 1¼ inches). It's also made from durable silicone, which is ideal for anal play. As long as the base of the tube is attached firmly to the bulb (and there's no risk of it coming off), it's fantastic.
PINK PLUG (link)
---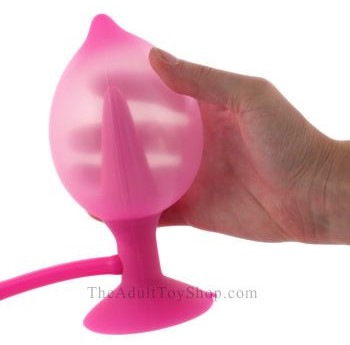 Think of this as the next step up from the Renegade. It's still made of silicone, but the outer layer inflates to 3 ¾ inches. I particularly like the plug because the base is flared (which is safer) and there's a decent, tapered neck to keep things in place once inserted.
Extra points for being pink (instead of the standard white or black).
If you want a black version, follow this link.
INFLATABLE RABBIT VIBRATOR (link)
---
Let's take a quick detour for a moment and take a peek at this vaginal option. It may look like a standard rabbit vibrator, but the g-spot section actually inflates to 3.5 inches in circumference. This means if you want extra pressure on your happy button during play, you'll feel quite filled out.
I have no idea as to the quality of the vibrator, but it takes two AAA batteries. So, you'll get plenty of buzz, but don't expect earthquakes – which isn't necessarily a bad thing for some people.
ACCORDION XL DILDO (link)
---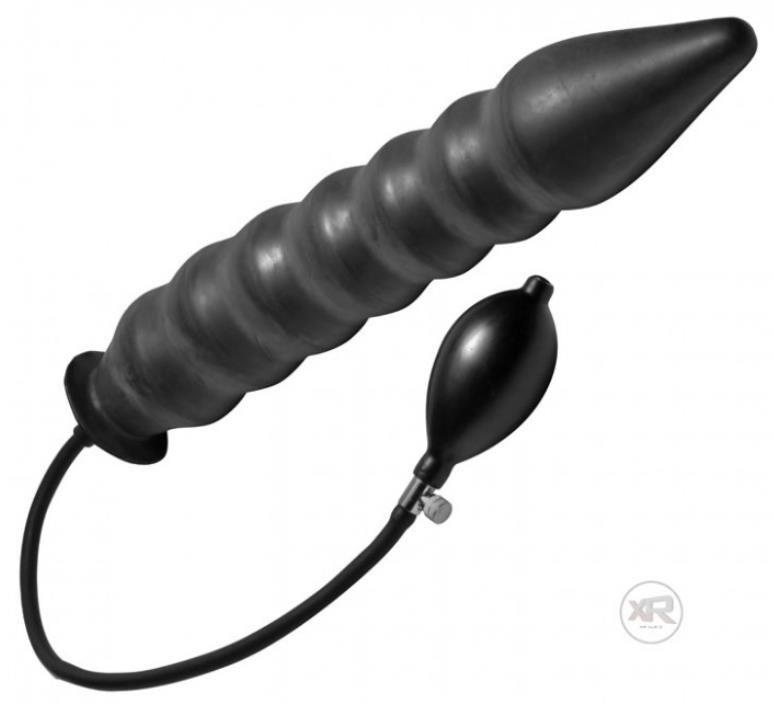 I had such high hopes for this one when I first saw it. The design was interesting (the accordion shape) and it has impressive inflation levels. But…it's made from latex. This is not the best choice for cleanliness and certainly not for allergies. It's also porous, which is a big no-no.
INFLATABLE ENEMA PLUG (link)
---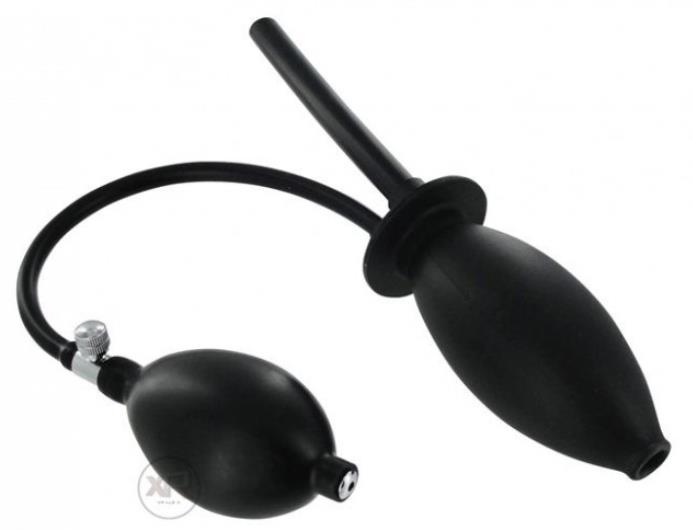 Hmmm, in theory, this toy is great (anyone who knows anything about anal play knows the importance of cleaning the anal cavity first, or even further up). This toy lets you play and clean at the same time. I do have two issues though.
One, it says the tube is rubber but there's no mention of the rest of the toy. Second, reviewers have said the base is too narrow and flimsy – and can sometimes get lost up the bum or just not withstand a few uses. Thank god the tube doesn't let it go further in. I don't know. Maybe if they tweaked it, I would buy one.
COCK LOCKER MONSTER (link)
---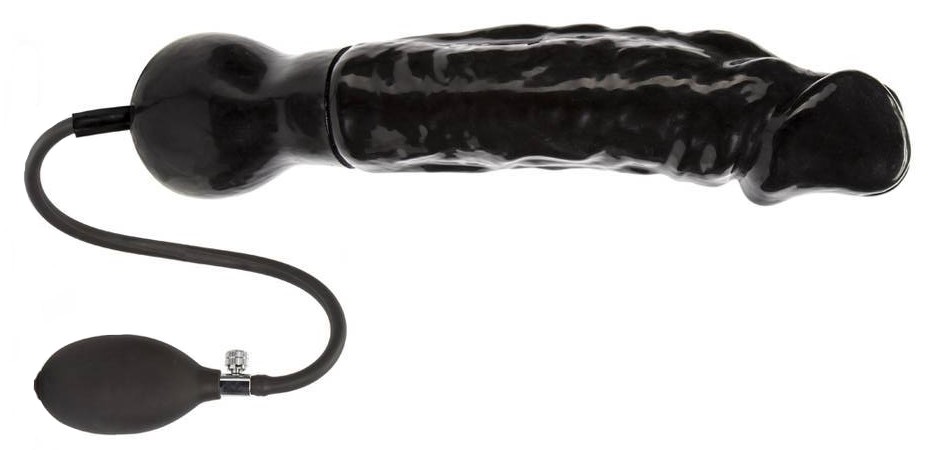 This thing is an 11-inch tease. For f-sakes. Why, WHY do you have to be made from latex! Even the smaller sizes suffer the same fate. The worst part is the description. They SAY it's rubber, which it's not.
AND, they also attach the warning of "DO NOT OVER INFLATE THIS TOY". Does this mean it can go POP like a balloon in your butt? (Okay, okay, I know that's the case with most of these toys…but still…jeez).
PUMPER STRAP ON (link)
---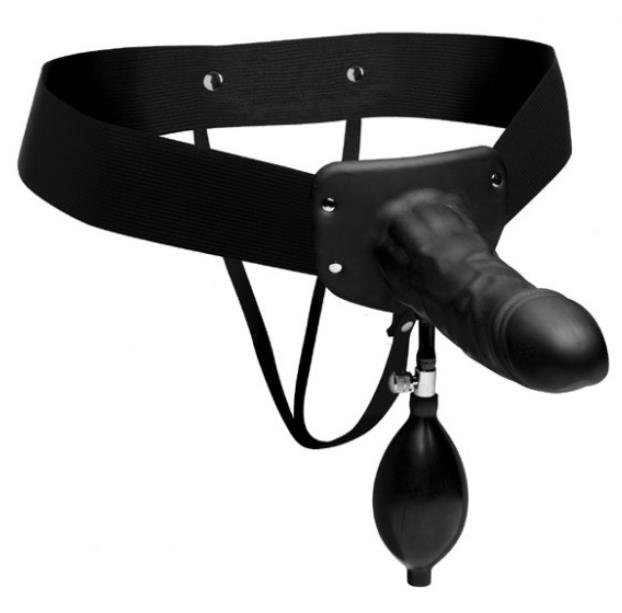 I'm a huge fan of strap ons. So, when I saw this was made from silicone, I was sold. Even if the harness is elastic (not a fan), I'll take it – mostly because there's nothing else on the market like it…which is sad.
TOM'S INFLATABLE DILDO (link)
---

Tom of Finland usually makes decent toys. So it wasn't surprising to see they had made a big-boy toy. Girth goes from three to four inches, so it's certainly not for beginners. I'm concerned they market it for anal play (even if Tom is all anal play toys), because I've always been 100% adamant about decent bases. The tube isn't very long either. I guess I'm wondering how safe it is.
Also, if you want more useful sex toy articles, you might like these…
Tried inflatable sex toys before? Share your experiences in the comments!