Trust me, there's a lot of strange stuff out there – especially in the world of crazy sex toys: baby Jesus butt plug, bacon lube or condoms, HotDoll, Kaylani's Foot Fetish, just to name a few. So, either you're on a coffee break, you want to traumatize your friends, or you just need a giggle.
Whatever the case … enjoy!
1. SLUTTY ZOMBIES – It's not brains we're looking for
---
From Fleshlight's The Warming DeadPack (appropriately found in their "Freaks" section), this pussy-in-a-cup collection offers not just jagged-looking teeth to slip your cock by, but a rotting zombie pussy to get frisky with.
We are not sure how much the antibacterial toy cleaner is gonna help with the undead plague though. Not to your taste? That's okay, they have Reaper and Predator options too.
2. MAD SCIENTIST – Throw a bit of "science" into your sex toys
---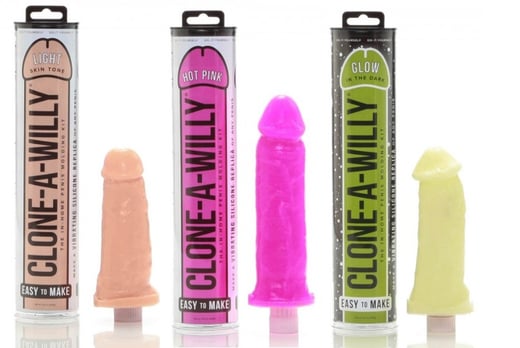 Weird or not, Clone-A-Willy honestly looks like fun. Stick your "test tube" into the mold, add silicon, toss in a vibrator, and voila, an exact replica of his penis.
It's a good option if you want to keep a piece of your partner with you (in a non-creepy kind of way). For the best results, follow the cloning instructions carefully – there's particular emphasis on not letting your ding-dong touch the sides of the mold.
3. NIGHTMARE ON SEX STREET Wes Craven would be proud
---
For the non-ordained, The Claw seems like something out of a torture chamber – and they might not be that far off. From light tickling to agonizing scratching, this simple tool could do a lot of damage or deliver a lot of pleasure. We all know a few people who utterly melt when having their back scratched.
Itching for costume ideas? Grab one for each finger and throw on a striped sweater and fedora – instant, kinky Freddy Krueger.
4. BLOWJOB VAMPIRES  I want to suck your …
---
Another sex-in-a-can option by Fleshlight. Succu Dry offers intimidating silicon "fangs" down the love canal. Certainly not for the faint of heart or penis, but anything's gotta be better than the pale, sparkly, Twilight dildo we found in our searches.
Not enough blood? Add a fake hymen into play (we wish, to the Halloween gods, we were joking, but no, they really exist.)
WANT A MASTURBATOR THAT DOESN'T SCARE THE CRAP OUT OF YOU?
You'll love Max 2 with its INTENSE vibrators and contractions, along with suction control!
5. ALIEN ATTACK – We're here looking for kinky life
---
An oldie, but a goodie. No Crazy Sex Toy list would be complete without Area 51 Love Doll, available on Amazon under the "sexual wellness" heading.
"Now you can experience what humans have fantasized about for decades…incredible sex with an alien! Its pussy-shaped mouth, 3 supple breasts, suction cup fingers and ass-shaped ears make it the kinkiest love slave in the galaxy." [sic]
Couple that with Japanese Love Slime and you have a night to remember … or forget. Our favorite part — the free alien lube. Please tell me it glows in the dark. If so, take my money now.
6. MLP BLOW UP DOLL – If the cartoon isn't enough
---
Yes, we have another blow-up doll, and this one shouldn't really surprise you.
With all the My Little Pony hype in the last few years, Rule 34 of the internet got a reboot of this classic toy .. and a sex toy that goes with it. Oh, and it's HUGE! I think the Chinese manufacturer was going for actual horse size?
7. TENTACLE MONSTER – It's better down where it's wetter
---
It should be no surprise that Bad Dragon landed on our of crazy sex toys. These makers of extreme dildos offer Halloween-esque designs all year round. The entire site is a collection of werewolves, demons, and other mythical creature appendages you can use to fulfill your dirtiest dreams. And, in our quest, we stumbled across one gem.
Directly out of a hentai, The Tentacle dildo comes complete with suction cups and three sizes: baby octopus, standard monster, and "HOLY SHIT, WHAT THE HELL IS THAT?!"
8.  CUP NUDE – Japanese noodle cup for your noodle
---
The contents of this instant treat are not for human consumption – then again, neither is the real version. However, I can't help but tip my hat to Japan for doing what they do best when it comes to sex toys – making them weird … or looking like something else … or both.
This imposter might look like the Cup O'Noddle we've all come to know and "love", but inside is a masturbation ring and a free pack of lube. It's a one-and-done deal, so make sure you throw it in the garbage after … and not leave it out for your roommate to find.
9. SCORPION VIBRATOR – It hurts so good?
---
Considering we already have tentacles, it shouldn't be a stretch to imagine an arachnid.
However, at least the fantasy animal appendages look more on the cartoon side. The Death by Orgasm Scorpion Vibrator looks just too real (as far as these kinds of toys go). Then again, maybe there are those who would like it. Goths? Animal enthusiasts? Hardcore Penny Dreadful fans?
The material also looks like TPE, so be careful with cleaning the fairly porous material.
If you're liking this article, you might also enjoy these…
And, finally …
10. FRANKENSTEIN'S FOOT – No time for a whole monster
---
It's not like body-mishmash toys are new (there's one out there with boobs, a penis, a vagina, and anus all shoved into one unholy lump of silicon), but the makers of the Vajankle have clearly tried to create a toy with a shocking amount of detail, right down to the French manicure on the toenails.
This foot-fetisher's dream toy comes for the dizzying price of $249! … left foot only. Then again, it's cheaper than the lawyer's fees and prison sentence if you tried to make your own real-life version.
Still not crazy enough for you? There's always Pleasure Periscope or Mr. Jack with Mustache; toys for the truly … adventurous. Have fun looking up those.
Which of these toys would you get busy with? Share in the comments!