Today's exploration takes us deep into the world of size and consumption – into the world of VORE fetish.
What is vore, you ask?
AKA Vorarephilia, it is the sexual fantasy of being eaten or eating another person or creature. It can also be connected to the erotic attraction of the general practice of eating.
Before you throw up your hands and cry "pervert!", stay on this train a little longer – because you're going to find that despite the sinister overtones, it's one of the more harmless fetishes.
IT'S NOT CANNIBALISM
---
Let's get this part out of the way first.
Even though the etymology of this word comes from the Latin "vorare" (to swallow or devour), 99% of the vore community rejects concepts or acts of cannibalism (real or imagined).
It's also not connected to sexual cannibalism because vore involves an impossible size difference between the "prey" and "pred" – enough of a difference that the victim can be consumed in one piece. Also, even if there isn't a size difference in the fantasy, the pred has the physically impossible ability to swallow things whole.
SIDE NOTE: For those of you who are saying "EW!", it might be worth pointing out all the business around vampires and the drinking of blood.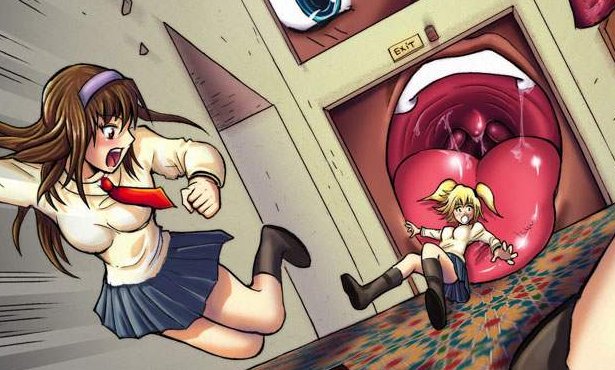 Open wide.
IT'S NOT JUST EATING
---
With any fetish, there are subgroups or branches.
SOFT VORE – This fantasy involved the prey (willing or otherwise) being swallowed whole and unharmed. The acts in softcore vore are more sexual and non-fatal, often leaving the prey unharmed or magically reappearing. This is a large part of the community.
HARD VORE – Also called Gore, there is usually no sexual connections and the prey is put through horrific injuries and blood loss before being killed and then digested. This is a smaller part of the community and sometimes banned in forums.
VAGINAL VORE – Also called Unbirthing, Reverse Birthing, or Female Genital Vor, the person is consumed by the vagina and ends up in the womb.
BREAST VORE – The prey is taken in through the nipples a ends up in the breasts.
COCK VORE – The person is taken through the urethra and ends up in the scrotum, prostate, or bladder.
ANAL VORE – The person is swallowed up by the anus and ends up in the rectum, colon, or stomach.
THE WHY OF VORE
---
As you can see from the subgroups, it's not just about eating, but more about being consumed and becoming a part of something larger. Some theorize that it's to escape loneliness or fear by being with someone more powerful.
There is also a heavy submissive tone to many scenarios – being helpless and at the mercy of someone stronger (a cornerstone in many BDSM practices).
Past that, there can be integrated fetishes towards bondage, masochism, anthropomorphic creatures, pregnancy fetish, hypoxyphilia (suffocation fetish) or macrophilia (fetish toward really big people/giants).
I'm not saying this is the be-all-end-all of reasons why. Just like any kink/fetish the reasons people like something are as unique as the people themselves.
VORE-LIKE CONCEPTS OUTSIDE OF FETISHES
Eating the body of Christ – merging the divine with the mortal.
Little Red Riding Hood
The Greek god Cronos eating his children
Attack on Titan (could be considered hardvore)
There are also countless other stories or folklore that speak of monsters or deities consuming humans.
FULFILLMENT OF FANTASIES
---
This is considered one of the more harmless fetishes because it's impossible to act on – whether through sheer size difference or a level of fantasy elements, magical details, or physical alterations. Instead, vore lovers rely on stories, fan art, bespoke video games, and other media to satiate their appetites.
INTERESTING – I  came across one advice columnist who had the suggestion of using a sleeping bag filled with sticky liquids to mimic being in a stomach.
So, food for thought, before you say, "You look good enough to eat", think twice.
If you want more fetish articles, check out these:
Anything you want to add? Share in the comments!