Last week, we took a peek at using heat during temperature play. Today, we will look at the flip side – COLD (the different methods plus some safety tips).
WHY PLAY WITH COLD?
---
The same reason we tinker with heat – we play with the body's neuroreceptors to cause arousal.
It's especially fun to combine them in unpredictable ways, which can be enjoyable for anyone on any end of the kink scale. Add other forms of BDSM practices (like sensory deprivation), and you have a sure-fire equation for an unforgettable night.
WHERE SHOULD YOU ADD COLD?
---
Anywhere really. I can't think of anywhere that would be off limits (except the eyeballs!). Erogenous zones are great targets but there are a few exceptions when it comes to safety.
WHAT CAN YOU USE?
---
1. ICE CUBES – This is what you probably think of when it comes to tingly temperature play. Running a cube along your partner's skin can be quite pleasurable (especially if you're already hot from foreplay). Giving extra time to
SAFETY – Ever stick your tongue to something frozen? Well, think of that but on other parts of the body. Never use ice straight out of the freezer. Let it melt a bowl for a few minutes until it's slick and smooth.
Also, some people like to stick it up the bum or vagoo…
But did you know that ice can sometimes melt into sharp edges? It can also cause damage if left against the skin for too long (even longer than 5 minutes can be bad). The internal membranes of the body are quite delicate. I would stay with external use.
2. SEX TOYS – Sticking your (non-electric) metal, glass, ceramic, or porcelain sex toys a bowl of ice water can recreate the same sensations as ice cubes, but WAY safer.
SAFETY – Some people suggest leaving your sex toys in the freezer, but that should be left for more experienced people who know their preferences and limits (e.g. metal sex toys take on and retain temperatures like crazy!) A bowl of ice water will do the trick just fine.
3. COLD IN THE BATHROOM – A cool bath or shower will make people squeal. Nice after you've worked up a sweat.
4. SWEET TREATS – Ice cream or popsicles can make your skin tingle, but they also play with the sense of taste. Run any cold foods along the skin and lick it up after! HOWEVER … Never put sweet things near the vagina. It could trigger a yeast infection.
5. WEATHER – Mother nature can be the biggest Domme. Wait until she drops some snow … and then drop your partner in a fluffy drift.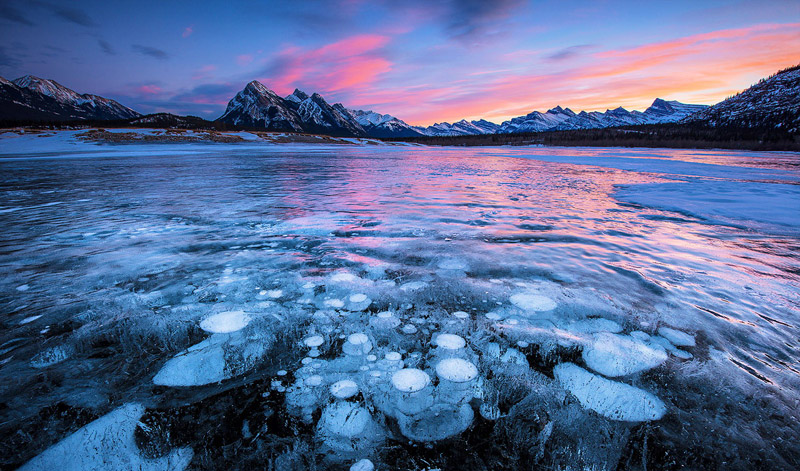 If you're going to do some sexy polar bear dipping, you stay in for literally SECONDS. No more.
SAFETY – Keep these antics to only a couple minutes, otherwise you risk exposure or hypothermia. After, get inside pronto and warm up. Also, don't do this if there's any wind chill or very low temperatures.
6. MEDICINAL THINGS – Cooling rubs for joints or aching muscles, menthol creams, cooling itch lotions, after sun gels etc. No prescription stuff though, just over the counter. Don't forget to read the safety tips provided with the product.
7. TINGLE GEL – There are sex-oriented products that are specifically made for cold temperature play. Some are strictly for external use, some (like cooling lubricants) can be used internally.
8. COOLING MASSAGE OILS – Cool down your lotions and oils in a bowl of ice water and THEN apply. So much fun. Or, you can buy the same thing but with a cooling agent added.
OTHER WAYS TO STAY SAFE
---
Tingling, burning, or other discomfort could be signs of frost bite or other problems.
Cold dulls our reactions to pain – meaning if something is hurting your partner, they might not be able to identify it as normal.
For these reasons, any exposure to cold should be brief and monitored carefully.
Don't forget the aftercare! It doesn't matter if you've used ice cubes for the first time, or you've made your long-term sub do the jig in your walk-in freezer.
Always have a talk afterwards while wrapped in a blanket or housecoat and sipping on water. Discuss what you liked or didn't like and how you would do things different for future encounters.
Also, if you want more fun articles, you might like…