Sex Toys 101 – A Positive and Detailed Beginner's Guide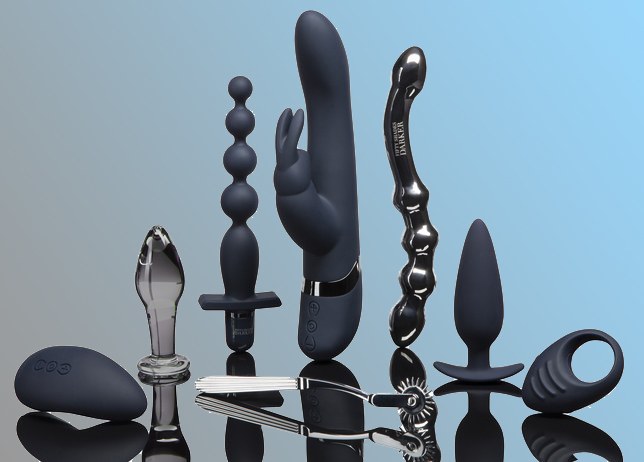 Image Lovehoney
It doesn't matter if you're a blushing sex toy virgin or a kinky veteran who is seasoned in the trenches of BDSM (with the cane scars to prove it) – there is always more we can learn.
In this article, we will break down the types of toys, what they are, safety tips, and interesting facts.
And, because there is just too much info for one post, I've included MANY links to other articles if you want to get into more detail about one product.
TOYS FOR THE VAGINA
---
DILDOS – Toys that are shaped like a penis used for sexual stimulation. They come in various lengths and widths. The oldest one found is around 28,000 years old.
VIBRATORS – These are the same as a dildo, but they feature an internal motor that vibrates for extra stimulation. Some are waterproof, rechargeable, or take batteries. A few expensive models can connect with other sex toys via Bluetooth or long distance apps.
NOTE: G-spot toys can be either vibrators or dildos but should have a distinct curve at the end to target the g-spot.
STRAP-ONS – Dildos or vibrators that are meant to be worn with a harness during sexual activity. The key features to look at is how big the "O" ring is. Dildos require a wide base that won't let them slip through the O-ring.
BEN WA BALLS – Also known as orgasm, geisha, Venus, or Burmese balls.
They are small, marble-like, weighted balls meant to be inserted into the vagina for sexual stimulation but mostly to exercise the pelvic floor muscles.
Not to be confused with anal beads
CLITORAL VIBRATORS – A small vibrator means for external stimulation - never for insertion. Usually focused on the clit, but can be used anywhere.
CLITORAL PUMPS - Similar to the penis-pump concept - meant to increase blood flow to the genital area and help with orgasm.
If you want detailed guides, take a look at:
TOYS FOR THE PENIS
---
MASTURBATION SLEEVES – Other names include "Onaholes" or "Fleshlights" (a famous brand). They are soft, skin-like, flexible tubes to go around the penis and provide extra stimulation during masturbation.
Some have one hole with a closed end at the other or two holes to make an open end. They can look like simple tubes or more elaborate reproductions of vaginas or anuses. The term "Fifi" is a one-use disposable sleeve masturabtor.
EXTENSION SLEEVES – Condom-looking sleeves that go over a penis to add length or texture for a partner's pleasure. They can also help people who have problems maintaining erections.
PENIS PUMPS – A cylinder vacuum device that fits over the penis. Meant to increase blow flow, engorge the member, and help with erections. They are also sold as penis enlargement devices and sometimes prescribed by doctors.
COCK RINGS – A ring placed around the base of the penis to slow blood flow which makes erections easier to maintain for a longer period of time.
SEX TOY FACT: 70% of sex toys are manufactured in China.
If you want detailed guides, take a look at:
MAGIC WANDS
---
You're probably thinking of Hitachi, and you'd be right! However, since this "back massager" came out on the market, there have been many other models popping up - some good some bad.
The good ones are STRONG but not meant for internal use (unless you have an attachment that can convert it). Great for vaginal, penis, or outer-anal stimulation. Also great to use during sex!
Don't bother with battery operated ones. Stick with rechargeable, cordless versions or corded ones (if you don't mind the hassle).
Find out more here:
TOYS FOR THE BUTT
---
ANAL PLUGS – Cone shaped toy that goes in the rectum. Shorter than a dildo and have a flared base to prevent the toy from getting lost inside the rectum. Anal Trainers are the same but come in sets (from small to large) to help people ease into anal play.
ANAL BEADS – A long chain of orbs connected by a string or cord. They are inserted slowly into the rectum one by one then pulled out during orgasm for extra stimulation.
PROSTATE MASSAGERS – Men have their own g-spot (called the p-spot). Prostate toys are curved to stimulate this area. Some vibrate, others don't, but none of them are meant as "thrusting" devices.
SEX TOY FACT: Sex toys are illegal in some countries.
SEX MACHINES
---
A mechanical device that uses penetration or rotation at various speeds.
Although the attachments are dildos, vibrators, or male masturabators, they deserve their own category.
You can find power tool machines, saddles, monkey rockers, electro stims, or various types of homemade devices.
SEX TOY FACT: Over 50% of women have used sex toys.
SEX DOLLS
---
You might be thinking of the novelty items you find a bachelor party (blow up balloons with open mouths).
Although those models, as well as better/nicer versions, are still made, the industry has made leaps and bounds in the way of sex dolls. They now look far more realistic and feel pretty close to a natural skin using body-safe silicone.
The base price is around $2000 and goes up from there depending on the level of customization you want … and boy can they customize.
And don't worry, ladies, they also make male dolls.
Find more interested sex doll info here:
TOYS FOR NIPPLES
---
NIPPLE CLAMPS – These devices do exactly what they say. They apply pressure to nipples (for both men and women) which cut off blood flow then reintroduces it – pain and pinching levels depends on the strength of the clamp.
They are usually applied in pairs and sometimes connected with a chain, whether tweezer clamps, piercing clamps, clover clamps or clothes-pin styles.
SUCTION CUPS – These are designed to increase blood flow and stimulation to the nipple area. Some women can even achieve orgasm this way. Some look like turkey basters, makeshift breast pumps, or like something you find in a doctor's office.
SEX TOY FACT: The rabbit vibrator was invented in 1983.
Find out more here:
EROTIC FURNITURE
---
This includes any piece of furniture that aids in sexual activity. These include sex swings, sex gliders, fisting slings, angled foam wedges, bondage equipment like stocks, smother-boxes like queening stools, love chairs, spanking benches, and sawhorses etc.
The biggest difference between these and sex machines is that furniture has no moving or electrical parts.
Learn more here:
BDSM EQUIPMENT
---
Sex toys is a vague (and huge) category. Although BDSM toys should have their own article, we will throw in an overview here:
GENERAL – Binders, hooks, ball locks, gags, cuffs, bondage mittens, harnesses, belts, hoods, tape, yokes, breast binders, chastity belts, collars, corsets, humblers, hobble skirts, spreader bars, mono-gloves, muzzles, rope, shackles, sleepsacks, stocks, blindfolds, masks, floggers, vampire gloves, canes, paddles … and more.
MEDICAL THEMED – Electro stim machines, genital pumps, prostate toys, straight jackets or other medical restraints, and enema bags. You can also find speculums (spreader for the vagina or anus), urethral dilators/sounds, penis plugs, protoscopes, forceps, pinwheels, dental retractors, and reflex hammers etc.
Want BDSM toys but don't want to shell out hundreds of dollars? This article will help:
WHERE SHOULD YOU GO SHOPPING?
---
Buying from trusted manufacturers is the first step. There's not a lot out there made with safe materials or assembly/construction practices.
SOME RECOMMENDED SELLERS: Lovense, Njoy, Fleshlight, Tenga, Aslan, Bad Dragon, Divine Interventions, Frisky Beast, Fuze, Hole Punch, Kiiroo, Papaya Toys, Aneros, Doxy, Lelo, OVO, OhMiBod, We-vibe, Crave, L'Amourose, Je Joue, Luxotiq, Maia, Marc Dorcel, Pleasure Works, BS Ateleir, Crystal Delights, Happy Silicone Valley, Jimmy Jane, Laid, Minna Life, Nobessence, PyreXions, Rianne S, Sensuelle, Nomi Tang, Fun Factory
This is not to say that ALL their toys will be GOOD – just safe.
Je Joue, for example, creates 100% body-safe toys (and I will happily give them points in that department) but their designs, functionality, and pricing is something akin to slapping a hundred-dollar price tag on a silicone casing filled with jittery cymbal monkies that don't work 80% of the time.
For toys you don't insert, there are plenty of sellers out there that offer a great variety in a wide price range, and you don't need to worry as much about body-safe materials (unless you are dealing with latex and allergies etc.)
Here are some sites that have collections from several brands...
There is Amazon *gag* but I recommend extreme caution when buying from there (with generic sellers that are passing on a name brand, but especially white brands). Yes, you can find fantastic deals, but far too often the quality is crap.
Then again, if you just want something dirt cheap to experiment with before investing in better options, go for it!
SAFETY
---
Avoid toys made of Cyberskin, Elastomer, Fanta Flesh, FauxFlesh, Futorotic, Jelly (or other various spellings), Neoskin, PVC, Rubber, SEBS, Silica Gel, Silicone blends, TPE/TPR, TPR-silicone, UR3, and Vinyl. These are either toxic, or porous, or both.
Even if you're experimenting and going cheap, don't resort to dangerous materials.
Body-safe materials will be non-porous and made from either medical grade silicone, medical grand stainless steel, borosilicate or soda-lime glass that is made correctly, wood/ceramic/stone with the proper finish to make it nonporous, and ABS (hard) plastic.
Wash your toys before and after each use. Dry them thoroughly and store them in a container or bag that will keep them clean. Some male sleeves need to be dusted with cornstarch after they dry.
Don't ignore instructions. Read them carefully.
Keep your silicone toys stored separately.
Be careful which lubes you use with which material of the toy.
If you're getting into bondage, do some research first on safety and proper knots.
If you're going to share toys, make sure you sterilize them. Even better would be covering it with a condom.
With anal toys, make sure they have a flared base so they don't slide up the rectum to far (even the long toys can get lost up there).
Don't cross-contaminate – make sure you don't use your anal toys for vaginal play and visa verse.
SEX TOY FACT: Sex toy color preferences vary depending on culture.
. . . . . . . . . . . . . . . . . . . .
You're now well armed to go forth and conquer the world of sex toys! YAY!
Also, if you think anything else should be added to the list, you want to recommend some great toys, or you just want to say hi, jump down to the comments section!
Have a sex day,
Robyn
TagsSex Toys