Anal Beads - Tips and Reviews for Balls You Stick Up Your Bum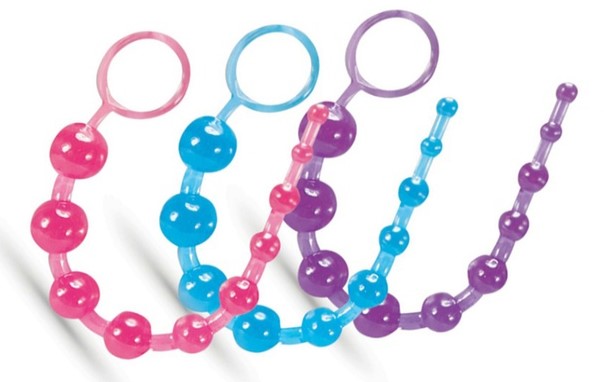 If you're hesitant to get into any kind of posterior play, anal beads might be the baby steps you need.
What are anal beads?
They are what they sound like – orbs attach together by some kind of string or cord. And not to be confused with Kegal/BenWa balls (which are meant to exercise the pelvic floor via the vagina).
Let's look at what you need to know before you go shopping.
Or, if you want to skip straight to the product reviews, click here.
MATERIALS & QUALITY
---
You'll want to aim for medical grade stainless steel or silicone.
There are some glass ones out there but make sure they are from a reputable manufacturer that specializes in glass blowing – they know the correct glass to use and how to avoid excess stress points etc.
I have heard of a few wood, stone, or ceramic products but they will need the correct coating to make them non-porous. These also might be more expensive.
Check over the product carefully (in person if possible) and see if there are any thin/weak spots, cracks, chips, or tears etc.
IMPORTANT: Make sure the end look or base is large enough or long enough (and I mean REALLY long) that there is no chance it will get lost up the bum.
BATHROOM PREP
---
People think if you play with anal beads, they will be completely covered in poo.
However...
ANATOMY 101 – stool waits in large intestines (bowels) then goes through a tight space separating the sigmoid colon from the rectum (which is where you're going to put toys, fingers, or penises.
Anal beads will be staying in the rectum (although some extreme models can go farther).
That doesn't mean there isn't any fecal matter – there is always a chance of trace amounts getting on the toy. The nightmare stories you hear are usually because people didn't try to go to the bathroom beforehand, or a movement happens during and you don't bother to stop and go to the loo.
It's a good idea to shower/clean first if you're planning on some A-play. You can douche (if you really want to) but that tends to destabilize the PH and other important factors in your body's environment.
Also, if you have diarrhea, don't try anal play.
TIPS FOR INSERTION
---
RELAX
This is the most important. When we are tense, things get tight and therefore painful.
GO SLOWLY
This is a tie for most important as well. Millimeter by millimeter is ok, as long as you are comfortable. Getting used to the sensation is the goal. Just slide them in gently one by one and get used to each bulb before inserting the next.
It also helps if you get ones that go from small to big.
GO SOLO
If your partner just can't go slow enough for you, try it on your own first.
USE ANAL LUBE
And I mean LOTS of it. The anus doesn't lubricate, so, you'll have to apply a generous amount. Also, the anus has a different PH, hence the need for anal lube as opposed to the usual stuff meant for normal intercourse.
IGNORE PORN
It just doesn't happen that way in real life. There are countless takes and behind the scenes that happen to prep and clean.
WOMEN
Us girls have an extra problem to deal with … location of our orifices. Because they are so close together, it's easier to get some cross contamination and then infections. Use condoms or gloves appropriately if you plan on using both holes.
CLEANING AND CARE
---
As mentioned before, porous materials should be avoided because it doesn't matter how much you try to clean or sterilize then, they won't ever get 100% clean.
There will microscopic pieces of fecal matter that get stuck on the material. This can cause problems because bacteria, fungus, mold, and other bad things are left to fester.
Your non-porous toys should be cleaned before and after each use with mild soap and warm water. And make sure to get in any nooks and crannies where stuff can hide and ... grow.
Want an in-depth guide on sex toy cleaning? Look here:
Buzzy and Clean - 30+ Tips on How to Clean Your Sex Toys
SMALL CHANCE OF STANK
---
There is a small chance that your silicone toys might take on a funky butt smell (it won't happen with metal or glass toys). It doesn't happen often though.
If it does, there are several options:
Air it out for a couple of days
Boil it (100% silicone only)
Try a 10% bleach solution (no boiling)
Soak in baking soda and water
Soak in vinegar
Always check the manufacturer's instructions first before you do anything clean-crazy. The best way to avoid this is to cover it with a condom (that doesn't use silicone lube). Easy peasy.
HOW TO USE ANAL BEADS
---
They are inserted slowly during sex or masturbation – but this isn't what creates the "wow" sensation.
It's taking them OUT that can set off fireworks in some people.
This is done during sex or during orgasm. Whatever works for you. Faster is ok when you have more experience. Being aroused when you are putting them in also help makes the process easier.
THE LINKS ANAL BEADS
Let's start with the good … because there are only a couple points of praise I'll give it.
First, I like how the tip is really tapered - this makes for easier insertion. The beads also don't graduate in size, so if you want the sensation and none of the stretching, it's a good idea.
This, however, would NOT be for beginners. Each bead is 2 inches (5cm) wide.
The "links" between each bead aren't the traditionally think ones but that's not a bad thing. It makes it easier to clean.
… if the thing was easy to clean. Which it's not. Now, get to the material. This was taken directly from their website...
"Sensafirm" might sound fancy, but it's really just TPE (thermal plastic elastomer – a rubber material) mixed with polyvinyl chloride and silicone. And did you know polyvinyl chloride is initially hard and brittle, and then is made soft by adding … wait for it … phthalates (which are toxic).
Even if they made things "as smooth as real skin" by adding something other than phthalates, it doesn't change the fact TPE is porous.
These beads are going to cling to micro bits of fecal matter and bacteria. Oh, and the ring at the end is way too small and practically an invitation to go to the emergency room.
TOM FINLAND STACKED BALL
---
This one takes care of the material problem – it's silicone, which is good.
But the base isn't tapered enough, IMO - Maybe better for more advanced users?.
The vibrations come from AA batteries, which mean they won't pack as much oomph. It's another big-ball toy and not for those shy in the rectum. The thing that made me laugh was the "free collection print" they included.
Would I recommend it? I wouldn't jump to buy it (maybe on a sale), BUT definitely better than some stuff out there.
X-10 ANAL BEADS
---
Small tip? Check. Large ring for easy exertion and making sure things don't get lost? Check. Good connecting beads that are easy to clean? Check.
Safe material? … oh for fuck's sake!
When is Adam & Even going to learn that jelly = toxic, jelly = bad.
Burn these beads (and stay away from the smoke because it might give you lung cancer or something. The worst part? They are a "best seller".
BENDY BEADS
---
Finally! One that is decent.
The end handle is great, the beads are tapered, and it's made from silicone. Although, I would love to get my hands on it and put it to the "burn test" to see if the silicone is actually legit.
I also rather like the wavy section that connects the beads together. Almost looks like some magical black bean. And for only thirty bucks, it's worth a try.
If you're interested in other anal toys, check these out:
HUSH - The Powerful, Teledildonic Butt Plug
EDGE - The World's First Adjustable Prostate Massager
FETISH FANTASY ELITE BALL CINCH
---
I actually got to try this one on my man … try. Overall it's an interesting idea. The silicone was enough to entice me into buying one.
The anal beads were small enough that tapering wasn't an issue (we just used a lot of lube).
he disappointment came from the loop at the end that is supposed to "go around the balls".
The length from the beads to the ring wasn't long enough to get it around him without things popping out. Even when things were held in place, the ring wasn't nearly big enough to accommodate his berries without some serious damage (when you look at the love honey video, you can see the girl doesn't even stretch them that far).
I can't imagine any guy being okay with it … unless they have a pair of quail eggs or are really into pain. Using as just beads is fine.
MOOD LUST SILICONE BEADS
---
I'm assuming the longer gaps are meant to add extra stimulation, but it just threw off my groove. It's probably just me though, and wouldn't consider it a deal breaker.
The material was soft enough, but the texture was a bit mottled and collected dust like a magnet.
The beads aren't overwhelming and the price is reasonable. I would recommend it if you want to try beads out for the first time.
VIBRATING ANAL ... SOMETHING (the name is too long)
---
This toy is trying to be everything – an anal vibrator, g-spot vibrator, anal beads, prostate massager, and flogger all in one.
As a result, it's doing some things okay but failing as so many other aspects.

First, the anal beads were fine for me – no complaints there. However, it's failing at everything else. It's neither a g-spot vibrator nor a prostate massager. The curves on the vibrating end aren't anywhere near good enough to hit the correct spots (did nothing for me and the vibes weren't amazing – just average).
And it's certainly NOT a flogger.
The thick rubber feels a lot different than leather (or even rubber) flogger strands, and it can hurt like a bitch if you do it too hard. Why not just get a proper flogger so you can do both at the same time?
The connector from the beads to the base of the vibe also isn't thick enough to take the wear and tear of being a flogging device. On top of all that, the groove around the golden ring wasn't that easy to clean.
Let me fix your Amazon title for you …
EARTH QUAKER BY VEDO
---
I was pretty happy with this one actually.
Great base, body safe material, and a very decent graduation in bulb size. The color choice is also a nice change from black.
I couldn't go up to the biggest one – three was definitely my limit. It is a bit weird that the power button is on the side. What happens if you want to go up over the last ball? "Sorry, honey. I have to stick my finger up there too so I can change patterns."?
They do have another model and it seems to be a similar idea – perhaps adding some length and putting the button on the bottom? The trade-off is that they use batteries instead of a recharge port – which means less power.
Can't win 'em all I guess.
UTIMI STAINLESS STEEL BEADS
---
Ugh. I don't want to know how many people have bought these because of the pretty stainless steel (which isn't the problem).
The problem is the holes in each bead and the chord.
The material is going to be a bitch to keep sterilized (let alone clean) and the holes are going to let fecal matter stay on the toy. With all of that, they advertise it at a VAGINAL toy.
No. Way.
. . . . . . . . . . . . . . . . . . . .
There you go, everything you need to make an informed purchase! If you have anymore anal bead advice, please share in the comments!
Also, if you want more anal-themed articles, you might like these:
Have a toy-tastic day!
Robyn
TagsAnal Beads